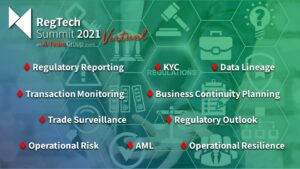 We'll be hosting RegTech Summit Virtual on June 16th and 17th which will bring together the global RegTech community to explore the current regulatory landscape and opportunities and progress in adopting RegTech to manage risk and compliance in today's digital and cloud based operating environment. Join us online to hear from leading RegTech practitioners and innovators from the UK, US and Europe who will share insights into how RegTech is enabling cost efficiencies and driving innovation in areas including regulatory reporting, operational resilience, AML, financial crime and trade surveillance. If you're interested in joining us, book your place now.
Hear what attendees to our recent DMS Virtual had to say about the quality of our events:
"A well organized online event with interesting and relevant topics as well as experienced speakers."
Christina Schack, Head Data Management and Data Project, Vontobel Asset Management
Interested in participating in our virtual RegTech Summit?
For speaking slots, get in touch with speakers@a-teamgroup.com or for sponsorship, get in touch with sales@a-teamgroup.com, or call +44 (0)20 8090 2055 or +1 646 290 7488.
Hear what our sponsors think about working with us:
"A measure of a great team is the ability to adapt to ambiguity. A-Team has been able to adapt to the changing environment without losing quality and substance. Through the creative use of video meetings and well-prepared content, A-Team has been able to deliver on the mission of informing the Data Community on current trends and mission-critical developments.

A-Team continues to be my source of disruptive data trends. Thank You for having the ability to execute during these universally tricky times and keeping our data community safe."
Rocky Martinez, CTO, SmartStream RDU
Become a sponsor
If you're interested in sponsoring, speaking or exhibiting at our event, please get in touch with Jo Webb on sales@a-teamgroup.com.