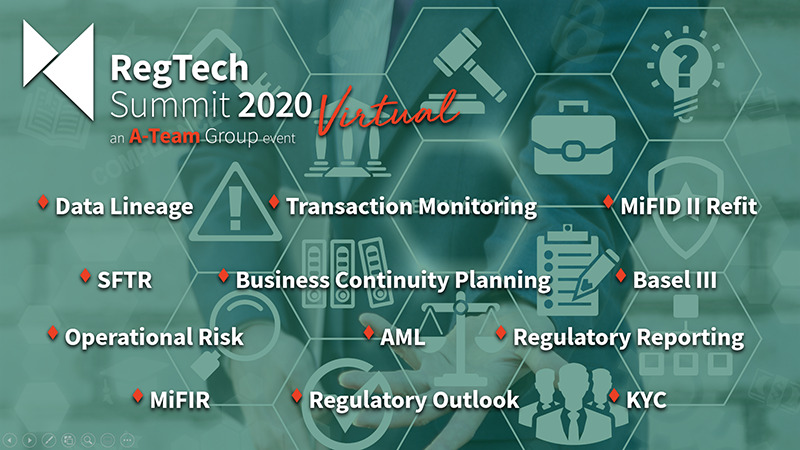 We enjoyed a fantastic online programme for our RegTech Summit Virtual event in 2020. We will soon be unveiling plans for a full programme for a global online event in 2021. If you're interested in joining us, book your place now.
2020 Agenda Highlights
Navigating the regulatory landscape and managing regulatory change in turbulent times
Ensuring operational resilience and business continuity approaches
Managing market abuse and monitoring voice and ecomms
Upholding data privacy/security and cyber security when remote working
Trade and transaction reporting challenges for SFTR, MiFIR, MiFID II, EMIR Refit
Status of FRTB implementation and impact of Basel III annoucements
Managing FRTB alongside other regulatory change
Data sourcing and data aggregation challenges for risk factor modelling
Creating an optimised market data infrastructure for FRTB and beyond
Improving KYC, AML and Transaction Monitoring with RegTech
How advanced RegTech solutions can help when radical solutions and flexibility in approach is required
Hear what attendees to our recent DMS Virtual had to say about the quality of our events:
"A well organized online event with interesting and relevant topics as well as experienced speakers."
Christina Schack, Head Data Management and Data Project, Vontobel Asset Management
Interested in participating in our virtual RegTech Summit?
For speaking slots, get in touch with speakers@a-teamgroup.com or for sponsorship, get in touch with jo@a-teamgroup.com, or call +44 (0)20 8090 2055 or +1 646 290 7488.
Hear what our sponsors think about working with us:
"A measure of a great team is the ability to adapt to ambiguity. A-Team has been able to adapt to the changing environment without losing quality and substance. Through the creative use of video meetings and well-prepared content, A-Team has been able to deliver on the mission of informing the Data Community on current trends and mission-critical developments.

A-Team continues to be my source of disruptive data trends. Thank You for having the ability to execute during these universally tricky times and keeping our data community safe."
Rocky Martinez, CTO, SmartStream RDU
Become a sponsor
If you're interested in sponsoring, speaking or exhibiting at our event, please get in touch with Jo Webb on jo@a-teamgroup.com.