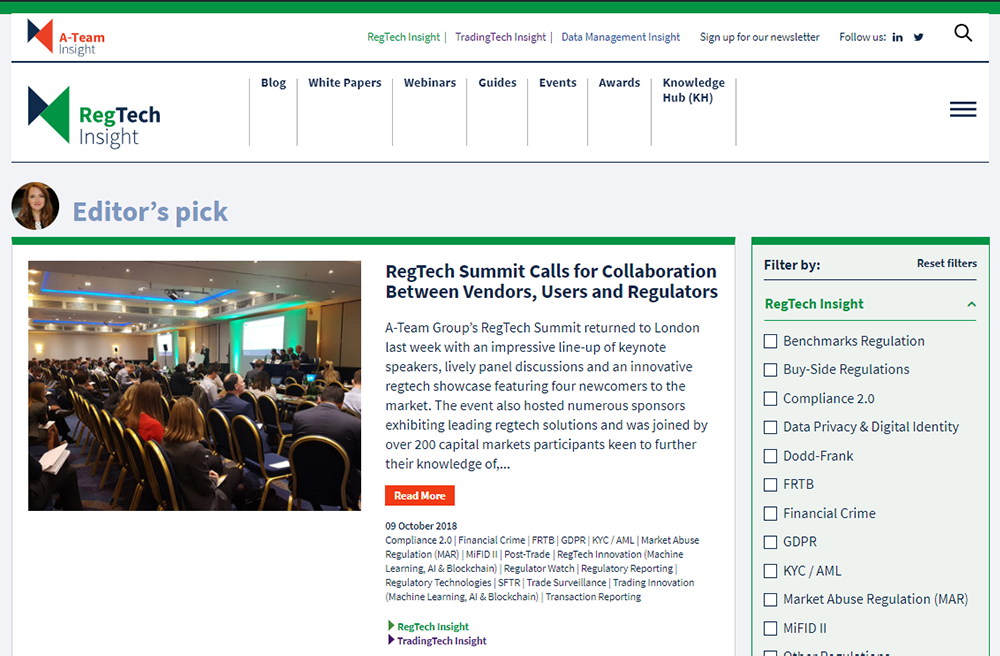 Welcome to Regtech Insight (RTI), a brand-new platform from A-Team Group bringing you the very latest in news, insights and exclusive analysis from the complex and fast-changing world of regulatory technology.
Forming the third pillar of our comprehensive information service, RTI stands alongside Data Management Insight (DMI) and Trading Technology Insight (TTI) to offer a fresh new perspective on how data and technology at financial institutions are impacted by the evolving regulatory landscape.
The financial markets have changed beyond recognition in the decade since the financial crisis, and as regulators tighten up controls, the cost of compliance is becoming increasingly heavy. RTI explores how both new and existing regulations (such as MiFID II, FRTB, GDPR, MAD/MAR, KYC, AML and many more) are informing the evolution of key processes such as compliance, client onboarding, financial crime and data privacy. We explore just what is needed in order to stay abreast of these constantly changing requirements and investigate how new and innovative solutions from upcoming and established vendors can help address these challenges.
As an RTI member, you can stay up to date on the very latest industry news, learn about the top performers in the RegTech space, check out what your competitors are doing (and how they are doing it), track the regulations relevant to your business and stay on top of key implementation deadlines. RTI will help you figure out what processes you need to establish to handle specific regulatory challenges, how best practices can inform and improve your compliance processes, what pitfalls to avoid when applying new technology solutions, where to find the most innovation new solutions, and how to execute them with minimum risk.
As well as reading all the latest news and views on RegTech in this dedicated section of the website, you can sign up for or listen to topical webinars, download handbooks and special reports written by our subject experts, and access the wealth of blogs, white papers and conference reports we have shared with you since A-Team first launched almost two decades ago.
You can also find information here about our established RegTech Summits, held annually in London and New York, which offer you a unique opportunity to hear from the cream of the crop in the RegTech space, network with the best and brightest, identify the latest trends and find answers to all of your regulatory questions and concerns.
You can sign up here to receive our weekly RTI newsletters and other content updates, and to receive invites for forthcoming webinars and events. The winners of our highly prized RegTech Awards will be announced in early May, and our next RegTech Summit is coming up in London in October 2019 – I look forward to meeting you there.
Subscribe to our newsletter