RegTech Insight Awards – Europe 2023 Winners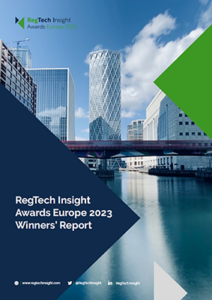 Congratulations to the winners of A-Team Group's RegTech Insight Awards – Europe 2023.
The awards recognise both established providers and innovative newcomers providing RegTech solutions that have successfully improved firms' ability to effectively respond to evolving and ever more complex regulatory requirements across the global financial services industry.
Guest speaker Ollie Ollerton, former UK Special Forces Soldier and directing staff (DS) from Channel 4's SAS: Who Dares Wins, presented the awards to this year's winners following a lively lunch held at Glaziers Hall in London on 18 May 2023, and hosted by A-Team Group president and chief content officer Andrew Delaney.
The awards included more than 30 categories of RegTech solutions ranging from Best Regulatory Intelligence Solution to Best Solution for Digital Transformation in Regulatory Compliance, Best Compliance as a Service Solution, Best Trade Surveillance Solution, Best Solution for Regulatory Change Management, Best ESG Regulatory Solution, Best Solution for Institutional Crypto-Assets, and more.
An editor's recognition award for RegTech Industry Professional of the Year was presented to Matt Smith, CEO at SteelEye.
Thank you to all the vendors that entered A-Team Group's RegTech Insight Awards – Europe 2023, to our RegTech Insight community that voted for its preferred solutions, and to our independent, expert advisory board that worked in collaboration with our editorial team to select this year's winners.
Finally, our compliments to all the award winners, who should be deservedly proud of their achievement in a closely fought and highly competitive contest.
Download the Winners Report to check out all of our deserving winners.
If you would like your company to be considered for future RegTech Insight Awards in Europe, the US or APAC, click here, where you can either enter your details to be notified when we open for nominations, or submit your entry if we are already open for nominations.
A selection of videos from some of our happy winners.
RegTech Industry Professional of the Year - Matt Smith, CEO, SteelEye
Matt Smith is the co-founder and CEO of SteelEye, the company behind the first and currently only truly integrated surveillance solution. Matt has over 20 years of experience in technology and management across North America, Europe, and Asia. Prior to SteelEye, he was a senior RegTech product manager at Bloomberg, and before that the CIO at Noble Group. Throughout his career, Matt has driven major IT initiatives, including trading and risk systems and regulatory solutions.
Best Regulatory Intelligence Solution - RegHub.ESG
Regulatory compliance is a complex and ever-changing landscape. Keeping up with its demands is a crucial challenge for businesses, especially for regulatory areas that are developing rapidly, such as sustainability and digital responsibility. To tackle this challenge, RegHub provides a complete solution for regulatory compliance management. This RegTech solution with integrated modules, such as RegMiner, offers a comprehensive regulatory library and analytical features, provides real-time tracking of global regulatory changes and facilitates efficient management of compliance and business change. RegHub, developed by Deloitte, helps businesses to streamline their compliance management in an end-to-end solution.
https://www2.deloitte.com/uk/en/pages/risk/solutions/reghub.html