ESG Insight Awards 2022 Award Winners
12th October 2022
#ESGIAwards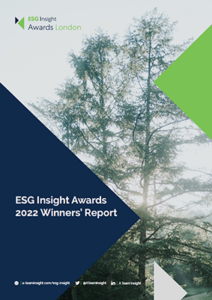 Congratulations to the winners of the inaugural A-Team ESG Insight Awards 2022 and thank you to everyone who voted.
The awards recognise both established solution vendors and innovative newcomers providing leading ESG solutions, services and consultancy to capital markets participants.
The awards included over 20 categories of ESG solutions ranging from Best ESG risk data provider to Best overall ESG data provider, Best data management solution for ESG, Best taxonomy data solution for ESG, Best ESG scores and ratings provider, Best ESG social data provider, Best ESG sentiment data provider, Best regulatory reporting solution for ESG, and more.
Andrew Delaney, President and Chief Content Officer at A-Team Group, said: "Congratulations to the well-deserved winners of our first A-Team Group ESG Insight Awards. Thank you to all the vendors that entered the awards, our ESG Insight community that voted for its favourite solutions, and our independent, expert advisory board that worked in collaboration with our editorial team to select this year's winners. We will be back next year to celebrate the winners of our ESG Insight Awards 2023."
Download the Winners Report to check out all of our deserving winners.
If you are a solution provider and you would like to be alerted for when the 2023 awards are open, click here.
A selection of videos from some of our happy winners.
Best regulatory reporting solution for ESG - Regnology

Regnology is a leading technology firm with an exclusive focus on regulatory reporting and serving more than 7,000 financial institutions, 30 regulators and 20 tax authorities as clients, to bring greater data quality, efficiency, and cost savings to all market participants. With over 700 employees in 12 countries and a unified data ingestion model powering our work, our clients can quickly implement and derive value from our solutions and easily keep pace with ongoing regulatory changes.
Visit our website: www.regnology.net
Best overall ESG data provider - Bloomberg

Bloomberg, the global business and financial information and news leader, gives influential decision makers a critical edge by connecting them to a dynamic network of information, people and ideas. The company's strength – delivering data, news and analytics through innovative technology, quickly and accurately – is at the core of the Bloomberg Terminal.
Bloomberg's enterprise solutions build on the company's core strength: leveraging technology to allow customers to access, integrate, distribute and manage data and information across organizations more efficiently and effectively.
Best ESG sentiment data provider - Refinitiv - MarketPsych Data


Refinitiv, an LSEG (London Stock Exchange Group) business, is one of the world's largest providers of financial markets data and infrastructure. With $6.25 billion in revenue, over 40,000 customers and 400,000 end users across 190 countries, Refinitiv is powering participants across the global financial marketplace. We provide information, insights and technology that enable customers to execute critical investing, trading and risk decisions with confidence, by providing the best-in-class data and expertise.
MarketPsych Data uses AI-based natural language processing technology to detect and quantify references to sustainability and business-related themes and in global news and social media, covering millions of companies and locations.
Best ESG research provider - Morningstar Sustainalytics

Morningstar Sustainalytics is a leading independent ESG and corporate governance research, ratings, and analytics firm that supports investors worldwide with the development and implementation of responsible investment strategies. For 30 years, the firm has been at the forefront of developing high-quality, innovative solutions to meet the evolving needs of global investors. Sustainalytics works with hundreds of the world's leading asset managers and pension funds who incorporate ESG and corporate governance information and assessments into their investment processes. With 17 offices globally, Sustainalytics has more than 1,700 staff members, including more than 800 analysts with varied multidisciplinary expertise across more than 40 industry groups.
Best ESG index provider - SIX

SIX operates and develops infrastructure services for the Swiss and Spanish Stock Exchanges, for Post-Trade Services, Banking Services and Financial Information with the aim of raising efficiency, quality and innovative capacity across the entire value chain of the Swiss and Spanish financial centers. The company is owned by its users (120 banks). With a workforce of 3,685 employees and a presence in 21 countries, it generated operating income of CHF 1.5 billion and Group net profit of CHF 73.5 million in 2021.
Best data governance framework solution for ESG - Solidatus

Solidatus is an innovative data management solution that empowers organizations to connect and visualize their data relationships, simplifying how they identify, access and understand them. With a sustainable data foundation in place, data-rich enterprises can meet regulatory requirements, drive digital transformation, capture business insights and make better, less risky and more informed data-driven decisions. Solidatus' powerful metadata management technology is vital in the reg tech and governance space.
Visit www.solidatus.com for more information.