ESG Insight Awards 2023 Award Winners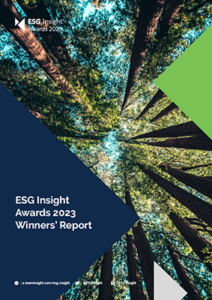 Congratulations to the winners of A-Team Group's ESG Insight Awards 2023.
The awards, now in their 2nd year, recognise both established solution vendors and innovative newcomers providing leading ESG solutions, services and consultancy to capital markets participants.
The awards were presented after the close of A-Team Group's ESG Data and Tech Summit in London on 11 May 2023.
The awards included over 20 categories of ESG solutions ranging from Best Regulatory Reporting Solution to Best Overall Data Provider, Best Company Disclosure Provider, Best Analytics Provider, Best AI / ML Solution, Best Sentiment Data Provider, and more.
An editor's recognition award for ESG Industry Professional of the Year was presented to Janine Hofer-Wittwer, Head of ESG Data and RegRisk Services, Financial Information at SIX.
Thank you to all the vendors that entered A-Team Group's ESG Insight Awards 2023, to our ESG Insight community that voted for its preferred solutions, and to our independent, expert advisory board that worked in collaboration with our editorial team to select this year's winners.
Finally, our compliments to all the award winners, who should be deservedly proud of their achievement in a highly competitive contest.
Download the Winners Report to check out all of our deserving winners.
If you would like your company to be considered for future ESG Insight Awards, click here, where you can either enter your details to be notified when we open for nominations, or submit your entry if we are already open for nominations.
A selection of videos from some of our happy winners.
ESG Industry Professional of the Year - Janine Hofer-Wittwer, Head of ESG Data and RegRisk Services, Financial Information, SIX
Janine Hofer-Wittwer joined SIX in 2014 and is responsible for the ESG Data proposition. Her role comprises analyzing market trends, strategy definition and leading the creation of innovative services for the wealth, asset and risk management industry. Prior to that, she worked at UBS and Bank of America Merrill Lynch as a Risk Manager. Janine Hofer-Wittwer holds a Master's Degree in Business Administration and Economics from University of Berne. She is a CFA Charterholder and also has a Certificate in ESG Investing from CFA Institute.
Best Regulatory Reporting Solution for ESG - Regnology

Regnology is a leading technology firm on a mission to bring safety and stability to the financial markets. With an exclusive focus on regulatory reporting and more than 34,000 financial institutions, 60 regulators, international organizations and tax authorities relying on our solutions, we're uniquely positioned to bring greater data quality, efficiency and cost savings to all market participants. With over 800 employees in 15 countries and a unified data ingestion model powering our work, our clients can quickly implement and derive value from our solutions and easily keep pace with ongoing regulatory changes. Regnology was formed in 2021 when BearingPoint RegTech, a former business unit of BearingPoint Group, joined forces with Vizor Software, a global leader in regulatory and supervisory technology.
For more information about Regnology, connect with us on LinkedIn and Twitter.