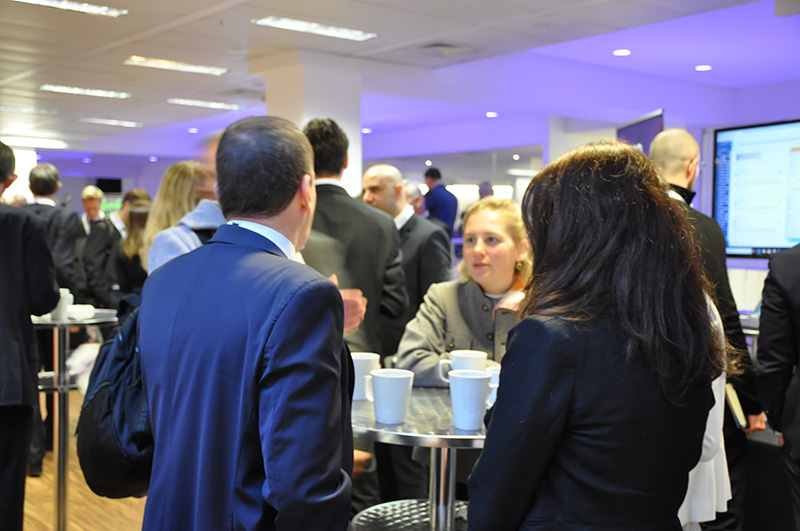 A-Team Group's first TradingTech Summit under the TradingTech Insight brand got off to a great start with Beate Born, executive director of risk and regulatory management at UBS Wealth Management, providing an inspirational industry keynote on the outlook for risk, regulation and sustainability in 2019. The presentation not only set the scene for the summit, but also posed some challenging questions for financial institutions. The day ended with this year's TradingTech Insight Europe Awards ceremony, a lively celebration of the winners of these coveted awards.
Born led the conference with a presentation that considered the operational complexity of the finance industry and the risk of loss from inadequate internal processes or external events. She noted escalating need to consider external geopolitical issues including Brexit, President Trump's wall between the US and Mexico, regulations that are running out of control, increasing sanctions and fines, and the ever present threat of cyberattacks – and the complexity these factors add.
While globalisation provides the potential of open global markets, Born went on to describe post-financial crisis protectionism and the influx of regulation and sanctions that followed, causing yet more complexity, despite industry desire for simplification.
On Brexit, unsurprisingly a hot topic throughout the Summit, Born talked about continuing lack of clarity and banks' preparations for the worst case scenario of a no-deal Brexit that will take the UK out of the EU single market. She described the potential, but also the limits, of equivalence, bilateral and multilateral agreements with the EU and the role of the UK Financial Conduct Authority (FCA) after Brexit. Answering a delegate question about the benefits UBS would gain from Brexit, Born could, like the questioner, name none.
Born closed her presentation with a review of the United Nation's 17 sustainability goals that must be implemented by 2030 and the need for financial institutions to evaluate their investments in line with the UN plans.
Regulatory keynote
A regulatory keynote interview between Virginie Saade, director of government and regulatory policy at Citadel, and Andrew Delaney, chief content officer at A-Team Group, discussed regulations implemented after the financial crisis to fix the broken environment, particularly EMIR, MAR and MiFID II in Europe. Saade remarked that despite the burden of implementation, these regulation have improved financial markets by achieving clearing in OTC derivatives, reduced market abuse and, through MiFID II, greater transparency, unbundling, and a fairer and more resilient trading environment. Like Born, Saade noted the complexity caused by regulation and market interest in regulatory convergence and standards.
Talking about Brexit, she suggested that from a regulatory standpoint there may not be too much change and that if there is no deal, regulators have shown interest in easing processes and agreeing a way to carry on sharing data.
Whatever the outcome of Brexit, Saade said there will be more regulation, including the Capital Markets Union, an EU initiative that aims to provide new sources of funding for businesses, especially for small and medium-sized enterprises, and reduce the cost of raising capital; and a stricter regime for investment firms. The EMIR Refit is also due to come into play in June 2019.
Sade noted that the UK has been very present in the making of these forthcoming rules and that the FCA is being open-minded and engaging well with industry, but she cautioned that the last thing we need is for the UK regulator to be singled out post Brexit.
Corvil keynote
The final keynote of the morning was presented by Donal Byrne, CEO of Corvil. It discussed the next wave for trading infrastructure analytics based on the application of machine learning and artificial intelligence (AI) to machine-time data. Ultimate results, Byrne explained, could include the ability to understand, evidentially, the relationship between trading systems performance and trade outcomes.
Corvil has been working for about two years to develop machine learning algos that can identify which factors of a trading system are influencing outcomes, perhaps latency, the type of order, or symbol the system is trying to trade on, and predict favourable trade outcomes.
The company calls its technology Systems Alpha and notes growing interest in its capabilities. The technology is in pre-production and due to come to market this year.
Byrne noted that, in the past, understanding the relationship between trading systems performance and trade outcomes has been intuitive. Using machine learning, it is possible to understand the relationship practically and see from evidence that better performing systems, technology and intelligence can deliver trade execution outcomes above market average.
He suggested potential users of the Corvil technology including large exchanges that could offer improved transparency and insight to make them preferred venues, and sell-side brokers that could provide better execution to buy-side firms and become increasingly favoured by buy-side firms looking for execution transparency.
Panels and presentations
As well as keynote presentations, the TradingTech Summit hosted a number of interactive panel discussions and a fascinating presentation by James Bevan, chief investment officer at CCLA, who provided his personal view of innovation trends, particularly the impact of ethical, environmental and governance factors on the finance industry.
Panel sessions covered the impact of MiFID II on trading tech operations and the potential effects of Brexit, trade infrastructure monitoring for optimal trading connectivity, high performance computing strategies leveraging the cloud, algorithmic trading 2.0, and finally, the issues of developing technology for institutional crypto trading.
In case you missed the TradingTech Summit or want to recap on particular sessions, we'll post podcasts of the TradingTech Summit keynotes and blogs covering the panel discussions over the next couple of weeks.