Data centre operator and financial cloud hosting specialist Options has created a delightfully topological map of its 2017 expansion plans. The map – reproduced here – was posted on LinkedIn this week by COO Danny Moore, formerly of Wombat Financial Software, which emerged as the mainstay of the former NYSE Technologies much of which was acquired by SR Labs to form Vela Technologies.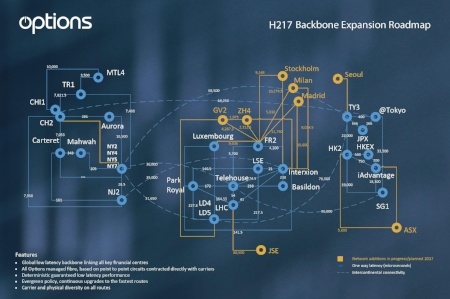 The map shows Options' existing global low-latency backbone network, offering "deterministic guaranteed low latency performance". For each connection on the map, Options has assigned a one-way latency figure, measured in microseconds.
Options' managed fibre network features – based on point-to-point circuits contracted directly with carriers – connections to the main financial hosting centres, including: the London, Tokyo, Hong Kong and Singapore stock exchanges' data centres; NYSE's Mahwah, NJ, and Basildon, UK, sites; Equinix's Park Royal, London, LD4/LD5, NY2/NY4/NY5/NY7 and other facilities; Interxion's LON-1; and a number of other centres globally.
Most importantly, the map identifies Options' expansion plans for the remainder 2017. These include expanding in Europe to the Stockholm, Milan and Madrid stock exchanges and Equinix's Geneva and Zurich facilities; the Johannesburg Stock Exchange in Africa; and the Seoul and Australian stock exchanges in Asia/Pacific.