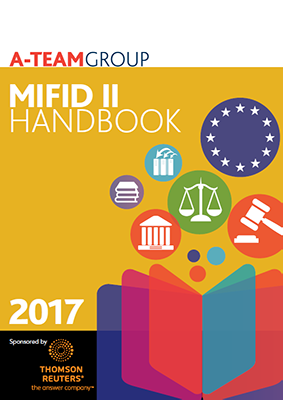 MiFID II Handbook
As the 3 January 2018 compliance deadline for Markets in Financial Instruments Directive II (MiFID II) approaches, A-Team Group has pulled together everything you need to know about the regulation in a precise and concise handbook.
The MiFID II Handbook, commissioned by Thomson Reuters, provides a guide to aspects of the regulation that will have an impact on trading operations at financial institutions, and highlights data, technology and infrastructure challenges, as well as potential vendor solutions.
For each of the regulation's key provisions, the handbook describes data and data management requirements. There are also some handy boxes containing important diary dates, significant development milestones, and links to additional information.
Read the MiFID II Handbook to find out more about:
The regulatory requirement
Market structure and trading venues
Trade transparency and transaction reporting
The Financial Instrument Reference Data System (FIRDS)
Trading infrastructure
Markets in Financial Instruments Regulation (MiFIR)
Reference and market data management
Operational approaches
If you are interested in sponsoring or advertising in one of our handbooks, suppliers guides or special reports, please get in touch with us.