TradingTech Insight Awards - USA 2020 Winners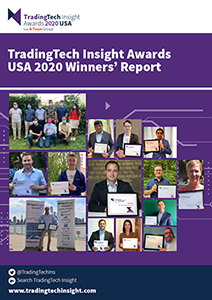 Congratulations to the winners of A-Team Group's second annual TradingTech Insight USA Awards.
Our thanks and congratulations to everyone who entered the awards this year. The field was exceptionally strong, and we extend our gratitude and admiration to all of the unique and inimitable providers who do so much to support the industry. We also extend our thanks to our expert advisory board and industry practitioners who provide guidance on the awards, and of course to all our readers who voted for their preferred trading technology solutions and services providers.
The awards recognise excellence in trading solutions and services for capital markets and focus on vendors and consultancies providing exceptional trading infrastructure, technology applications and market data solutions. Dedicated and driven, they focus on the unique challenges facing US market practitioners and suppliers as they seek to develop trading and data solutions in this rapidly changing marketplace.
Download the Winners Report to check out all of our deserving winners.
If you are a solution provider and you would like to be alerted for when the 2021 awards are open, click here.
A selection of videos from some of our happy winners.
To find out who else has won in our 30 categories,

download the report

.
Winner: Best Sell-Side OMS

ION Markets Fidessa
We deliver end-to-end solutions that simply your business operations by automating the full trade lifecycle. With market data and connectivity to over 350 global venues, our solutions cover all asset classes and give you continuous access to the information needed to make your best decisions. Our open API framework and client-first philosophy empowers you to drive innovation throughout your organization, resulting in lower costs, greater business agility, and excellent customer service.
To learn more, visit markets.iongroup.com
Winner: Best Managed Services Solution for Trading

Fixnetix
Fixnetix, a DXC Technology company, provides managed services to the global financialcommunity. Founded in 2005, Fixnetix quickly built a reputation as an award-winninginternational technology vendor – providing market data, trading access, liquidity venueconnectivity, pre-trade risk and execution management for Investment Banks, Hedge Fundsand Proprietary Trading Firms across the globe. By facilitating low latency, resilient andsecure trading, Fixnetix enhances operational efficiencies for the world's electronic tradingcommunities.
To learn more, visit www.fixnetix.com