TradingTech Insight Awards - USA 2023 Winners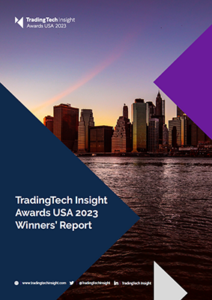 Congratulations to the winners of A-Team Group's TradingTech Insight Awards – USA 2023.
The awards, now in their 5th year, recognise excellence in trading solutions, services and consultancy for capital markets, and focus on vendors providing exceptional trading infrastructure, trading technology, and data solutions.
The awards were presented during a lively drinks reception after the close of A-Team Group's TradingTech Briefing in New York on 8 June 2023. 
This year's awards included an Editor's Recognition Award for Best Trading Technology Practitioner, which was won by Eric Karpman, an SME in trading technology and electronic trading. 
The awards also included more than 40 solutions and services categories ranging from Best Managed Services Solution for Market Data, to Best Overall Market Data Provider, Best Sell-Side OMS, Best Trading Solution for Fixed Income Markets, Best Pre-Trade Risk Controls Provider, Best Cloud Platform for Trading Applications, and more.
Thank you to all the vendors that entered the awards, to our expert advisory board and industry practitioners that provided guidance on the awards, and to all the members of our TradingTech Insight community who voted for their preferred trading technology solutions, services and consultancy providers.
Download the Winners Report to check out all of the deserving winners.
If you are a solution provider and you would like to be alerted for when the TradingTech Insight Awards USA 2024 are open, visit here, You may also be interested in entering our TradingTech Insight Awards Europe 2024 – further info can be found here.
A selection of videos from some of our happy winners.
Trading Technology Industry Professional of the Year - Eric Karpman, Independent Trading Technology Professional
Eric Karpman specializes in delivering electronic trading solutions for large global investment banks, asset managers, hedge funds and exchanges. Throughout his career, Eric and his teams have successfully implemented electronic trading systems with direct interfaces to the Street as well as algorithmic, program and direct market access trading platforms. Since 2004, Eric has actively participated in various FIX Protocol committees where he was involved with the future direction and the strategy of this trade messaging standard. Eric is a graduate of the M.B.A. program in Finance at the New York University Stern School of Business.
Best High Performance Network Services - BSO

Founded in 2004 and with a heritage serving the world's largest financial institutions, BSO is a global pioneering infrastructure and connectivity provider, serving more than 600 data-intensive businesses across diverse markets such as financial services, technology, energy, ecommerce, media and more. The company owns and provides mission-critical infrastructure, including network connectivity, cloud solutions, managed services and hosting, that are specific and dedicated to each customer served. Find out more: www.bso.co
Best Trading Solution for Foreign Exchange (FX) Markets - oneZero

oneZero provides trading technology to the buy and sell-side. We offer turn-key solutions that enable you to focus on growing a sustainable business in today's dynamic and competitive marketplace. We offer award-winning modular solutions for liquidity aggregation, price formation, customised distribution, risk management and quantitative trading analytics. oneZero is certified to the standards of ISO 27001. https://www.onezero.com/institutional-brokers/