TradingTech Insight Awards - Europe 2021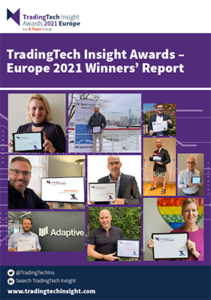 Congratulations to the winners of A-Team Group's TradingTech Insight Awards – Europe 2021. The annual awards recognise excellence in trading solutions and services for capital markets and focus on vendors providing exceptional trading infrastructure, trading technology, and data solutions.
This year's awards included 38 solutions and services categories ranging from best Consolidated Market Data Feed to best Cloud-Based Trading Environment, Trading Analytics Platform, Market Simulation Solution, Trading Solution for FX Markets, Independent Proximity Hosting Data Centre Operator, and more!
The 2021 TradingTech Insight Awards also celebrated two special editor's awards. The Editor's Recognition Award for Best Trading Technology Practitioner was won by Irina Sonich-Bright, Managing Director, Investment Banking, Credit Suisse. The Editor's Choice Award for Innovative Early Stage Business was won by BMLL Technologies.
The solutions and services awards were voted for by the readership of our TradingTech Insight content platform. Thank you to all the companies that entered the awards, to our expert advisory board and industry practitioners that provided guidance on the awards, and to all our readers who voted for their preferred trading technology solutions and services providers.
Download the Winners Report to check out all of our deserving winners.
If you are a solution provider and you would like to be alerted for when the 2022 awards are open, click here.
The call for entry / nomination phase of the TradingTech Insight Awards USA 2021 are currently open. Call for entry closes at 5pm (UK) on Tuesday 16th March 2021. Further info…
A selection of videos from some of our happy winners.
To find out who else has won in our 38 categories,

download the report

.
Editor's Recognition Award for Best Trading Technology Practitioner - Irina Sonich-Bright, Managing Director, Investment Banking, Credit Suisse
Irina started her career as a market connectivity platform developer and worked in various electronic trading technology roles before joining Equities Execution Services where she is Head of Product Management, responsible for product, market structure and regulation driven changes.
Irina is an active member of industry groups and forums that discuss changes and initiatives affecting the securities trading community and focus on opportunities and solutions for the more efficient equities market place.
Best Trading Solution for Fixed Income Markets - ION Markets

ION is transforming capital markets by delivering end-to-end solutions that simplify business operations, enabling you to maximize access to liquidity, automate the full trade life cycle, and manage risk effectively.
ION provides market data and connectivity to over 350 global venues, covering all asset classes. Our network processes over $23 trillion worth of transactions annually. ION's client-centric focus results in lower costs, greater business agility, and excellence in customer service. markets.iongroup.com
Best High Performance Network Services - BSO

BSO is a global telecoms operator powering the digital age. 17 years of innovation, independence and pioneering spirit underpin its customer relationships – trusted partnerships with technology-empowered companies that are embracing global opportunities, scaling rapidly and outperforming competitors.
From trading firms at finance's bleeding edge to high-growth businesses where network performance, reach, diversity and exceptional 24/7 support define success, BSO delivers every time. An unrivalled international footprint. Extensive expertise in difficult-to-access regions and emerging markets. www.bsonetwork.com
Best Alternative Data Consolidator - Sentifi AG

Sentifi is an award-winning alternative data provider, distilling large volumes of unstructured data in social media, news, and blogs with an AI engine developed over 8 years to surface investment opportunities and early warning signals that are necessary to make informed investment decisions in a digital era. Sentifi's analytics make sense of market momentum shifts as they occur on 50K+ stocks, currencies, commodities, and indices. www.sentifi.com
Best Cloud-Based Trading Environment - Adaptive Financial Consulting

Adaptive partners with capital and commodity market participants that value differentiation through technology. Our experienced teams design and deliver complex front-office solutions, using our proven accelerators, creating long-term competitive advantage for you.
Adaptive's clients include the world's leading investment banks, commodities businesses, fintechs and market service providers. A global reach with offices in London, New York, Barcelona and Montreal, we have a proven track record delivering powerful, elegant and intuitive trading platforms using the latest technology and techniques. https://weareadaptive.com/