Data Management Insight Award Winners 2020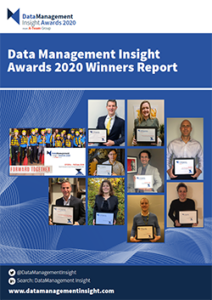 Congratulations to the winners of 2020 Data Management Insight Awards and thank you to everyone who voted.
The annual awards recognise leading providers of data management solutions, services and consultancy to capital markets participants.
Thank you to all our readers who nominated and voted for their preferred data management providers and to our advisory board for its invaluable contribution to the Data Management Insight Awards.
Download the Winners Report to check out all of our deserving winners.
If you are a solution provider and you would like to be alerted for when the next awards are open, click here.
A selection of videos from some of our happy winners.
To find out who else has won in our 29 categories,

download the report

.
Editor's Recognition Award for Best Data Management Vendor Professional - Martijn Groot, VP of Product Management, Alveo
Martijn Groot oversees Marketing and Strategy at Alveo, steering the company's corporate development, innovation, and communications. A published author with an MBA from INSEAD, Martijn has unrivaled financial and risk data experience. With a career history that spans financial technology, information services, and analytics at firms such as ABN AMRO, Euroclear, and IGATE.
Editor's Recognition Award for Best Data Management Practitioner - Sarah Walker, Head of Data NatWest Markets
Sarah is the Head of Data NatWest Markets. In this role she is accountable for all aspects of data, from building capabilities and delivering business value, through to governance across Records Management and Privacy. She has a rich background in this domain, having previously held leadership roles in Technology, Sales, Customer Support & Operations at JP Morgan, Morgan Stanley, Bloomberg, Citibank and ING in Sydney, Tokyo and London.
Best Sell-Side Managed Services Solution - SmartStream RDU
SmartStream is a recognised leader in financial transaction management solutions that enable firms to improve operational control, reduce costs, build new revenue streams, mitigate risk and comply accurately with the regulators. By helping its customers through their transformative digital strategies, SmartStream provides a range of solutions for the transaction lifecycle with AI and machine learning technologies embedded – which can be deployed in the cloud or as managed services. As a result, more than 2,000 clients – including 70 of the world's top 100 banks, rely on SmartStream Transaction Lifecycle Management (TLM®) solutions to deliver greater efficiency to their operations. www.smartstream-stp.com
Best Buy-Side Managed Services Solution - Bloomberg Data Management Services

A wholly owned subsidiary of Bloomberg, L.P., Bloomberg Data Management Services (formerly Bloomberg PolarLake) maintains separate facilities and operations staff in Dublin, London, New York City and Singapore to offer expert data operations to monitor, operate and manage your data supply chain across time zones, automatically freeing our clients to focus on those areas where they can apply their business knowledge most effectively.
Learn more. www.bloomberg.com
Best Data Provider to the Buy-Side - Bloomberg LP

Bloomberg, the global business and financial information and news leader, gives influential decision makers a critical edge by connecting them to a dynamic network of information, people and ideas. The company's strength – delivering data, news and analytics through innovative technology, quickly and accurately – is at the core of the Bloomberg Terminal.
Bloomberg's enterprise solutions build on the company's core strength: leveraging technology to allow customers to access, integrate, distribute and manage data and information across organizations more efficiently and effectively. For more information, visit
www.bloomberg.com or request a demo.
Best Entity Data Solution - Bureau van Dijk – A Moody's Analytics Company – Orbis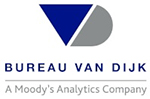 At Bureau van Dijk, we capture and treat entity information for better decision-making and increased efficiency. With information on close to 400 million companies worldwide Orbis is the resource for entity data. It includes comparable information, extensive corporate ownership details and comprehensive coverage, combining data from hundreds of sources.
We go further than just providing data – we treat, append and standardize it to make it richer, more powerful and easier to interrogate.
Best Corporate Actions Data Provider - SIX

SIX operates and develops infrastructure services in the Securities & Exchanges, Banking Services and Financial Information business units with the aim of raising efficiency, quality and innovative capacity across the entire value chain of the Swiss financial center. The company is owned by its users (122 banks). With a workforce of some 2,600 employees and a presence in 20 countries, it generated operating income of CHF 1.13 billion and Group net profit of CHF 120.5 million in 2019.
Most Innovative Data Management Provider - OTCFin

OTCFin is a fintech company that provides enterprise-wide data management, risk, and regulatory reporting solutions. Our tools and services enable clients to accelerate the implementation of enterprise-wide data management and risk platforms, including connectivity with third-party data providers, risk, and performance measurement systems.
With expertise in all asset classes, OTCFin helps our clients achieve competitive advantage through better transparency of their holdings with enriched data and analytics, monitoring tools and actionable reports.
Best Propositions for AI and Machine Learning - S&P Global Market Intelligence – Textual Data Suite

At S&P Global Market Intelligence, we understand the importance of accurate, deep and insightful information. We integrate financial and industry data, research and news into tools that help track performance, generate alpha, identify investment ideas, perform valuations and assess credit risk. Investment professionals, government agencies, corporations and universities around the world use this essential intelligence to make
business and financial decisions with conviction.