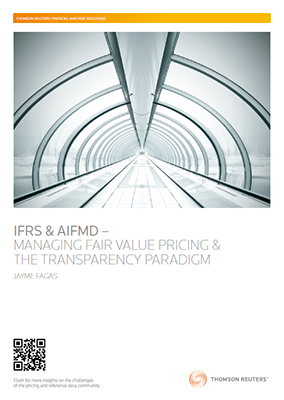 IFRS & AIFMD – Managing the Pricing and Transparency Paradigm
The International Financial Reporting Standards (IFRS) and the Alternative Investment Fund Managers Directive (AIFMD) present the market with a broad and complex range of obligations. In many cases these are the first set of common obligations that will impact Fund Managers, Hedge Funds, Asset Managers, Fund Administrators & Custodians all at the same time! Going forward any entity that values fund or portfolios and must report these valuations to regulators or other third parties must adhere to these globally impacting regulations.
In this new whitepaper Jayme Fagas, Global Head of Valuations & Transparency, addresses the key Fair Value Pricing and Transparency requirements, as stipulated by the IFRS and the AIFMD. She reviews the practical obligations, outlines examples of best practice & adherence; and presents the reader with a clear set of validation requirements they should consider when implementing a related solution or selecting a service provider.