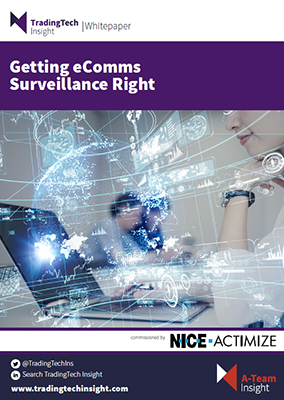 Getting eComms Surveillance Right
Demand for electronic communications (eComms) surveillance has risen in response to regulatory requirements and compliance needs to pinpoint problems such as market abuse without wasting time and resources reviewing false positives.
Innovative technologies such as machine learning, natural language understanding (NLU) and other strands of artificial intelligence (AI) are improving financial services firms' ability  to detect and prevent market abuse through the monitoring and analysis of eComms. They are also fundamental to eComms monitoring approaches seeking to analyse 100% of traders' communications, reduce risk and keep compliance costs in check.
Where current eComms monitoring systems can prove problematic in terms of handling large volumes of communications from many channels, and trade reconstruction can be both time-consuming and highly manual, innovative technologies provide more precise, intelligent and automated monitoring that can help firms more accurately identify risky communications and insider threats, while significantly reducing false positives.
This white paper explores the regulatory outlook on eComms surveillance, the challenges that financial firms are facing, and where current technologies fall short. It also offers guidance on how firms can improve the way they monitor eComms and manage risk by applying innovative technologies.
Download the white paper to find out about:
Identify the primary obstacles to effective eComms surveillance
Learn more about the escalating regulatory requirements
Explore the most innovative technology solutions
Learn about the latest in intelligent eComms surveillance