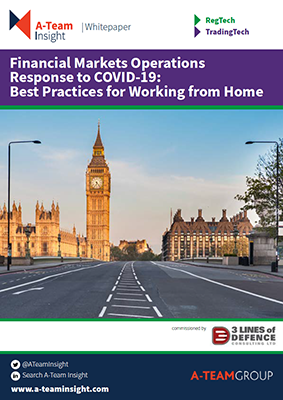 Financial Markets Operations Response to COVID-19: Best Practices for Working from Home
The COVID-19 pandemic is disrupting all walks of life, and carries with it implications for society beyond even the obvious and immediate health impact. Business is being hit across the board, with many corporations sending staff home in an effort to keep them both safe and working.
It's clear that firms can't rely on a handful of key workers to keep things going. This is about the whole business. And unlike other recent disruptive situations, this one is global and it's likely not to be a short-term event.
For those charged with running trading and investment operations that rely on a fully integrated and imbedded IT architecture, the coronavirus poses a unique set of challenges, as staff are expected to deal with sustained high market volumes, ongoing market volatility and a continuing rigorous stance from the regulators.
This paper aims to provide guidance for managers tasked with ensuring staff in and around the trading and investment process get what they need to continue to function during this difficult period. It looks at key considerations that need to be taken into account, along with organisational issues, technology due diligence and best approaches for a rapid response. It also includes a checklist for those seeking to ensure home workers can operate in a performant and compliant manner, and suggests some 'Dos and Don'ts' on how to approach this huge challenge.