By Gavin Kaimowitz, Global Data Practice Lead at Sapient Global Markets
Global financial institutions are coming to the realisation that the business processes and operational models they have relied on in the past won't necessarily help them succeed in the current increasingly regulated environment. That's not to mention the struggle to overcome lower margins and increasing competition.
As these concerns weigh on buy-side, sell-side and insurance companies alike, many firms are dedicating more attention to data management, which can create value that translates into new products, improved operations, innovative services and better customer experiences, ultimately driving growth and revenue. A majority of firms have been successful initiating these programmes – an enormous task that many organisations have found daunting.
The 2015 Data Management Industry Benchmark conducted by the Enterprise Data Management Council, in partnership with Sapient Global Markets, found that just over one-third (37%) of firms have fully operational programmes, while 43% are still in the process of making their programmes operational.
The roadblocks holding back institutions include a lack of sustainable funding, executive support and collaboration across business units within the organisation. Successful progression toward operationalising data management programmes is dependent on the firm's ability to overcome these obstacles.
Key Considerations when Operationalising Data Management
The financial industry is standing at the precipice of executing its 'data management commitment'. Institutions are breaking down barriers to enable data management as a sustainable activity. Still, the tasks to move beyond the 'developmental' stage to the 'defined' programme management stage are significant (see diagram below).
The gap between these two levels is referred to as 'the capability chasm'. Crossing the chasm is a major undertaking that requires financial institutions to unwind themselves from legacy systems and dedicate resources to unravel lineage, inventory content, identify critical data, adopt standards and map systems.
Specifically, the Benchmark's findings identified five important considerations to close the gap between the developmental and defined stages. Accomplishing this feat entails securing ongoing funding, measuring and communicating value, establishing a clear data governance methodology, empowering key personnel and collaborating with IT, operations and other business units.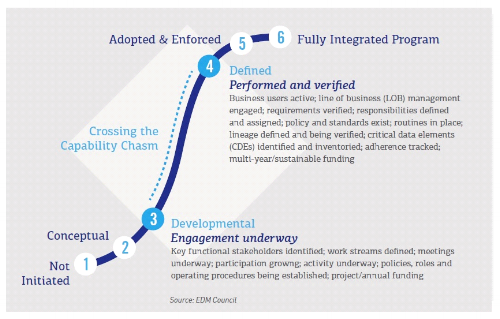 Execution Requires Funding and a Proper Plan
Financial institutions have taken strides towards achieving data management success by getting their programmes off and running. But without a proper, sustainably funded data management plan, execution of the programme will stall. Many current programmes are only benefiting from seed funding to become operational, raising concerns that firms are approaching data governance as a project rather than an integrated, enterprise-wide change. Indeed, less than one-third of firms surveyed have established a sanctioned funding model for their programmes.
When an initiative is deemed a project, it has, by definition, a beginning and an end. Data governance, however, is continuous and systemic, requiring a structure and a formal, permanent process for how a company manages its data.
Achieving buy-in starts with a well-defined roadmap – something that is often lacking. Diving in without a clear roadmap causes a lack of prioritisation, which usually translates to everything being a priority, which means nothing is a priority. This unstructured approach creates an implementation goal that is difficult, if not impossible, to reach, leading top-level management to lack confidence and withhold proper funding. With a phased approach, data governance is established as a repeatable, central business practice rather than a one-time project.
Start Measuring and Communicating Value
Another step toward attaining an operational data management programme involves measuring its costs and benefits. Very few (7%) are evaluating their programme's value, likely due to the perception that they can't begin to measure value until after their programme is operational. This is a misguided view that makes it more difficult to receive stakeholder commitment and dedicated resources.
Unlike building a bridge, where the value isn't realised until cars are driving across, each data management improvement – even small changes – creates value for the business.
Take, for example, the establishment of a data standard for single classification (e.g. client, asset class, internal rating) and agreement on a standard across all lines of business. While this in itself will not immediately resolve consistency issues, it will provide a level of transparency into data quality issues that may be affecting client, financial and risk reports. Additionally, the new standard will help define appropriate changes to various processes and applications that produce and consume this data.
Equally important is establishing a clear benchmark before changes are implemented in order to clearly quantify improvements. With this in mind, data management programmes need to have business value built into programme milestones and the communication plan, and focus on incremental business value achievements.
Data May be the Biggest Obstacle
Data governance is also about establishing the policies, controls, procedures and standards needed to cultivate a 'data control environment' that successfully harmonises data. Without this capability, the industry will struggle to unravel interconnections, manage complexity and understand the true nature of linked risk across the financial system. Coupled with the complexity around harmonisation is the challenge of tracking and tracing data over time – a core goal of every Tier 1 financial institution.
But with a myriad of applications, repositories and data models, data lineage is a substantial task given existing technology environments. Faced with terabytes of data, many organisations become paralysed by the sheer magnitude of these requirements. The key is realising everything doesn't have to be done at once.
A suggested and proven approach is to:
Document all data issues and areas in need of improvement within the organisation, e.g. reporting, security master, client onboarding, etc.
Prioritise the list based on a set of criteria, e.g. value to the business, risk, compliance, effort needed, etc.
Select the first initiative and formalise the data governance structure, e.g. what data is used, where data resides, who owns the data, how it flows between systems, etc.
Develop or use an existing, proven methodology for incremental implementation.
Data Stewards Hold the Key to Successful Cultural Change
Foundational levels of governance are coming together for firms across the financial industry. Data executives have been hired, often into enterprise roles, and given the authority to drive these initiatives forward. These executives have worked quickly to establish the mission, goals, principles, business drivers and business case for their data management programmes.
However, the effort required for enterprise-wide operability is often substantial, calling for a thorough understanding of the relevant business processes and issues data governance will address. This understanding typically lies with the data steward role within each business area, function or domain. Having individuals assigned to own specific data does not automatically lead to successful execution of data governance protocols.
Rather, it requires data governance to become a part of a company's culture – a change that can be challenging for many organisations to embrace. It is important to recognise that while an organisation's systems and procedures may not be ideal, they have been working. So when establishing a new data governance programme, leveraging and formalising around the existing organisational culture typically delivers the best chance for obtaining enterprise-wide support. Organisation cultures differ greatly; therefore, it is important to understand which battles to fight and which to avoid.
When a data steward is appointed, he or she becomes the programme's ambassador to the respective business area. To be successful, the steward needs to influence everyone who touches data. It is essential the right personality be empowered as the stakes are high. The impact of one bad experience by the business interacting with this ambassador can have long-lasting effects.
In fact, according to research, it can take up to 12 positive experiences to make up for a single bad experience. Additionally, a data steward may be appointed to formalise best practices, but the title is meaningless if the role is not given the authority to influence technology architecture, affect business operations, influence infrastructure and participate in regulatory compliance.
Organisational Alignment is Critical
As the industry works to change the culture surrounding data governance and management, a crucial factor for effective collaboration is the alignment of IT and other core stakeholders, which many find challenging. Before they became critical elements of regulatory compliance, data management and data issues were typically the responsibility of IT departments.
Today, data management programme success lies in the hands of many, but it is often initiated by business leads who fail to engage IT early in the strategic process. Cultural challenges often exist between IT and other business units, which can impact how IT is engaged.
Nonetheless, given the significant knowledge IT possesses about an organisation's systems, repositories and applications, it is essential to involve them from the beginning to help manage expectations, align common goals, ensure a consistent understanding of the scope of data management problems and develop solutions.
Conclusion
Despite the obstacles ahead, this is a turning point for the financial industry. A significant number of organisations have taken giant steps to develop and define their data management programmes. To achieve full operability, organisations will need to secure stakeholder support and adequate, ongoing funding; build business value into programme milestones and communication plans; adopt a proven methodology for establishing data governance; empower the right people to steward data; and foster organisation-wide collaboration as early as possible. While the road to success may feel like a long, bumpy ride, having a data programme that delivers both agility and data control is well worth the effort.