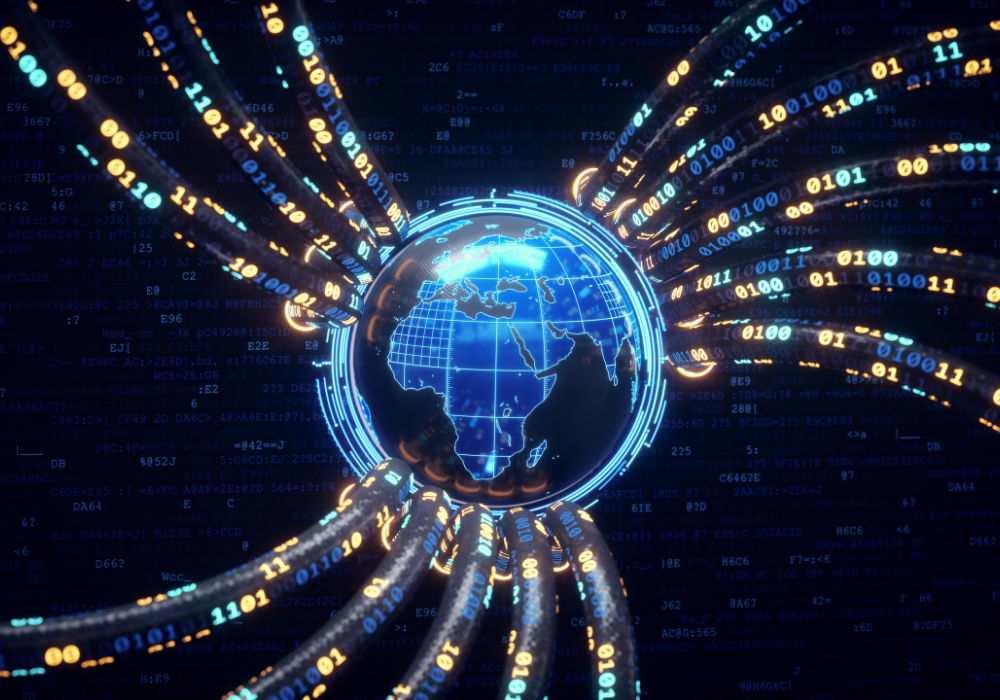 Connecting data across a financial services organisation from the back office, through the middle-office and on to the front-office can deliver operational resilience, business agility, and opportunities to generate revenue – it can also be difficult to achieve in a market characterised by fragmented systems, a lack of data consistency, and resistance to change.
A recent report from Refinitiv, Connected Data – Unlocking Hidden Value in Market and Reference Data Across the Organisation, shows financial institutions suggesting that if their entire organisation had access to market and reference data to reach their full potential, they could unlock as much as 36% more revenue – or $1.76 trillion in the case of sell-side firms – and increase efficiency by 34%.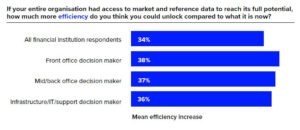 The report also notes that over the past 12 months, the use of market and reference data has risen at 71% of financial institutions, and has been acknowledged by two-thirds as being of growing importance. As a result, spending on market and reference data is up 60%, and on data management it is up 56%.
These statistics are staggering, but challenges remain in reaching firm-wide access to market and reference data and using the data to full advantage. According to the report, firms believe they are falling short of their potential by almost a third because of a lack of access to the data and tools they need. Front-office decision makers say they are falling short of their potential by 38% within the front office environment.
To resolve this, and other challenges of unlocking value from data, and migrate to a more connected organisation, the report calls for fresh market and reference data strategies underpinned by data governance, cloud technology, and improved operational resilience. It also notes the need for cultural change, with 78% of survey respondents agreeing that integrating new market and reference data strategies will require a a completely different mindset and attitude from employees.
The report is based on research commissioned by Refinitiv that was conducted online by an independent consulting company in March and April 2021. Almost 1,600 employees of buy-side and sell-side financial institutions across 16 countries who are knowledgeable of, involved in, or are decision makers in the operations of the front, middle and back office, and/or infrastructure, IT and support, completed the survey.
Data governance
Recognising the need to review how they engage with their data and tools as a means of generating more revenue and boosting efficiencies, 37% of respondents in the Refinitiv survey are prioritising improved data governance over the next 12 months. Data governance also tops a chart of investment priorities for market and reference data.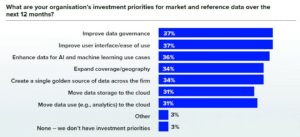 Among the benefits of strong data governance is the ability to drive data quality and accessibility to support increasing interest in innovative use cases, particularly AI and machine learning. Its monitoring and control facets are a boon to ensuring the feasibility of remote working.
While the report notes that not only financial firms, but also regulators are expected to increase their focus on data governance, the report states: "The importance of data governance goes well beyond the necessity of meeting regulatory obligations. Good data governance around market and reference data can enable firms to lower operating costs, improve operational resilience, boost efficiency and even help to increase revenue."
John Mason, group head of pricing reference services at Refinitiv, and co-author of the report, cites examples of how different approaches to data within the confines of data governance can drive data connection, business benefits and reduced total cost of ownership (TCO).
He sees improvement in the outcomes of data management by reversing typical operations that take data to processes, which monetises processes rather than data, and taking processes to data. This is particularly apposite in the cloud.
Mason says: "A model that takes processes to data can provide ultimate connectivity as it offers many to one processes and data, rather than many to many processes and data, which causes complexity and a lack of transparency."
By deconstructing data management, simplifying data models and adding semantic layers, data sets can be connected and tagged logically rather than physically to provide a consistent view of the data.
Refinitiv's responses to the challenges outlined in the report include the creation of 'technical utilities' written by Refinitiv and offering an alternative to raw data by bringing together data sets on a logical basis to ease the burden of owning and managing data. Mason comments: "This is about using technology not people to add value to data."
He also indicates a move from the traditional process of providing data across products with different time requirements, such as static or real-time data, to providing only streaming data with a latency overlay as required by customers. Mason explains: "A user could say this is the data I want, and this is how I want to receive it. Simplicity of data consumption will increase and using tools such as technical utilities will take cost out of the client environment."
Moving to cloud
The report notes that 'attitudes towards data in the cloud for front office use cases have shifted dramatically'. Popular use cases reported here include powering trading and risk systems with data and analytics, executing trades and performing execution analysis such as transaction cost analysis, storing historical data, and using machine learning to detect trading patterns.
The middle and back offices lag behind the front office in cloud adoption, but could, according to the report, improve efficiency and free up resources by looking at market and reference data in the cloud for use cases such as accounting and auditing; performance, clearing, confirmation and settlement; and complying with regulations such as trade surveillance and reporting.

Janelle Veasey, head of real time at Refinitiv, and co-author of the report, says: "The reality for firms is that data volumes are increasing, there are a plethora of new uses cases including AI and ML, data is speeding up, and the pace of moving to the cloud is accelerating. Firms are also in the balancing act of being more productive, efficient and well governed."
Considering these issues, she says: "Cloud is a great enabler. It can transform the challenges of data volumes, uses cases, speed and pace into something positive and deliver return on investment from revenue generating applications." She also notes cloud scalability as a means to move faster to market and revenue generation, and the importance of cloud in mitigating risk, reducing costs and unlocking data and value.
Referencing the split between cloud adoption in the front and middle and back offices, Veasey says: "Cloud is not just transformational in the front office. It makes data discovery and access easier, and improves transparency. The benefits of moving to cloud exceed the challenges and deliver reduced TCO."
Refinitiv is seeing these benefits internally and is also working with clients to improve the use of cloud. Veasey says Refinitiv's move of tick history data to the cloud is allowing customers to reduce their tick history TCO by up to 90%.
Operational resilience
The report highlights the growing importance of operational resilience within market and reference data strategies, in part as a result of the Covid-19 pandemic, during which firms could see that operational resilience would enable them to recover faster from challenging events, and that by recovering faster they were in a better position to gain potential opportunities that are created in times of change.

Among moves to increase operational resilience over the next 12 months, survey respondents cited ensuring greater monitoring, increasing cloud and off premise data storage, increasing data coverage, and engaging with third-party data providers about their resilience programmes. They are also planning to increase capacity and boost automation to better withstand challenges such as the pandemic.
Veasey says: "Operational resilience underpins the data environment and how it is managed. Stability and resilience are critical and customers are recognising that there will be a lot of work to do here in the next 12 months."
Conclusion
Reviewing all aspects of market and reference data, its uses cases, challenges and benefits, the report finds that connectedness can be delivered by data governance, cloud and operational resilience, although all three approaches require more collaboration. It also notes that 'firms that are able to successfully implement much needed data and technology projects and bring the organisation along on the journey culturally will be the ones that truly thrive'.
Subscribe to our newsletter