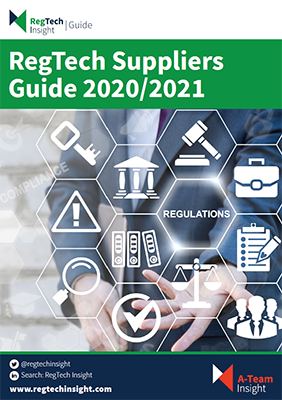 RegTech Suppliers Guide 2020/2021
Welcome to the second edition of A-Team Group's RegTech Suppliers Guide, an essential aid for financial institutions sourcing innovative solutions to improve their regulatory response, and a showcase for encumbent and new RegTech vendors with offerings designed to match market demand. Available free of charge and based on an industry-wide survey, the guide provides a matrix of RegTech vendors, solutions, and capabilities, giving you:
Profiles of more than 100 RegTech suppliers that can help you tackle regulatory challenges
A means of matching your capability requirements to RegTech solutions
Lists of solutions dedicated to specific regulatory functionality
Access to RegTech vendors and their offerings in your region
A deep dive into the background of each vendor and its products
This data was provided by the suppliers themselves and has not been externally verified, so please use this tool as an opportunity to evaluate the possibilities and establish your desired direction, so you can delve deeper into your options using your own due diligence process.
Interested in appearing in the next edition?
If your company is not listed, but you believe it should be, you can let us know by clicking here and we will be sure to notify you next time we plan to update the guide.
If you are interested in sponsoring or advertising in one of our handbooks, suppliers guides or special reports, please get in touch with us.