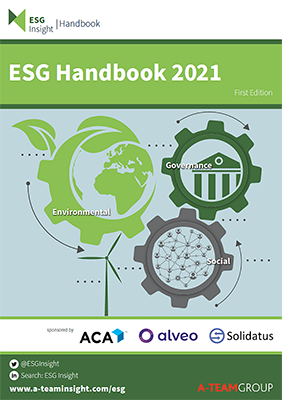 ESG Handbook 2021
A-Team Group's ESG Handbook 2021 is a 'must read' for all capital markets participants, data vendors and solutions providers involved in Environmental, Social and Governance (ESG) investing and product development.
It includes extensive coverage of all elements of ESG, from an initial definition and why ESG is important, to existing and emerging regulations, data challenges and solutions, regulatory reporting requirements, industry initiatives, and the call for global and consistent standards for sustainability reporting.
The handbook also offers step-by-step action plans for data management and regulatory reporting to help you achieve ESG best practice, and an outlook considering further challenges and opportunities on the route to global sustainable finance.
The ESG Handbook 2021 is sponsored by ACA, Alveo and Solidatus.
Download the handbook to find out more about:
The scope and definition of ESG
Existing and emerging regulations
Firms subject to the rules and regulations
Data types and data challenges
Regulatory reporting requirements
The need for data and reporting standards
Where next for ESG and market participants
If you are interested in sponsoring or advertising in one of our handbooks, suppliers guides or special reports, please get in touch with us.