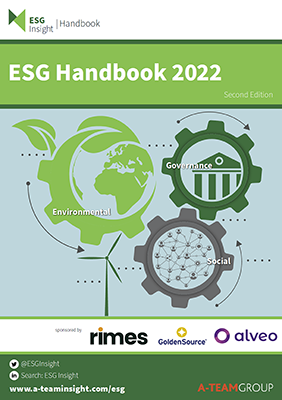 ESG Data Handbook 2022
The ESG landscape is changing faster than anyone could have imagined even five years ago. With tens of trillions of dollars expected to have been committed to sustainable assets by the end of the decade, it's never been more important for financial institutions of all sizes to stay abreast of changes in the ESG data space.
In this second edition of A-Team Group's ESG Data Handbook, we provide all the grounding you'll need on finding and sourcing that data, whether you've already begun your ESG journey or just starting out.
From the core concepts behind sustainable investing to the data investors need to execute their ESG strategies, this handbook covers all bases.
Updated to reflect the latest changes to regulations, reporting standards and the bodies that draft them, this handbook presents the most comprehensive view of ESG from the point of view of financial institutions.
Among the insights you'll learn are:
What it means to be an impact and ESG investor;
How ESG investing can help arrest climate change and ease social ills;
What data investors will need to achieve their ESG goals;
How regulators are encoding rules on ESG reporting rules; and,
What data challenges still lie ahead for financial institutions.
If you are interested in sponsoring or advertising in one of our handbooks, suppliers guides or special reports, please get in touch with us.