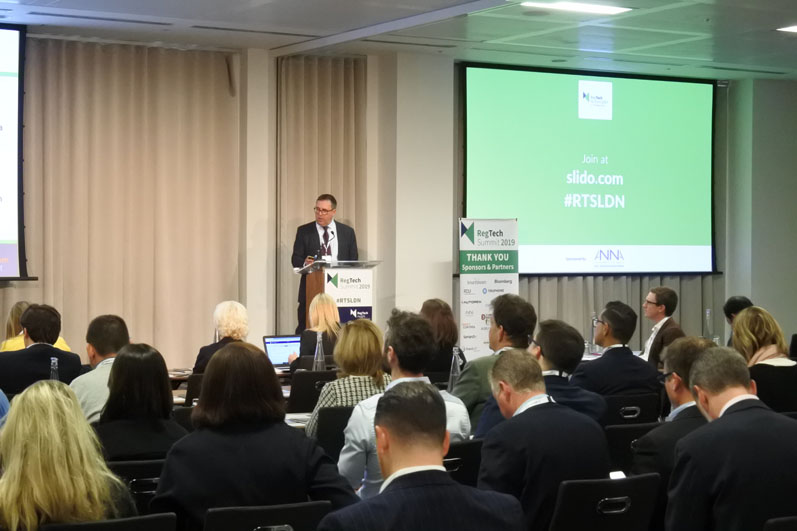 Following the success of the third annual RegTech Summit London, held at etc.venues St Paul's last week to a crowded room and an excellent turnout, the focus now turns to the other side of the Atlantic – with A-Team Group's RegTech Summit New York set to be its biggest and best yet.
With an agenda both parallel and complementary to RTS London and yet with a unique flavour all of its own, the event hones in on the key challenges facing firms today – exploring the very latest in US regulation and providing a platform where practitioners, regulators and providers can unite, discuss and make progress on the topics that matter.
This year is our strongest line-up yet, with a host of renowned experts giving their insights on a diverse and complex agenda. We are delighted to welcome Jonah Crane, Regulator in Residence at the Fintech Innovation Lab NYC, who will kick off the event with a keynote on concerns around the speed of RegTech adoption. Bradley Foster, Global Head of Content (Enterprise) at Bloomberg, joins us to discuss the importance of an integrated regulatory, data and technology strategy; while Giles Nelson of MarkLogic and William Gates of SmartStream also offer their insights.
The panel discussions look set to be particularly thought-provoking, with an exceptional line-up of experts in their field ready to both give their opinions and take your questions – so don't miss this opportunity to tap their brains.
The inaugural Thought Leaders Panel explores the impact of oncoming regulatory change on business strategy, with a particular focus on the CFTC Re-write,  SEC Swap Reporting, CAT, Volcker Rule Re-Write, FINRA TRACE, FRTB, CCAR and CECL. Bringing together speakers including Raymond Hanson, Managing Director and Head of Global Markets Program Delivery & Regulatory Technology at Credit Suisse; Robin Doyle, Managing Director and Head of Regulatory Affairs at JP Morgan Chase; and David Ehrich, EVP at Alliance for Innovative Regulation (AIR), the discussion is sure to be lively.
Our panel on Managing Regulatory Change – always a hot topic – welcomes Tammy Eisenberg, Director – Investment Management Risk and Compliance at BNY Mellon; Viktor Grinberg, Director of Compliance Technology at Deutsche Bank; Will Newcomer, VP of Strategy, Finance, Risk and Reporting at Wolters Kluwer; and Harry Chopra, Chief Client Officer at Axiom SL, to discuss how firms can and should be coping with increasing volumes and managing the consistency of rules across regulators. Additional panels explore best practices for regulatory reporting efficiency, how to manage data privacy in an AI world, and how to digitise the customer experience with KYC and AML innovation.
Excitingly, and exclusively for New York, the event will also present a number of new sessions – including an exploration of the new RegTech Innovation Initiative from the NYU Stern Volatility Institute (presented by Richard Berner, former Director of the Office of Financial Research, US Treasury), and two RegTech Innovation pitches from cutting edge new companies eager to win your approval. To finish the day with a bang, the event will conclude with a detailed review of the preparation needed for the advent of the Consolidated Audit Trail (CAT): for which we are delighted to welcome Manisha Kimmel, Senior Policy Advisor for Regulatory Reporting at the Securities and Exchange Commission, along with Joshua Beaton, Head of Americas Trade & Transaction Reporting at  Morgan Stanley; David Emero, Vice President, Regulatory Operations at Goldman Sachs; Adam Dix, Director of Regulatory Reporting at Kx; and Alex Rabaev, Director and Global Head of CAT Regulatory Reporting at Risk Focus.
With only a month to go and spaces selling out fast, don't miss this industry-leading and information-filled event – book your place now.