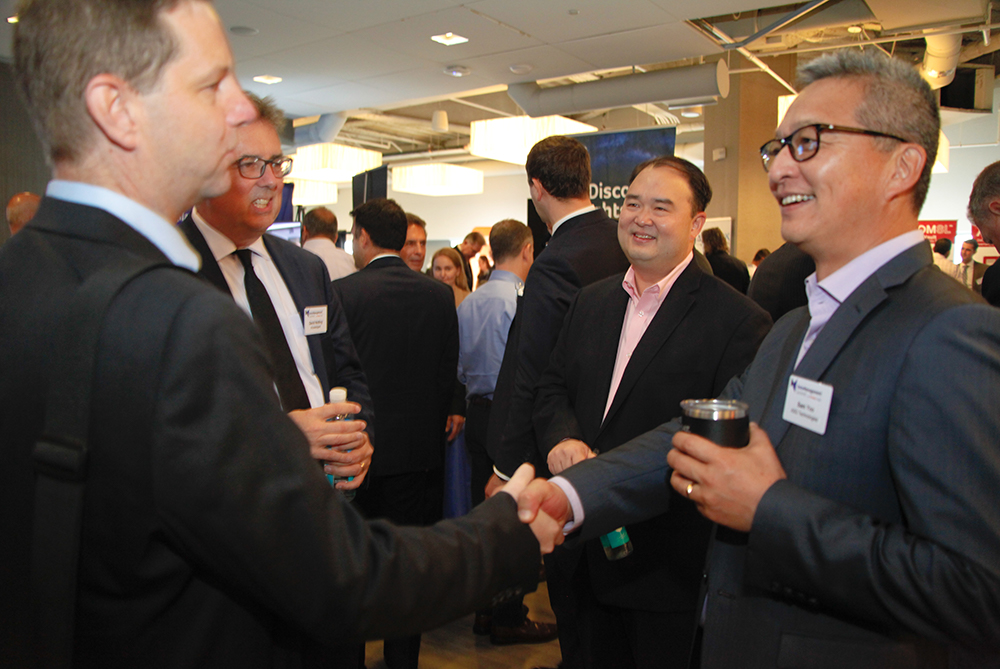 A-Team Group's Data Management Summit hit an all-time high in New York City last week with a packed auditorium, buzzing exhibition hall, great line-up of speakers, market leading sponsors and interactive discussion throughout the day on how to deliver the next level of data management and business success.
Keynote presentations
Suvrat Bansal, head of innovation, chief data officer and managing director at UBS Asset Management, led the conference with an inspirational keynote on the firm's journey towards effective and added value digital transformation. In line with UBS Asset Management's long history, the focus of the transformation programme is on providing innovative investment products and services for clients, and improving client service. The data strategy involves people and information, and is designed to equip staff with the digital information they need, when they need it and make everyone more productive.
A second keynote, presented by Brennan Carly, global head of enterprise at Thomson Reuters, discussed why trusted data belongs in the cloud. He noted the cost of data consumption and management at four to eight dollars for every dollar spent and argued the case for cloud in terms of scale, agility, reduced costs and greater data integrity. Reviewing results of a recent survey on cloud take-up by Thomson Reuters, Carly described the surge in adoption of public cloud solutions over the past few years as cloud providers have improved data security to a level on a par with, or greater than, enterprise data security. To succeed in the cloud, he recommended a multi-vendor strategy and strong data governance.
Peter Moss, CEO of the SmartStream RDU, presented the summit's final keynote, asking delegates if their firm's data management strategy is effective. He reviewed today's data management challenges, including rising customer expectations around electronic transactions, the need to implement data mining and artificial intelligence solutions to differentiate your trading business, and the regulatory requirement to provide full visibility into your systems, processes and data. Reflecting Bansal's keynote, he also touched on the CEO desire for firms to be 'digital'. Based on the scale of these challenges, Moss emphasised the need for a strong master data foundation that can be delivered by a move from sometimes dated enterprise data management systems to the next chapter of data management, the utility model.
Speakers and panel sessions
Harry Chopra, chief client officer at AxiomSL, presented a session covering how to improve data rivers and the beneficial role of regulatory initiatives across multi-business line financial institutions. He described the challenges of profitability, risks, liabilities and liquidity faced by consumer banks to managing settlement risk in capital markets, and managing suitability, credit and tax reporting in private banking and wealth management. Look at solutions, he said a data entity and control platform can address the challenges, while regulatory initiatives provide a catalyst to integrate data rivers across risk and finance, optimise risk and regulatory spending by reusing data, and yield business intelligence.
The summit's panel sessions were informative, interactive and not without a touch of humour. Predrag Dizdarevic, partner at Element 22, followed Bansal's keynote with a CDO panel that discussed how to add value to data by using metrics and analytics. Dessa Glasser, principal at Financial Risk Group, moderated a session on the regulatory landscape, which covered the data management implications of existing and forthcoming regulations, such as the Fundamental Review of the Trading Book (FRTB), and considered how firms are coping with compliance and whether regtech can help.
The summit chair, Sarah Underwood, an editor at A-Team Group, hosted a panel on identifiers and data standards, which agreed that the utopia of data standardisation is unlikely to be achieved. She also moderated a lively panel looking at the challenges of data lineage and how to get it right.
A discussion on diversity in data moderated by Jennifer Ippoliti, legal practice data management director at JP Morgan Chase, set out statistics that caused a sharp intake of breath, but countered them with proactive ideas and long-term plans to improve diversity across the workplace.
The final panel sessions of the day focussed on the future, with David Blaszkowsky, an independent consultant, leading an upbeat conversation on the use of innovative technologies such as machine learning and artificial intelligence to revolutionise financial organisations. Dale Richards, president at Island 20 Ventures, kept the ball rolling with a discussion on the potential of alternative data and its use by data scientists, but also the problems of incomplete, low volume and inaccurate data.
With the summit's keynotes, presentations and panel discussions complete, and more delegate questions asked than could be answered during the conference, conversations continued during an animated drinks reception hosted by A-Team Group and joined by many of the summit participants.
If you would like to catch up with the latest opinions and guidance on data management, podcasts of some of the sessions from the New York Data Management Summit will be available soon. To make sure your secure a place at our next Data Management Summit, which will be in London on 21 March 2019, register now.