RegTech Insight

Knowledge Hub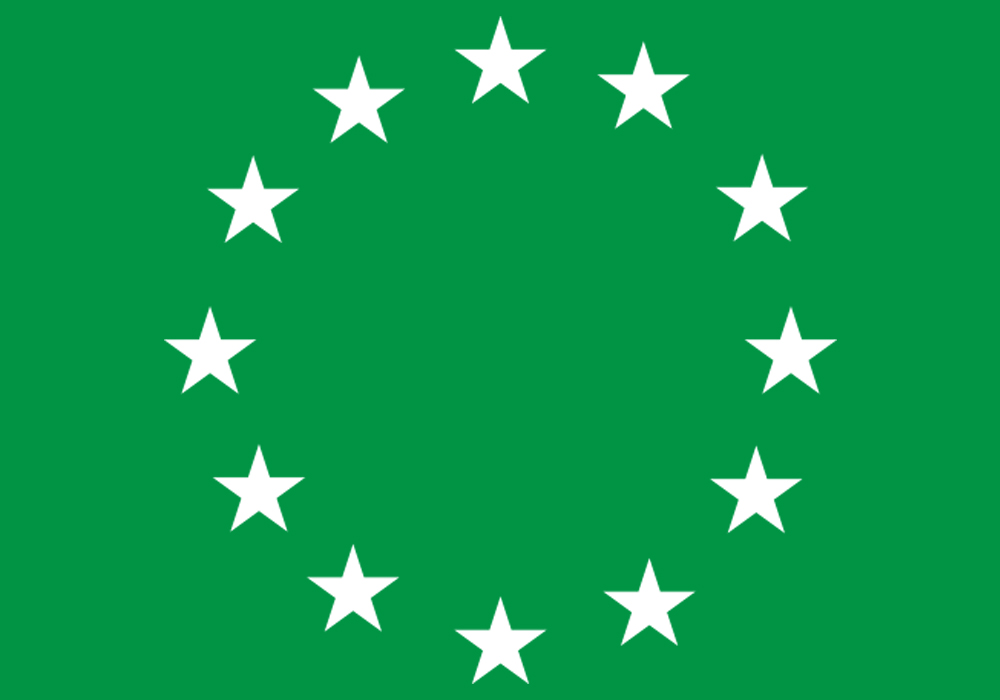 MiFID II
In a nutshell: Markets in Financial Instruments Directive II (MiFID II) builds on the original MiFID of 2007 to improve the competitiveness of European markets by creating a single market for investment services and activities, and ensuring protection for investors in financial instruments.
Read on in our Knowledge Hub 'Everything you need to know' section to understand the full details of what MiFID II is all about, who it impacts, the key requirements, the technical and data challenges it presents, and the outlook.
You can also take a look at all the latest content we have related to MiFID II.
Our Knowledge Hub delivers everything you need to know about the MiFID II directive, with a full overview, key resources, and a list of solutions providers.
---
Key resources
Blogs
White papers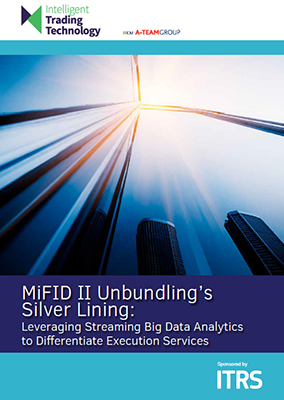 European MiFID II regulation's unbundling of broker research from execution services raises the question of how execution service providers can differentiate what they offer once research is no longer part of their relationship with buy-side clients. Best-execution provisions and the performance of brokers' platforms could become the primary differentiator. This raises a follow-up question –…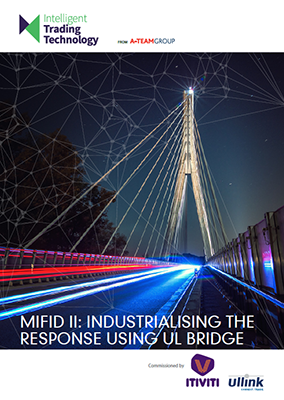 Many firms within the scope of Markets in Financial Instruments Directive II (MiFID II) struggled to meet the regulation's deadline of January 3, 2018 and are now waking up to the fact that many of the processes put in place for implementation day are not sustainable. To achieve and maintain MiFID II compliance over time…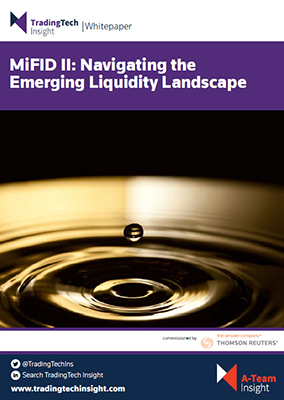 The September 1 deadline for full implementation of the Systematic Internalisation (SI) regime marked the beginning of a whole new liquidity landscape, with firms on both sides of the equation grappling to understand the long-term implications of the new system on Europe's financial markets. Navigating these waters in the coming months will be challenging for…
Load more
Webinars
Guides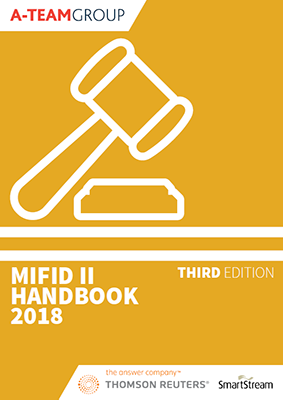 Six months after Markets in Financial Instruments Directive II (MiFID II) went live, how compliant is your organisation? If you took a tactical approach to cross the compliance line on January 3, 2018, how are you reviewing and renewing systems to take a more strategic approach and what are the business benefits of doing so?…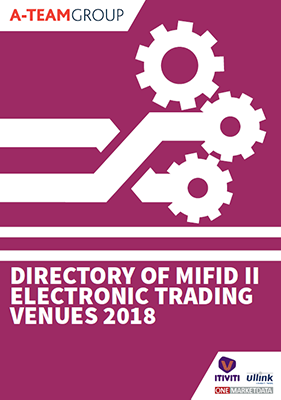 The inaugural edition of A-Team Group's Directory of MiFID II Electronic Trading Venues 2018 offers a guide to the European landscape resulting from new market structure introduced by the January 3, 2018 implementation of Markets in Financial Instruments Directive II (MiFID II). The directory provides detailed profiles of more than 70 venue operators and their…
Need to know all the essentials about the regulations impacting trading infrastructure? Welcome to the first edition of our A-Team Trading Regulations Handbook which provides all the essentials about regulations impacting trading operations, data and technology. A-Team's Trading Regulations Handbook is a great way to see at-a-glance: All the regulations that are impacting trading technology…
Load more
---
---
Everything you need to know about: MiFID II
What is MiFID II?
MiFID II comprises a set of sweeping and controversial reforms building on MiFID (and, prior to that, the Investment Services Directive of 1993) to protect investors in EU markets and improve transparency across all asset classes.
It amends many existing provisions covering the conduct of business and organisational requirements for providers of investment services, and specifies requirements and organisational rules that must be applied to different types of trading venues. It also makes substantial changes to the pre- and post-trade transparency of EU financial markets.
Timeline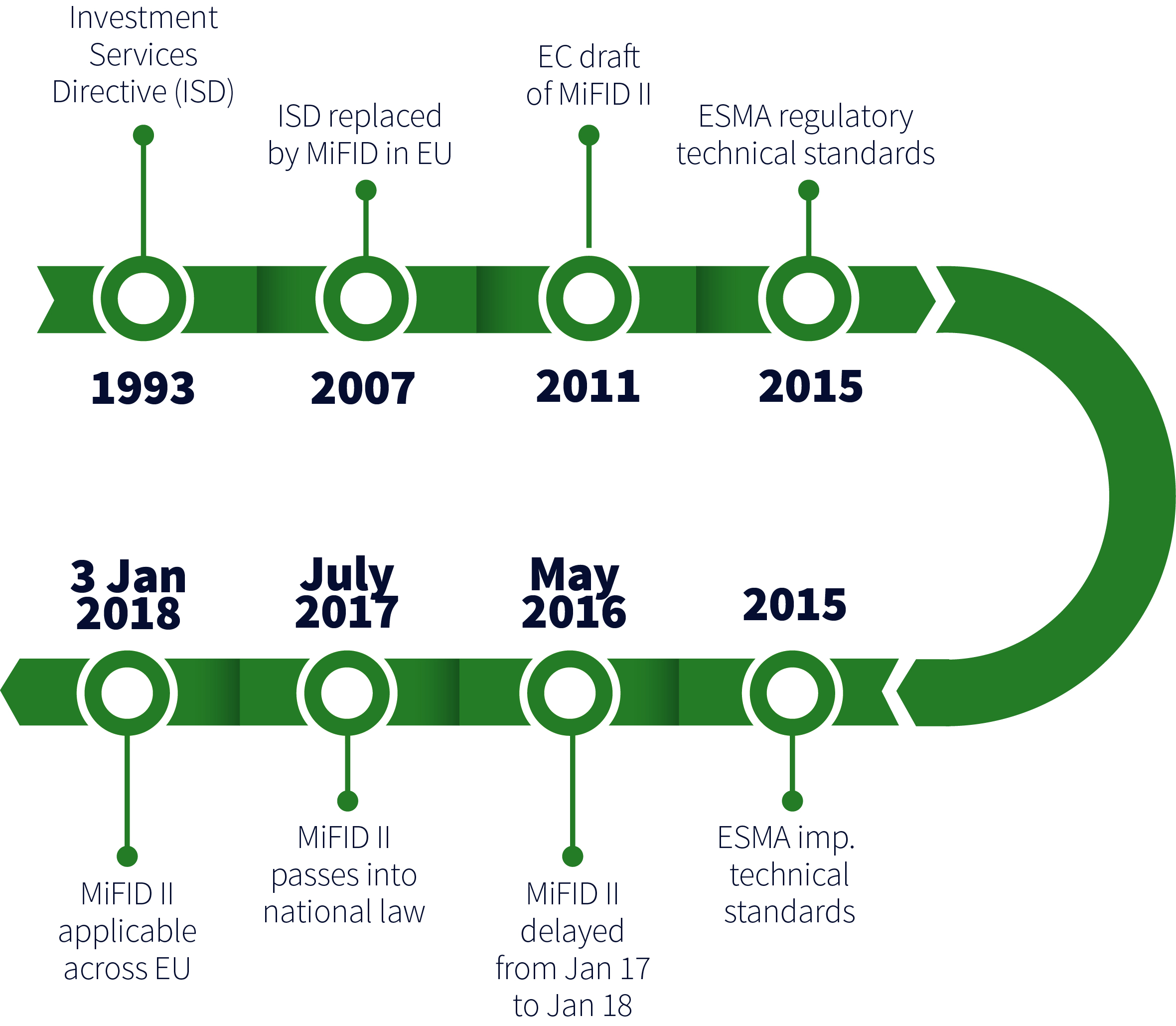 Sections
Market structure
Trading venues
Trading infrastructure
Transparency and reporting
Financial instruments reference data system (FIRDS)
Markets in Financial Instruments Regulation (MiFIR)
Reference and market data management
Section 1: Market structure
At a glance
The key objectives of MiFID II are market transparency and investor protection. As such, at the heart of the directive's framework lie a number of structural updates that expand the scope of the regulation, improve transparency and accountability, increase supervision and enforce enhanced sanctions for non-compliance.
Key updates
Product governance: Additional financial instruments beyond those covered by MiFID are included within the regulatory scope of MiFID II. These include: structured deposits, certain packaged retail investment products, all emissions allowances, and the sale of financial instruments issued by investment firms. Conflict of interest rules regarding insurance-based investment products are also introduced under MiFID II, although for the most part these products remain regulated by the Insurance Mediation Directive. The definition of 'non-complex' instruments has been amended to exclude structured UCITS, and there is anew 'target market' concept that requires investment managers to ensure their products are designed to meet the needs of end users.
Investor Protection: Investment firms must provide independent advice, defined as covering a sufficient range of financial instruments (not limited to in-house products) and without any inducements from third parties. Notably, Article 24 of MiFID II prohibits for the first time the practice of 'retrocessions'. Rules on inducements and commissions are tightened, and in the case of firms providing independent investment advice or portfolio management services, inducements and commissions are banned. Clients must receive a detailed suitability assessment and regular performance reports. Pre- and post-trade client information must be enhanced to include details on fees and commissions paid and received by the investment firm.
Supervision and sanctions: Under MiFID II sanctions, fines and penalties are made public and increased in severity in order to act as a deterrent. Regulators also have the power to control and/or reduce position limits for certain products, including commodity derivatives, where they deem this applicable or necessary. MiFID II gives national regulators increased powers, including the ability to permanently ban financial products, activities and/or practices.
Governance and senior management: MiFID II introduces stricter requirements for corporate governance and for both executive and non-executive directors, including:
The concept of a management body – the governing body of an investment firm or data services provider that incorporates all the supervisory and managerial functions.
New criteria for qualified senior management, directors and supervisors.
New rules on remuneration at investment firms that are designed to ensure remuneration does not create conflict with the duty to act in the best interests of clients. Changes to research rules allow investment firms to accept third-party research only when they pay for it directly or from a ring-fenced research account.
Increased powers for compliance officers.
Harmonised regime: International firms or firms operating across the EU must have a separate branch established in each EU country in which they operate if they wish to service retail or professional clients. For eligible counterparties, no branch is required and an EU funds passport can be used.
Section 2: Trading venues
At a glance
MiFID II prioritises transparency, and as such, moves as much trading as possible from unregulated venues to regulated facilities. On this basis, the regulation reorganises the infrastructure by which financial instruments can be traded, to ensure that the market structure is 'properly regulated and authorised' under a series of specific trading venue categories: namely regulated markets, multilateral trading facilities (MTFs), organised trading facilities (OTFs) and systematic internalisers.
Key updates
Multilateral trading facilities (MTFs): MiFID II makes changes to MTF guidelines to better align their activities with those permitted in regulated markets, particularly when those markets and MTFs are similar in size. The directive also enforces the capability to identify and manage conflicts of interest, including the use of systems to recognise and mitigate resulting operational risks and the management of technical operations of systems accordingly.
Under the EU's Market Abuse Regulation (MAR) – which took effect in 2016 and makes reference to rules and guidelines that also appear in MiFID II or are the basis of MiFID II provisions – some other requirements are specified for MTF access. These include: making MTF access publicly available and non-discriminatory; having arrangements to make sure MTF systems function appropriately; setting contingency plans for disruptions; and making arrangements to manage conflicts of interest.
Organised trading facilities: MiFID II establishes a new type of trading venue, organised trading facilities (OTFs). OTFs are a third type of multilateral trading system (in addition to MTFs and regulated markets) in which multiple buying and selling interests can interact to make contracts. OTFs are distinct under MiFID II because they are used only for bonds, structured finance products, emission allowances or derivatives. Regulated market operators may operate OTFs. OTFs have other unique traits, among them: the execution of orders on a discretionary basis; the ability to facilitate negotiation between clients; a ban on operators trading against their proprietary capital; and a ban on acting as a systematic internaliser (SI) or connecting with a SI.
Systematic internalisers: MiFID II makes two key changes to the systematic internaliser (SI) regime. The first relates to the expansion of the instruments included, while the second governs pre-trade transparency requirements for trading bonds and derivatives through SIs. MiFID II opens up SIs to handle equity-like instruments, such as depositary receipts, certificates and exchange-traded funds, as well as non-equity instruments such as bonds, derivatives, emission allowances and structured finance products. SIs are also subject to provisions of Markets in Financial Instruments Regulation (MiFIR), such as the obligation to make firm public quotes and disclose identification thresholds.
Derivate trading requirements: The derivatives trading requirements of MiFID II are set out?in an accompanying regulation, Markets in Financial Instruments Regulation (MiFIR). The regulation is designed to increase market transparency and ensure investment firms trading in over-the-counter (OTC) liquid derivatives do so on organised venues. For derivatives contracts to trade on?a venue, the contracts must be cleared through a central counterparty and deemed sufficiently liquid. MiFIR sets two tests to determine the trading obligation:?a venue test and a liquidity test. The venue test requires a class of derivatives to be traded on at least one qualifying?or admissible trading venue. The liquidity test determines whether a derivative is sufficiently liquid and whether there is enough third-party buying and selling interest.
Section 3: Trading infrastructure
At a glance
MiFID II aims to transform trading efficiency through a complex set of changes that upgrade and improve underlying infrastructure. The orderly functioning of markets is promoted through a series of specific provisions for algorithmic and high frequency trading; improved oversight and transparency is addressed by the introduction of more extensive reporting; reforms to reduce systemic risk and speculative activity are applied through quantitative limits and restrictions; and revamped monitoring and testing requirements introduce checks and balances.
Key updates
Algorithmic trading: MiFID II specifically addresses issues relating to algorithmic and high frequency trading (HFT), setting out how these activities are to be conducted in European markets. It introduces strict definitions of algorithmic and HFT, identifying trading strategies that are subject to supervisory oversight and setting in place rules on governance, trading software and risk management. The directive lists a multitude of requirements for firms involved in algorithmic trading and intending to undertake a market making strategy, including:
The development of a written agreement with a trading venue declaring the firm's intent to involve itself in market making and its market making responsibilities.
The development of sufficient systems and controls to ensure the fulfilment of obligations as specified under the agreement.
High frequency trading rules: MiFID II revises the definition of high-frequency algorithmic trading and sets a requirement for registration to trade using high-frequency algorithmic trading techniques based on German regulator Bafin's existing definitions. As part of the definition of high-frequency algorithmic trading, two exemptions included in MiFID are removed: the exemption of dealing for one's own account for commodity derivatives, emission allowances or related derivatives; and the exemption allowing companies to trade commodity derivatives on their own accounts if that trading activity is not their main business.
MiFID II defines high-frequency algorithmic trading as a technique used to execute large numbers of transactions in seconds or fractions of seconds by using infrastructure to minimise latency; or system determination of order initiation, generation, routing or execution without human intervention on individual trades or orders. Firms designated as using a high-frequency algorithmic trading technique on one EU venue will be treated as though they are doing the same on all EU trading venues.
Licensing: MiFID II includes a form of licensing for proprietary trading firms and others engaging in algorithmic trading and HFT that requires them to:
Implement pre-trade risk controls – including kill switches – to rein in automated trading models.
Identify algorithms for monitoring.
For regulated markets and other execution venues (MTFs and OTFs), introduce their own measures to lessen the impact of flawed algorithms.
Monitoring: MiFID II addresses the practice of direct exchange access (DEA), where a broker allows a non-member client to use its trading code to?send orders electronically to a trading venue. Specifically, it requires brokers to check that trading venues have appropriate systems and controls in place to ensure client orders do not exceed pre-defined trading and credit thresholds. It also requires monitoring of DEA to prevent market abuse.
Best execution: The overarching principle of MiFID II is investor protection Firms are required to take 'all sufficient steps' to achieve the best results for their clients – a change in wording from MiFID, which required them to take 'all reasonable steps'. The change involves an increase in front-office accountability as well as the implementation of systems and controls to counteract any potential issues.
Article 27 of the directive also contains an 'obligation to execute orders on terms most favourable to the client'. Best execution existed under the MiFID regime, but under MiFID II it has evolved to encompass more categories of financial instruments. Article 27 specifically requires firms to execute orders on the most favourable terms to clients: considering 'price, costs, speed, likelihood of execution and settlement, size, nature or any other relevant consideration'. ESMA requires firms to 'check the fairness of the price' by gathering market data and comparing it with 'similar or comparable products'.
Firms are responsible for the annual disclosure of the five execution venues they most frequently use for each subclass of financial instrument they trade. Article 27 also states that 'any firm routing client orders to a particular trading venue or execution venue shall not receive any remuneration, discount or non-monetary benefit'.  This is in order to avoid breaching rules around conflict of interests and inducements.There is also an expanded monitoring obligation for execution quality in which trading venues must publish related data without charge.
Communications recording: MiFID II includes provisions governing the recording of trading-related electronic and voice communications. The requirements go beyond earlier regulations, introducing prescriptive rules about recording, storing and accessing all voice and electronic communications – including mobile communications – that may pertain to a transaction. This is broader than earlier requirements to record and store communications that resulted in a trade.
In line with other requirements of the regulation, recording applies across all asset classes. Recording from mobile devices includes voice, text messaging and any phone-?or tablet-based instant or other messaging application used in trading-related conversations, such as chat, email, Bloomberg Messaging, WhatsApp or Skype.  Regula
tors require firms to store and archive records so that they can be easily accessed in response to regulatory enquiries to reconstruct trading communications. Records must be kept for five years or up to seven years if requested by a competent authority. MiFID II also specifies a timestamp granularity for voice-based trading of one second, with a maximum divergence from the benchmark Coordinated Universal Time (UTC) of one second.
Dark pools: MiFID II controversially introduced highly restrictive Double Volume Caps (DVCs). DVC limits are set on a monthly basis and are divided into two parts in order to increase transparency within dark pools. A venue cap of 4% applies to the total volume of dark trading of an instrument traded in the EU, while a global cap of 8% applies to all anonymous trading of instruments operating under one or both waivers in the EU. ESMA measures volume caps against a 12-month rolling period, publishing monthly updates. It is empowered by MiFIR to collect information that it deems necessary and to calculate actual traded volumes before publishing its findings. Firms must publish information on a timely basis and in an accurate manner, or risk suspension of a waiver.
Systematic internalisation: Under MiFID II, Systematic Internalisers (SIs) are subject to extended transparency requirements and regulation across a wider variety of instruments. MiFID II defines an SI as a firm that deals on its own account by executing client orders on instruments outside the scope of regulated markets or MTFs and does so on 'an organised, frequent, and systematic basis'. Firms do not need regulatory authorisation to carry out systematic internalisation, but they must apply for an SI licence if they cross quantitative thresholds. Under MiFID II Article 27, the SI regime expands to include equity-like and non-equity like instruments, encourages more SI quote publication for greater pre-trade transparency, and bolsters best execution.
Time synchronisation: MiFID II includes a requirement to standardise trading venues' and customers' business clocks to harmonise timestamps on post-trade data, transaction data and order event auditing. Regulators believe timestamping will allow them to identify the sequence of events within a trade in cases where market manipulation may have occurred or when execution has gone awry.The date and time of a trade must be synchronised to UTC, or Coordinated Universal Time, and 'reportable events' must be recorded for regulatory purposes.
High-frequency algorithmic trading firms are? required to save time-sequenced records of their algorithmic trading activities and each trading algorithm used for at least five years. This translates into the need for accurate time-stamping, algorithm tagging and extensive records retention.
The regulation's scope encompasses trading venues and their members and participants, and applies to reportable events that take place on a trading venue, although it exempts OTC transactions. Operators of trading venues must use timestamps accurate up to?100 microseconds if their gateway-to-gateway latency is under 1 millisecond. HFT market participants must meet the 100 microsecond standard. Algorithmic (but not HFT) participants need a clock accurate to 1 millisecond. Manual trading and voice trading have a timestamp speed of 1 second, with a divergence limit of 1 second. Members of a trading venue are required to have an equivalent standard of accuracy to the trading venue in the system that they use to connect to the venue.
Section 4: Transparency and reporting
At a glance
MiFID II and MiFIR are intended to improve transparency for regulators of financial markets. Requirements therefore include pre-trade and post-trade disclosure of order details, as well as transaction reporting that includes identifying reference and post-trade data, and the identification of waivers for large orders, illiquid instruments, short selling and commodity derivatives. The Legal Entity Identifier (LEI) replaces BIC or internal codes in reporting.
Key updates
Pre-trade transparency: MiFIR extends pre-trade transparency rules of MiFID to apply to depository receipts and exchange-traded funds, certificates and similar instruments trading on a venue, bonds and structured products trading on a regulated market or with a published prospectus, and emission allowances and derivatives. MiFID II and MiFIR together extend pre-trade transparency obligations to organised trading facilities (OTFs), regulated markets and multilateral trading facilities (MTFs). They permit 'carve outs' to allow for deferral of pre-trade data. Authorities may waive obligations to publicise pre-trade information for block trades, actionable indications of interest large enough?to expose liquidity providers to undue risk, derivatives not subject to trading obligations, and other instruments without a liquid market.
Post-trade transparency obligations are also extended to make price, volume and time of transactions available to all trading venues, although block trade information disclosure may be deferred by authorities.
MiFID II requires qualifying firms to report order data to Approved Publication Arrangements (APAs), which publish consolidated order data on a commercial basis.Firms are also required to report trade information – price, volume and time of execution – for all transactions they conduct to their chosen APAs in near real time. Finally, firms are required to file more detailed post-trade transaction reports to Approved Reporting Mechanisms, such as those operated by Euroclear, TRAX, London Stock Exchange/Unavista, Getco Europe, Abide Financial and Bloomberg.
Transaction and trade reporting: MiFID II expands on the EU-wide harmonised transaction reporting regime introduced by MiFID adding requirements including identification of waivers for large orders, illiquid instruments, short selling and commodity derivatives. While MiFID reporting applied to trading?on regulated markets, MiFID II reporting includes any instruments traded on any venue throughout the EU,?as well as underlying instruments that are traded. This includes over-the-counter (OTC) transactions of these instruments, as well as any index or basket of instruments that contains any single instrument traded on any EU venue. An exemption is introduced for investment managers transmitting orders to brokers for execution, under the condition that the transmission includes details of the trade, clients involved and designation of any short sales. Firms will have to report either directly to regulators or through ARMs.
The fields and information required as part of MiFID II reporting also increase significantly, reaching at least 81 in number, up from 23 under MiFID. Additional fields include algorithm identification codes, natural person identifiers and trader identification codes. Foreign exchange, interest rates and commodity derivatives are also added to the instruments covered by the directive.
Section 5: Financial Instruments Reference Data System
 At a glance
The Financial Instruments Reference Data System (FIRDS) is a data collection system set up by the European Securities and Markets Authority (ESMA) in cooperation with EU national competent authorities (NCAs) to collect and publish reference data efficiently and in a harmonised way across the EU. The system went live on July 17, 2017, ahead of the January 3, 2018 MiFID II compliance deadline.
Key updates
The system covers all financial instruments within the scope of MiFID II and is a requirement of MiFIR, under which trading venues and systematic internalisers must submit instrument reference data in a uniform format to NCAs.FIRDS links data feeds between ESMA, NCAs and about 300 trading venues across the EU. These authorities transmit the data to ESMA, which publishes the data on its website for public access and provides it to NCAs in downloadable files. The data is not only published by ESMA, but is also used for purposes such as the calculation of transparency and liquidity thresholds, and position reporting of commodity derivatives.
Section 6: Markets in Financial Instruments Regulation
At a glance
Markets in Financial Instruments Regulation (MiFIR) is an EU regulation associated with MiFID II. It aims to harmonise securities trading and improve investor protection across the EU.
Key updates
Reporting: While MiFID II focuses on market infrastructure, MiFIR builds out transaction reporting requirements by?setting out a number of reporting obligations, and complements the directive's commitment to trading data transparency. Under MiFIR, instruments that must be reported include all derivatives admitted to regulated markets, including previously exempt commodity, foreign exchange and interest rate derivatives, all instruments traded on MTFs and OTFs, and all instruments that could change the value of instruments trading on any of these venues.
The regulation adds a number of fields to transaction reports, including fields designed to help spot short-selling traders, and trader and algorithm fields designed to identify the individual or program executing a transaction.Transactions must be reported using the ISO 20022 formatting standard. Firms will need to accommodate this standard, which will be used to submit data from all stages of order execution to relevant regulatory authorities.
Disclosure: MiFIR has extensive implications for disclosure practices. Relevant data to include in a report might involve the bid and offer prices and the extent to which the parties invested in the trade, the volume and time of the trade execution, and any noted systemic issues. The public and regulatory authorities must be made aware of this information on instruments such as equities and over- the-counter (OTC) and exchange-traded derivatives (ETD) on a continuous basis for transparency purposes. MiFIR does have exemptions relating mainly to the volume of a trade. For example, there are exemptions on regulating block trades and trades exceeding a specific size regarding certain instruments.
Data transparency: MiFIR mandates data transparency. Most of its requirements are around post- trade data processes, but it also covers some pre-trade transparency requirements, such as equal access to trading opportunities data. The regulation's post-tradetransparency requirements call for alterations to the trading environment as data such as prices, quotes, execution times and volumes must be published publically.
Section 7: Reference and market data management
At a glance
MiFID II and MiFIR introduced a number of changes to the methods of classification and identification of data, as well as updates on how this data should be managed, referenced and reported.  These include financial instrument classification, new identifiers for OTC derivatives, the Legal Entity Identifier and personal identifiers for individuals.
Key updates
Financial instrument classification: The classification of financial instruments (CFI) within the scope of MiFID II is based on the International Organisation for Standardisation's ISO 10962 standard. CFI codes can only be allocated by the Association of National Numbering Agencies (ANNA). CFI codes are important to the transparency and reporting aspects of the regulation and allow regulators to identify specific instrument groups.
The CFI is also key to MiFIR liquidity requirements that cover most asset classes. In this instance, classification?is required to decipher whether instruments are liquid enough to fall within the regulation's pre-trade and post- trade transparency rules.
The structure of the CFI is based on data that is defined when a financial instrument is issued and remains unchanged during the instrument's lifetime. It consists of six alphabetical characters: the first character indicates category, such as equities or futures; the second indicates specific groups within each category, such as ordinary shares and preferred shares in equities; and the third to sixth characters indicate the most important attributes for each category, for example voting rights, ownership restrictions and payment status for equities. Updated CFI codes meeting the requirements of the regulation and directive have been issued on a global basis since July 1, 2017.
OTC derivatives: MiFIR requires OTC derivatives to be traded on regulated markets, MTFs or OTFs. This mandate also includes a requirement for OTC derivatives to carry identifiers that can be used in transaction reporting. The International Organisation?for Standardisation's (ISO) International Securities Identification Number (ISIN) was selected in 2015 to identify OTC derivatives. In October 2016 the Association of National Numbering Agencies (ANNA), the issuer of ISINs for securities, set up the ANNA Derivates Service Bureau (DSB). The DSB platform is an extension of the automated allocation engine developed by ANNA for ISINs and is designed to provide near real-time allocation of ISINs for OTC derivatives and generate additional attributes including Classification of Financial Instrument (CFI) codes and Financial Instrument Short Name (FISN) standard values. Market participants must register to use the service, which provides access including FIX connectivity and a web interface.
Legal Entity Identifier: The Legal Entity Identifier (LEI) is a requirement of MiFIR that came into force on July 3, 2018. Firms subject to the regulation's transaction reporting obligations must ensure that any client eligible for an LEI has one before a transaction in a financial instrument subject to the regulation is executed on their behalf. These financial instruments include shares, bonds, collective investment schemes, derivatives and emission allowances. LEIs can be obtained from organisations accredited by the Global LEI Foundation (GLEIF) as authorised Local Operating Units (LOUs) – or LEI issuing organisations – for the global allocation of LEIs. LEIs must be renewed on an annual basis by providing any updated information on the entity to the LOU, which then verifies the reference data attached to the identifier.
Personal Identifiers:The LEI was not designed for use by individuals and cannot be used by individuals within the scope of MiFID II and MiFIR. Instead, individuals, whether they are clients, decision makers or traders, must be identified using a national identifier. In the UK, National Insurance Numbers are used to identify individuals.
Data publishing and the consolidated tape: In line with MiFIR transparency requirements, investment firms must disclose pre-trade and post-trade details of orders submitted to, and transactions conducted on, a trading venue, be it a regulated market, MTF or OTF. Under the regulation's provisions, firms can publish their own trade reports to the market, but most report through an Approved Publication Arrangement (APA), a category of Data Reporting Service Providers (DRSPs) designed to publish trade reports on behalf of investment firms. As well as disseminating trade data to the market, MiFIR requires APAs to send the data to a consolidated tape provider, another category of DRSPs. While a consolidated tape has not yet been established, commercial providers are expected to come forward leading to the provision of one of more consolidated tapes.
Who are the regulators?
MiFID II is a European Union Law that is applicable across all 31 member states of the EU as well as Iceland, Norway, and Lichtenstein (together making up the European Economic Area). Made up of MiFID (2014/65/EU) and the Markets in Financial Instruments Regulation (MiFIR – 600/2014/EU), it is an EU regulation and as such is binding and directly applicable in all eligible countries without the need for domestic legislative intervention.
At a European level, the regulation is enforced by the European Securities and Markets Authority (ESMA). At a national level, the regulation is enforced by national regulators – in the case of the UK, the Financial Conduct Authority (FCA).
Who needs to know?
MiFID II applies to all financial services firms manufacturing, distributing, advising or conducting any business related to financial instruments within the European Economic Area, as well as any international firms providing cross-border services within the EU. Firms within the scope of the directive include investment managers, wealth managers, trading venues, data reporting service providers, and any firm providing investment services or performing investment activities within the EU or into the EU from abroad.
Key technological challenges
Data management: The scale and complexity of MiFID II requires a strategic approach to data management that tackles challenges such as sourcing required data, managing multiple identifiers and meeting transaction reporting obligations, while delivering operational and business benefits from compliance. There is also need for strong data governance, good data quality and agility to respond to regulatory changes.
Data centralisation: A strategic approach to data management should begin with the breakdown of data siloes and creation of a centralised repository of required reference data.This will provide support for compliance with other regulations that are aligned with MiFID II, ease the burden of data management, and improve data accuracy, consistency and timeliness. Regulations closely aligned with MiFID II and MiFIR,?and having some overlap, include European Market Infrastructure Regulation (EMIR) and Market Abuse Regulation (MAR).
Data sourcing: Sourcing the unprecedented volume of data required by MiFID II and MiFIR is a significant issue. Much of the data comes from existing internal systems, such as client, trading and banking systems, but a significant volume flows from external sources. The challenges here are sourcing market data and standard data such as Legal Entity Identifiers (LEIs), Classification of Financial Instruments (CFI) codes, and Market Identifier Codes (MICs). ISINs to identify OTC derivatives must also be sourced, as well as personal data.
Data quality:The scale and scope of MiFID II present a data quality challenge, but also a turning point for firms with legacy and siloed back-end systems that can be a barrier to seamless regulatory reporting. In terms of MiFID II, a shortfall in data quality means?MiFID II trade reporting agencies, Approved Publication Arrangements (APAs) and Approved Reporting Mechanisms (ARMs), may send back failed trades based on faulty data, firms must pay the price of manual reconciliation, and regulators could take a tough stance on non-compliance. Many firms are responding to MiFID II by centralising data on a single platform, increasing automation and taking a strategic approach to data management for regulatory compliance. This should ease the problems of data quality.
What solutions can be used?
The scope and scale of Markets in Financial Instruments Directive II (MiFID II) and Markets in Financial Instruments Regulation (MiFIR) make it improbable that a single solutions vendor can fulfil the complete compliance requirements of all firms that must adhere to the regulations. That said, sizeable solutions and services vendors have pulled together and extended their data management and trading capabilities to meet many MiFID II obligations, while smaller providers offer less comprehensive coverage, but equally important solutions that often address key pain points of implementation.
Systematic Internalisation: Firms operating as systematic internalisers (SIs) under MiFID II need to establish several elements of functionality. They need an order-matching engine to report trades to an appropriate Approved Publication Arrangement (APA), publish quotes and react to requests for quotes. The order-matching engine must also link to elements of trading systems that support SI required market making and quoting functions. To execute on the quoting and reporting requirements of the SI rules, SIs need to integrate a client order management function to ensure all necessary information is captured for reconciliation purposes. From a technology standpoint, SI solutions need speed and accuracy to publish and adjust quotes in fast market conditions.
Pre- and Post-Trade Reporting:The transparency requirements running through pre- and post-trade reporting require firms to operate internal reporting mechanisms with easy access to all required datasets. The datasets must include details of the trade, as well as high-quality reference data describing the assets and counterparties involved in the transaction, in order to deliver pre-trade reports to designated APAs and posttrade reports to Approved Reporting Mechanisms (ARMs). Firms have opted to adapt existing trade reporting platforms to meet the extended requirements of MiFID II. Alternatively, and particularly as the MiFID II compliance deadline closes in, they have opted to use third-party vendor solutions offering transparency services including pre- and post-trade reporting. The reference data utility model also supports MiFID II pre-trade and post-trade reporting by gathering required data from multiple sources and creating an aggregated and enriched data feed that meets its participants' requirements.
Transaction Reporting:Transaction reporting under MiFID II/MiFIR requires price, volume, time of trade and reference characteristics of all data points, as well as codes mandated by MiFID II for instruments and entities. The data needs to be structured and validated before it is delivered to an ARM for onward reporting to regulators or for direct reporting to regulators. There are a number of solution options for transaction reporting. Firms may have opted to extend existing reporting platforms by enhancing internal data models to ensure data fields required are available and can be linked to required data sources. Interfaces to ARMs or regulators must also be built. Vendor enterprise software solutions take this approach, typically adding logic for MiFID II reporting to order or execution management systems and interfaces to ARMs. Regulatory reporting platforms operated by third-party service providers have also been extended to support MiFID II transaction reporting. These ease the internal burden of managing regulatory change and fulfil transaction reporting in line with MiFID II – and any changes to the regulation – on behalf of user firms.
Best Execution: To demonstrate proof of best execution and ensure trades adhere to published best execution policies, firms need a timestamping solution as well as the ability to store order and transaction data throughout the trade lifecycle for a period of up to seven years. The storage requirement is designed to support regulatory calls for trade reconstruction. To collect, normalise, analyse and present such large volumes of data, firms need a tick database with advanced analytic tools. A tick database using time series technology is preferable to more rigid relational database technology as it more easily supports functions including high precision timestamping and time ordered querying. A time series database also offers greater flexibility to support changing storage requirements.
Clock Synchronisation: MiFID II timestamping obligations involve synchronising clocks that measure activity on all internal systems in the trading process. This provides a compliant trading architecture with accuracy throughout the full order lifecycle: from trading application to market access gateway to exchange gateway to matching engine and back. Trading firms and venues need to design time synchronisation capabilities at the one millisecond level as a bare minimum to comply with the regulation's timestamping requirements.
Trading Communications: MiFID II extends voice recording requirements with a focus on mobile voice and messaging communications. While some firms aim to comply with mobile communication requirements by using 'manage by policy' strategies that limit or ban the use of mobile devices by traders, these strategies fail to recognise the growing value and potential competitive advantage of mobile communication. Large firms with existing fixed line surveillance systems tend to prefer onsite solutions and have typically extended these to cover mobile communications. Smaller firms with fewer resources often favour cloud-based solutions, but whatever the medium, the technological solution needs to be able to record all messages across systems, store messages in a secure and durable way, and allow flexible access to meet regulatory requirements to retrieve data. An in-network mobile device management (MDM) platform – in preference to an application layer – achieves these needs and can provide the functionality and flexibility needed to integrate more mobile devices, add mobile communication applications, and sustain competitive advantage.
Research Unbundling:The MiFID II requirement to unbundle research services from execution services has generated desktop application and cloud-based solutions. Despite different delivery mechanisms, these solutions offer similar functionality in terms of communication between buy-side firms and sell-side research suppliers, and the ability to support Commission Sharing Arrangements (CSAs) and Research Payment Accounts (RPAs). One emerging cloud-based platform curates research from independent providers and allows users to consume the research by paying a per user subscription. The platform operates dynamically to make all research available to all users in real time, but does not include investment bank research, thus meeting the unbundling requirements of MiFID II.
Vendor solutions
This is by no means an exhaustive list of suppliers related to MiFID II because it is such a far-reaching regulation. But this list is based on those vendors who have actively engaged in MiFID II activities with us in recent years.
---

Refinitiv
A wide range of services including best execution analytics; trading venues; APA and publication services; HFT and structural change; investor protection; LEI profiling; pre- and post-trade transparency; reference data; regulatory automation and workflow mapping; research, permissioning and unbundling; SI determination; and transaction reporting and record-keeping.
---

Smartstream RDU
Reference data facility managing data holistically across legal entity, security, instrument, corporate action and pricing data through a shared service model.
---
Acin Limited – Acin provides industry standard Risk & Controls libraries to manage operational risk across financial services firms.
---
Appway – Appway builds software for today and innovates for the technology of the future. With over 15 years of industry experience, Appway guides the leading financial institutions, both big and small, as they build sustainable and scalable solutions that quickly adapt to changing conditions. Headquartered in Switzerland with offices around the globe, Appway's award-winning software suite serves over 420,000 users worldwide. More than 225 institutions rely on Appway to improve internal efficiencies, engage customers across all channels, and keep ahead of regulations.
---
AQMetrics – AQMetrics enables simple, reliable and cost effective risk management and regulatory compliance through the use of technology. Our cloud platform uses smart technology to integrate risk and regulatory solutions, allowing our clients stay compliant with existing and emerging regulations. We are focused on delivering trusted solutions to leading asset managers, investment managers, fund administrators globally.
---
Arkivum – Arkivum is the trusted software and service partner for long-term data lifecycle management and digital preservation. We serve organisations around the world in data-intensive, regulated markets, including pharmaceutical, life sciences and healthcare, financial services, higher education and heritage. Arkivum provides an end-to-end, managed service to deal with the complexity of preserving your data securely for the long-term, while guaranteeing 100% data integrity and immediate access to your data so that you can bring your archived data to life. Our vendor neutral technology means you can use Arkivum across your existing platforms and various deployment models, and you own your data at all times as there is no data lock-in.
---
Arista Networks – Arista Networks was founded to pioneer and deliver software-driven cloud networking solutions. Arista's MetaWatch network application is designed to simplify network data capture, monitoring and analytics and ensures regulatory compliance needs are met. It combines several components of a traditional network monitoring solution into one powerful device: tapping, tap aggregation, time synchronisation, sub-nanosecond timestamping and deep buffering; coupled with comprehensive statistics, telemetry and time-series data. Arista offers a portfolio of switching, routing and WiFi products enabling the implementation of high-performance, scalable solutions for data centre and campus environments. Its award-winning platforms, ranging in Ethernet speeds from 10 to 400 gigabits per second, redefine scalability, agility and resilience. Arista's new low-latency networking products as well as its monitoring and time stamping engine further broaden the solutions portfolio.
---
AutoRek – Financial controls and regulatory data management platform with an automated control framework.
---
Bloomberg LP – To succeed today, financial institutions must respond to challenges that are not addressed by traditional approaches. They require world-class solutions that integrate people, processes, information and technology for the front office, middle office and operations. Bloomberg partners with these institutions to protect and capitalize on data, manage risk, deliver transparency and control costs. Through enterprise-level expertise and three decades of deep industry experience, Bloomberg creates real value through the use of innovative technology that turns data into a strategic asset.
---
BLX Limited (trading as RegBot) – At RegBot we are a team of experienced regulatory lawyers, traders and technology experts working to develop disruptive technology to end business disruption. We develop modular, end-to-end client solutions that we call "bots", and deliver automated compliance embedded in the normal workflow of a bank or financial entity (either sell-side or buy-side). Our bots may be installed on premises or in the cloud, are fully auditable and keep full timestamped records to evidence compliance. Our MiFID II bot works as a lawyer in a box that automates compliance tasks, generates notifications to all relevant stakeholders, including clients, keeping you fully compliant, optimising business timing and maximising business opportunities. And it's GDPR compliant too!
---
BMLL Technologies Limited – BMLL is a cloud-based data science platform for research and development, offering access to level 3 full order book data (cash equities, futures and options), unlimited compute power in AWS and a wide range of data science and machine learning toolboxes, all on a pay as you go rental basis. The combination of hardware, software and analytics allows clients to extract value out of big data sets previously unavailable to the wider financial market. One key area of application is in trade surveillance and compliance, TCA, best execution and market impact analysis.
---
Broadridge – A suite of MiFID II services under the FundAssist business (a regulatory and distribution solutions provider to the investment industry) including trade and transaction reporting, and a facility to aggregate and process investor and product data, calculate the personalised cost information and produce end investor statements.
---
Cappitech Regulation – Cappitech is a leading provider of regulation technology for the financial services industry. Through CapptivateTM, Cappitech's regulatory service platform, customers can easily automate submission and analyse their daily trades to comply with international financial transaction reporting obligations. This cross-regulation platform uses state-of-the-art technology to provide a unified experience for all regulatory reporting along with an industry leading analytics dashboard to process and audit review compliance reports. Trusted by leading financial institutions, Cappitech provides superior service and personalised guidance using its vast operational regulatory expertise. Led by a team of experienced FinTech professionals with a proven track record, Cappitech has been named a RegTech 100 company – one of the world's most innovative RegTech companies – by FinTech Global, a data and research firm.
---
Catena Technologies – Catena Technologies is a RegTech company that specializes in regulatory derivatives trade reporting. Its award-winning TRACE Reporting platform helps customers manage trade reporting requirements across multiple asset classses and regulatory jurisdictions, including MiFID II, EMIR, CFTC, HKMA, ASIC, and MAS.
---
Citihub Consulting – Citihub Consulting is a global, independent IT advisory firm with deep domain expertise across every layer of the technology stack – from business applications and data platforms down to core infrastructure. Our consultants have decades of experience helping clients promote best practices in every IT discipline. From IT strategy, architecture and solution development, through to cost optimisation, risk assessment and implementation – our trusted experts deliver the right results for your business. Our long regulatory heritage spans both technology and business sponsored engagements covering Dodd-Frank; GDPR and the execution and delivery of multiple MiFID II workstreams. These covered everything from trade and transaction reporting; clock synchronisation; algorithmic trading; cost & charges and research unbundling. We have a relentless commitment to quality execution, integrity and client success. Our commitment to delivering the right results for our clients has never changed, even as the business has continued to grow over two decades.
---
Compliance Solutions Strategies – Providing the following RegTech solutions: AIFMD, CPO-PQR, EMIR, Form ADV, Form PF, GDPR/Cybersecurity, MiFID II, Position Limit & Substantial Shareholding Disclosures, Post Trade Compliance, PRIIPs, Rule 38a-1 & Rule 206 (4)-7, SEC/Reporting Modernization/LRMP, SFTR, Solvency II, VAG, GroMiKV, CRR & Solva.
---
Confluence – As a proven leader for over 20 years in data aggregation, management and reporting, Confluence offers solutions to the global fund industry to support asset managers and their administrators with performance, regulatory reporting, and investor communications. By taking disparate data sources from providers such as custodians, index providers and accounting systems, then centralizing and aggregating the data, output in various information formats is available to both internal and external consumers including portfolio managers, boards of directors, regulatory agencies, and investors.
---
Corvil – UTC clock-synchronized data capture, real-time monitoring, order lifecycle tracking, unexecuted orders to transactions ratio alerting, compliance validation and security analytics.
---
CUBE – Founded in 2011 by RegTech pioneer Ben Richmond, CUBE was early to recognise how extensive and voluminous financial regulation would become. We understand the huge costs and risks associated with managing regulatory change compliantly, and we have purpose-built an automated end-to-end regulatory intelligence and change solution, underpinned by AI and Machine Learning. CUBE serves multi-jurisdictional Tier 1 and 2 financial institutions, including global banks, wealth managers and insurance companies. Two million staff in 160 countries currently consume regulatory intelligence, and manage regulatory change initiatives, powered by CUBE. With offices in London, New York and Melbourne, CUBE has 100+ staff globally, including specialist regulatory experts and 24/7 support.
---
Custodia Technology – A truly global 360° life cycle solution and support provider for voice + data capture and aligned communication compliance technologies, Custodia services highly regulated global market participants managing emerging communications and collaboration technologies within ever changing compliance landscapes. While compliance requirements expose trading organisations to regulatory burdens and barriers preventing the adoption of emerging modalities of communications and collaboration technology, Custodia enables organisations to provide their regulated users with cutting edge communications and collaboration tech while meeting compliance regulations head on and gaining a clear competitive advantage in the market.
---
DataAxxis, LLC – We were founded under the principle of resolving BCBS 239 risk data aggregation. Our solution addresses components of MAR, EMIR, MIFID, Solvency 2. We transform legacy data to a semantics data model thereby allowing data to be aggregated across, corporate silos, and spreadsheets. EDM Council member.
---
Datactics – Datactics specialises in data quality and matching software for firms operating in the financial sector to help comply with data-driven regulations including BCBS239, FATCA, MiFID II and FSCS. The company provides user-friendly tools with hundreds of built-in data rules to help financial institutions get their data in order and quickly respond to new standards. Solutions provide intelligence into the underlying quality of data as well as helping reduce the complexity and cost of onboarding entities into a Legal Entity Master through high-performance fuzzy-matching technology and connectivity to external data sources such as Dun & Bradstreet, Companies House, Bloomberg, Thomson Reuters etc.
---
Datawatch Panopticon – The Panopticon Streaming Analytics Platform enables traders and managers to spot outliers and anomalies, including fraud, in trading data. Major Investment Banks, asset managers, and exchanges use Panopticon to improve profitability, monitor risk, and comply with regulations, including MiFID II. The platform consists of Panopticon Visual Analytics software, the only true real-time data visualization system on the market, and Panopticon Streams, a stream processing engine that enables users to program sophisticated business logic and data functions using a fully visual interface.
---
eFIRDS by Nordic Trustee – eFIRDS helps you secure you have an updated central database with the latest static data from ESMA, FCA and GLEIF. The scrubbed and mapped data will help you check, verify and complete your regulatory compliance reporting on a daily basis.
By using the eFIRDS API customers can retreive vast amounts of data in an automated and efficient fashion. The efirds.eu website look-up tool can be a standalone service or compliment to the API to help the customer adhoc look-up any instrument or issuer of interest.
---
emagine – providing the following RegTech Solutions: Time-as-a-Service (global traceable NTP/PTP solution with full Reporting and monitoring) Monitoring-as-a-Service (systems, networks, applications).
---
Equiniti KYC Solutions – Equiniti KYC Solutions, formerly known as KYCNet, was founded in Amsterdam in 2008, pioneering the development of a 'KYC-as-a-Service' model, and has worked exclusively in the KYC sector since 2008, providing complete KYC Due Diligence analysis. The company was acquired in March 2016 by Equiniti Group, a UK-based and stock-listed company, but maintains its head office in Amsterdam. Building on 10 years of established KYC experience, EQ KYC offers both an end-to-end process i.e. KYC-as-a-Service, as well as the ability to purchase a self-service offering i.e. the in-house developed KYC software, built by KYC practitioners. KYC is a key risk for FIs and it is crucial that organizations can demonstrate to regulators that they have robust and effective KYC processes and systems in place. Flexibility is one of our assets, enabling firms to play to their strengths and create a bespoke service to suit their business needs. We offer a flexible delivery model, and can provide software in the cloud, on premise, or alternatively clients can access KYC-as-a-Service, where they can benefit from our KYC Centre of Excellence i.e. a team of KYC experts, who speak more than 30 languages. KYC is complex and costly for the smaller institutions, which have recently come under the scrutiny of financial regulators. We have recognized and understood their need for a KYC solution which is cost effective, easily adaptable but still highly compliant – hence, we will soon cater to this type of prospects with our KYCnet-in-a-box. This pre-configured end-to-end core backbone that can evolve easily upon request will give smaller institutions something that can have up and running within a couple of weeks.
---
Eurobase International Group (Eurobase) – Eurobase is a privately held, diversified business solutions group headquartered in the United Kingdom. Eurobase has, for the past 30 years, developed and produced market-leading solutions for the banking and reinsurance industries globally, including on-line customer portals, front office treasury management & sales desk solutions incorporating regulatory reporting. Our customer trading solutions offer full best execution monitoring combined with regulatory reporting for MiFIR, EMIR and SFTR. They enable our clients to meet all client segmentation and engagements with full audit trails and trade reconstruction in a single, compact application.
---
ExactPro – Trading software testing: including functional and non-functional testing, test tools, test automation and environment support.
---
Eze Software – Front office reporting solution, best execution analysis, commission management tools, transaction and trade reporting, and more.
---
FE – FE is a leading provider of data, ratings and investment research, to the 4 Investment Management industry. We use our expertise to help our clients unlock the potential in their data, and connect and communicate more effectively with their customers, whilst ensuring regulatory compliance and transparency. This in turn helps the industry make better informed and superior investment decisions. Founded in 1996, FE is a private company with a strong presence in the UK, Europe, and the Asia Pacific.
---
FeedStock Ltd – FeedStock is the only truly automated business analytics system for clients in capital markets. Using the very latest technologies and machine learning models, FeedStock interfaces with legacy business applications to filter, capture and classify work-related activities. The system is integrated and non-disruptive. It sits in the client's existing IT infrastructure to automatically capture interaction data across applications and business tools to generate rich, insightful engagement data, which serves both compliance and commercial use cases. FeedStock satisfies the MiFID II research unbundling requirements automatically and without disrupting the investment process or demanding any time from front office staff.
---
Fenergo – a leading provider of Client Lifecycle Management, AML/KYC Compliance and Client Data Management solutions for investment, corporate, commercial and private banks.
---
Finastra – Capital markets organizations are drowning in regulation. SA-CCR, FRTB, MiFID II, SFTR and the EMIR Review demand an enterprise-wide view of risk. Yet legacy and siloed systems are largely unable to create the perspective needed.
Firms that can aggregate and connect essential risk data enjoy benefits that extend far beyond compliance:
Insights that improve competitiveness
Optimized balance sheets that reflect the latest capital, liquidity and funding requirements
Resilience to market volatility and further regulatory change
Fusion Risk helps capital markets organizations to:
Improve regulatory compliance and reporting
Manipulate complex data to achieve strong analytics quickly
Deliver real-time incremental risk measures
---
Fonetic – Fonetic was founded with one goal in mind: to create value by helping machines better understand humans. We have pioneered the use of audio data and voice analytics for the financial services community. With years of experience in voice and e-comms analysis, machine learning and natural language processing, we offer the most accurate trading floor surveillance solution on the market today.
---
FundApps – Financial compliance is a demanding and exacting task. Our clients typically invest tens, or hundreds of billions of dollars into equities traded in dozens of jurisdictions, and the complexities in maintaining compliance in so many countries are enormous. Previously, the fund industry has had two choices to deal with a shifting sea of regulation: buy a large, expensive and archaic software package… or build a large, expensive and unreliable software package in-house. FundApps offers a third choice with its unique compliance service and provides both technology and content. Our services have been designed based on the input provided by the real compliance experts – the FundApps user community. Combining software and up-to-date regulatory content, provided by aosphere (an affiliate of Allen & Overy), our services address the key challenges of position limits and shareholding disclosure monitoring, enabling clients to build and sustain a robust compliance infrastructure and a culture of oversight and transparency. It also significantly addresses the risks of non-compliance, which attracts ever stricter penalties. One of the biggest problems that compliance teams at large financial institutions face is keeping track of regulatory updates around the world. By supporting over 90 jurisdictions with our compliance services, we're extremely attractive to clients with an international approach to investment, as well as those with offices in multiple countries. The global fund industry currently manages about $74 trillion, so the target market is enormous. In 2013 KPMG estimated that the Investment Management industry spends 7% of its total costs on "compliance related technology, staff and strategy", and that number has certainly grown in the past four years. This shows that firms do not only spend a significant amount of money on compliance technology, there is also enormous appetite for services that increase efficiency, save time and lower costs, such as FundApps.
---
GoldenSource Corporation – GoldenSource EDM is optimized for the next wave of business, operations and IT needs, addressing the evolving demands of multi-regulatory compliance and reporting, harmonized data across the organization, and productivity gains through automation and IT rationalization.
---
Gresham Technologies – Gresham is a leading software and services company that specialises in providing real-time data integrity and control solutions. Gresham's award-winning Clareti software platform has been designed to provide financial institutions with complete certainty in their data processing. Clareti is a highly flexible and fully scalable platform for ensuring the integrity of data across an enterprise. It is designed to address today's most challenging financial control, risk management, data governance and regulatory compliance problems. Listed on the main market of the London Stock Exchange (GHT.L) and headquartered in the City of London, its customers include some of the world's largest financial institutions, all of whom are served locally from offices located in Europe, North America and Asia Pacific.
---
Harmoney – Harmoney has built the one-stop shop for digital onboarding and compliance management. We manage all workflows and interactions between the client, the front-office and compliance on one single platform.These 3 stakeholders have each their own access and workflows, but all with one goal in mind: no more paper work.
The platform will be customised to your client acceptance workflows and compliance procedures. Harmoney ensures the full client due diligence (KYC, PEP, UBO and AML, Mifid or IDD checks) for private and corporate clients, even the most complex ones. All stakeholders can rely on trustworthy client data, including full audit trail and reporting facilities.
In comparison with other onboarding solutions, we implement the compliance procedures of the financial institutions or insurers themselves. We don't impose a standard forced work stream; we are fully customisable. Harmoney is a digital end-to-end onboarding, but also available as specific modules like AML risk based approach or UBO registration.
---
IHS Markit – Benchmarking for best execution and transaction cost analysis, research evaluation and acquisition, transaction reporting, regulatory outreach and data exchange.
---
iMeta Technologies Ltd. – Founded in 2000, iMeta is a leading provider of client lifecycle management software and services; delivering solutions to institutional brokers, dealers and wholesale banks around the globe. iMeta CLM is a purpose-built, modern, modular platform for on-boarding and client lifecycle management, which handles the global complex regulatory data requirements for financial firms and enables them to manage their customer data – from on-boarding and regulatory compliance, through to reviews, remediations and off-boarding; supporting the whole lifecycle of the client. Financial firms are often managing complex business relationships and strive to provide their clients with a professional and enjoyable experience in all their interactions. iMeta CLM is designed to support the needs of front, middle and back office to save time, deliver a positive client experience, and reduce costs.
---
IMVS Limited – To provide innovative solutions to business problems and constantly look to improve products and services in order that our customers continue to deliver high quality cost effective service to their valued client base. IMVS is a business solutions provider not just a product provider. The realistic target market for IMVS does not lie at the top end of the market, the opportunity for growth at IMVS lies in the small to medium Private Client Wealth Managers with FUM ranging from £50m to £1.5b. There is a significant minority part of the sector dealing with the management of assets for the private investor, legal trusts and small "self administered" pension funds, it is this part of the market that APA is designed to address. We use a technology architecture that allows us to deliver the flexibility and speed of change required by the market that over the past 10 years has seen an ever increasing demand on compliance and regulatory requirements which we can deliver cost effectively.
---
Insightful Technology – Through our SaaS platform Soteria, we provide financial organisations around the world with the ability to compliantly capture, analyse, store and surveil business communications and market data in real-time, regardless of the source, and in a single, global and hierarchical view. We also provide Data Integrity through tokenised 3rd party verification for Duty of Care and Evidential Weight.
Our Artificial Intelligence, Business Intelligence, and End-to-End Workflow capabilities include Proactive Monitoring and Alerting, Analytics and Reporting, the functionality to immediately create Trade Reconstructions with containerised Regulator Login Access, and also the ability to pre- populate 3rd party solutions such as CRM systems or Best Execution Templates, with accurate Voice-to-Text transcriptions, translations and notes. Using Soteria, we not only drive compliance, surveillance and risk mitigation on a global scale but also business efficiency.
Our mobile voice recording technology which underpins 'Truphone
Mobile Recording' is currently used by 10 of the top 12 tier 1 global banks, and we have over 180 other financial organisations, including
buy- and sell- side firms, using Soteria throughout their front, middle and back office departments. Soteria can also be implemented by other regulated industries, including government agencies and legal institutions.
---
IPC Systems Inc – IPC is a technology and service leader powering the global financial markets. We help clients anticipate change and solve problems, setting the standard with industry expertise, exceptional service and comprehensive technology. With a customer-first mentality, IPC brings together one of the largest and most diverse global financial ecosystems spanning all asset classes and market participants. As the enabler of this ecosystem, IPC empowers the community to interact, transact and react to market changes and challenges, and we collaborate with our customers to help make them secure, productive, compliant and connected. Connecting opportunities IPC brings together a financial community of 6,000+ that spans the asset classes and types of market participant.
---
ISIN2LEI.eu – We provide linked open data on Legal Entity Identifiers (LEIs) and International Securities Identification Numbers (ISINs) Both Level 1 (Who is who) and Level 2 (Who owns whom) data on LEIs is made available. ISIN to LEI links are added from a Mifid II persepective. We make data available in a user-friendly webportal, where you can easily search and drilldown to the details Data can be exported to CSV and PDF and you can create your own list of favorite LEIs and ISINs.
---
Itiviti – 'Itiviti Analyst' solution covering Market Abuse Regulation, algo monitoring, best execution, market maker compliance, MiFID II parameters, transaction cost analysis and more.
---
Kaizen Reporting – Kaizen Reporting is a specialist regulatory reporting assurance firm. Founded by former regulator Dario Crispini, we've combined our deep knowledge of regulation with the latest in data analytics to develop a range of quality assurance services that address the ever-growing challenges that regulations present. Whether it's MiFID I or II, EMIR, DFA, or another regulation, our testing and controls can give you confidence and peace of mind in the quality of your regulatory reporting. ReportShield™ provides complete compliance with regulatory obligations including MiFID II, EMIR, DFA and other G20 regulations and comprises four key components to satisfy the three mandatory reporting requirements of testing, reconciliations and a control framework.
---
kompany – kompany provides a global live network to commercial and banking registers. It offers real-time, audit-proof company information, including documentary evidence, from primary government sources for Business KYC (KYB) and verification purposes. The service fully meets AMLD4, MiFIDII and forthcoming AMLD5 regulatory requirements. kompany today covers information on more than 100 million companies from 150+ jurisdictions and is a commercial register government clearing house and an official distributor of the European Business Register and local commercial registers worldwide.
---
Kompli-Global – Kompli-Global uses a combination of advanced AI-driven technology and human expertise to identify and alert organisations to the 'bad actors' who are seeking to utilise their company to launder the proceeds of financial crime Our services reduce your exposure to fraud, mitigate against personal and corporate prosecution, protect the company's brand's reputation and make true regulatory compliance a cost effective reality. Kompli-Global has developed the world's first truly multi-jurisdictional, multi-lingual due diligence search platform that discovers comprehensive and accurate adverse and negative information that goes far deeper than just the news & media. We enable you to uncover material information otherwise unavailable or too time consuming to find. Information that is essential to meet regulatory compliance such as 4MLD & 5MLD If you're using traditional search engines, you could be missing >90% of the story.
---
KyoLAB Limited – KyoLAB helps businesses engage with their client via popular mobile social media like WhatsApp or WeChat in a compliant way, providing audit trail and means for dispute resolution.
---
La Meer Inc – offers the GRACE suite of web based / tablet enabled solutions that address all of the above areas of regulation. In addition we offer the Enterprise GRC suite which addresses the need for having an enterprise wide governance, risk and compliance.
---
Laurellis Associates – Laurellis Associates is a specialist, independent management consultancy providing expertise and advice on regulatory change, compliance and operational risk for clients within the Financial Services industry.  We consistently deliver cost effective solutions to complex engagements covering EMIR, ASIC, MiFID II, SFTR, CSDR and SMCR for both buy and sell side firms.  Through intelligent analysis of global regulatory reforms, we help our clients to understand and operationalise regulatory and market driven business changes to achieve compliance and mitigate operational risks.
---
LEI Smart – We're in the "No LEI, No Trade" era. Regulations require correct and current legal entity data. You need it for clients, counterparties, and internal entities. You may need it for issuers. LEI Smart simplifies legal entity data management. It's a cloud-based service that helps you get your data right and keep it right. Use it to validate existing mappings, find missing LEIs, and receive notification of critical data updates. LEI Smart's web dashboard, file upload, and API are easy to adopt.
---
MAP Financial Technologies Ltd – specializes in regulatory reporting solutions arising from the requirements of a number of complex and challenging international regulations such as MiFID II, ???R, R???T, Dodd-Frank, FATCA, CRS as well as the forthcoming SFTR etc. Our team comprises of consultants from a range of professional backgrounds including IT, financial analysis, risk management, compliance and regulatory research and securities trading. Our team's combined expertise underpin our company's success in providing targeted solutions to our clients.
---
Market EarlyBird.com – EarlyBird delivers full access to breaking news, comment and analysis on Twitter, while ensuring full compliance with Data Security requirements. EarlyBird allows your users to follow any Twitter account without requiring a Twitter account themselves. It records every Tweet seen and makes these available in a comprehensive Compliance Portal to IT and Compliance. It even includes deleted Tweets. Data recorded by EarlyBird can also be used as part of a MiFID II Trade Reconstruction.
---
MPI Europe Limited – As financial sector specialists working at the intersection of regulatory driven and technology enabled change, we understand that the business challenges you face today demand effective solutions based on experience, expertise blended with innovation in ideas and technology. MPI provide skilled people with relevant experience to work with you, as well as MiFID, KYC/AML, machine learning/search, data and accounting standard solutions with partners to address these challenges, including major regulatory, risk, technology and data projects.
---
MYRIAD Group Technologies Limited – Established in 2004 and based in the City of London, the Company has a strong track record of delivery on its three platforms: CODUDE, Embus and MYRIAD. We have some of the biggest Financial Institutions in the World as Clients and work very closely with each of them to generate low-cost, high value-added solutions for Network and Vendor Management; for Client Onboarding and CLM; and for due diligence and questionnaire management.
---
Novabase – Symetria helps Financial Institutions address both current and future regulatory reporting requirements, effectively deal with regulatory changes and ultimately, reduce operational costs.
---
OneMarketData -Trade Surveillance, BestEx, MFID II, reg reporting.
OneTick Surveillance supports intra-day and T+1 examination of orders and transactions data. It features an alerts review dashboard with advanced visualizations, alert statistics, parameter tuning, static report-generation, trade reconstruction, and integrated case management. The system has the capacity
and performance to process millions of orders, updates, and transactions per day, and to review years of history. OneTick Surveillance is complemented by TickData™ Cloud, our vast collection of reference data and market data history, covering global equities, futures, options, Forex, and corporate news.
Subscribers may elect to use our market data or their own, or mix and match as desired. The system is currently in use by a global bank to satisfy MAR and the FCA's Forex remediation requirements across multiple desks. It is used by the world's largest options broker, the world's largest algo operator, by a major US clearing broker to meet CFTC surveillance requirements and by the most prestigious exchange it the world.
---
OneTick – Data management, storage and database solutions for transaction cost analysis, quantitative research, algo trading signal generation, strategy backtesting, managed content, market surveillance and more.
---
OpenCorporates – OpenCorporates is building the global map of company data, collecting all the world's official public information on companies, and using it to build a company dataset fit for the modern data-driven world – standardized, accurate, provenanced and open. We are already the largest open database of companies in the world with over 150 million companies in 128+ jurisdictions which powers KYC solutions, anti-corruption investigations and business intelligence. We are organically growing with an impressive set of blue-chip clients such as Mastercard, Capital One, PWC and the US/ UK governments, as well as Fintech leaders such as Stripe, Transferwise, Exiger and Duedil. It has the potential and governance to become the world's underlying supplier of foundational company data for the good of business and for society.
---
Quantum Tech – Quantum is a first-of-its-kind platform for testing algo-based trading strategies and execution systems. Developed by long-time industry veterans, Quantum offers a complete out-of-the-box testing service that gives clients virtual copies of actual exchanges, with all of the behaviors, protocols, order types, and market data of their real global counterparts, under a single consistent platform deployed in any cloud across an entire firm. Most trading is via complex algorithms that must be tested rigorously. Most investment firms have developed internal testing services, but these are expensive to develop/maintain, offer suboptimal insights into complex and AI-driven strategies, and do little to shorten the go-to-market and model validation processes. Most importantly, existing services will not meet new regulatory scrutiny, and thus do not protect clients from risk or regulatory fines, putting millions of capital at risk.
---
RegBot – providing the following RegTech Solutions: MiFID II bot (covering Investor/Client Protection obligations); Covered Funds bot (covering the Volcker Rule under Dodd-Frank.
---
Regnology – Regnology is a leading international provider of innovative regulatory, risk, and supervisory technology solutions (RegTech, RiskTech, and SupTech), of AEOI and tax reporting products, as well as of services along the Regulatory Value Chain for financial services. Regnology has been a partner for banks and regulators for 25 years. Until the end of 2020, the company was part of BearingPoint group and operated under the name BearingPoint RegTech. Since the sale of the RegTech business to private equity firm Nordic Capital, the company has been independent. In June 2021, the company joined forces with Vizor Software and recently changed its name to Regnology. In total, Regnology serves more than 7,000 financial services firms with reporting solutions. At the same time, the company enables more than 50 regulators and tax authorities on five continents to collect data from 34,000 firms in 60 countries. Regnology has a total workforce of over 770 employees at 17 office locations in 12 countries.
More information: www.regnology.net
---
RegTek.Solutions – RegTek.Solutions was founded in 2017 with one goal in mind: to help firms impacted by trade and transaction reporting obligations achieve sustainable compliance. In an era of regulatory overload resulting in ever increasing compliance costs, we allow firms to do more with less, without ever compromising on the discipline required to meet regulatory requirements. We help firms achieve this goal by mutualising the cost and burden of building and maintaining intelligent reporting systems.
---
Regtify – Regtify is a SaaS focused technology firm that provides regulatory solutions to Investment Firms and Credit Institutions. Our current solutions include a complete Basel 3 (CRR/CRD 4) Regulatory automation package as well as actual corporate/enterprise risk management.
---
RSRCHXchange – RSRCHXchange is helping more than 1,200 asset management firms and over 400 banks, brokers and independent research providers with a marketplace for buying and selling research, and an advanced platform for managing consumption. We are continuously improving the user experience around research consumption and distribution and remain a technology-led company, whilst also solving for complex regulatory issues like MiFID II research unbundling.
---
Scaled Risk – Risk: The Enterprise Regtech Data Platform. We are a RegTech software company providing the Financial Services Industry with a one stop shop, agile, real-time, consistent and auditable big data platform. Our platform is used by the Financial Software Industry to efficiently solve their risk and regulatory issues. Currently used by Financial Authorities, CIB, Asset Managers, Custodians, Retail Banks and even Corporates for: MiFID II, FRTB, Basel III and GDPR (control) – KIID/ PRIIPs (reporting) – French anti-bribery law – Sapin 2 (compliance application) – Trade Repository & Analytics (application) – Credit & Liquidity Risk (SaaS application). To do so, we use cutting edge technology that allows consistency, flexibility, data traceability and high volumes. Our software takes the best of legacy systems and big data platforms to enable rapid and flexible application development to cope with ever-changing regulations data schema, models and rules changes.
---
Shield FC – A unique cross-regulation compliance platform that provides a complete view on eComms, trade and market data utilizing AI, Natural Language Processing and Visualization capabilities to make compliance more efficient and ROI driven.
---
Solidatus – Solidatus focuses primarily on the increasingly regular and critical theme of data lineage. An organisation can only begin to consolidate its data when it understands that data's provenance. Detailed and complex data lineage can be represented in a visual form in Solidatus. This provides a richness and depth of information that other reporting processes cannot. Regardless of whether it is being used for AML, CCAR, BCBS239, FRTB, GDPR or MiFID II, Solidatus supports organisational efforts to maximise the impact efficiency of implementing regulation, improving operational transparency, reducing risk as well as costs. Solidatus enables regulated businesses to move from being reactive to proactive in their efforts to be compliant.
---
SteelEye Ltd. – SteelEye specialises in aggregating, transforming, enriching and analysing data (both structured and unstructured) for regulatory compliance and business oversight. We are the only technology provider that provides record keeping of communications and transaction data, best execution reporting, transaction reporting, trade reconstruction and surveillance in one comprehensive solution. Perhaps even more importantly, compliance requirements are no longer just a sunk cost. The SteelEye platform allows customers to analyse and interrogate the data to help them drive operational efficiencies across the organisation.
---
SWIFTRef – SWIFTRef is SWIFT's unique reference data and financial information utility. It provides reference data for financial transactions processing, regulatory compliance and due diligence activities. Our Entity Plus offering specifically helps with regulatory requirements and counterparty risk management through the centralized entity data it provides. Entity Plus cross-references different standardized entity identifiers (BIC, LEI, GIIN, MIC, BRN) needed in many regulatory contexts and gives the legal ownership structure of institutions contained.
---
TickSmith Corp. – Financial institutions without a scalable and future-proof data management infrastructure struggle with increased data intensive compliance obligations. They are also ignoring the data mining opportunities made possible with AI and machine learning. With its TickVault platform, TickSmith centralizes, transforms, and effectively manages financial data at scale so that data becomes the cornerstone of their business strategy. TickSmith provides concrete solutions for challenges such as: data distribution, complex financial simulations, TCA, best execution, and new regulatory requirements such as The Fundamental Review of the Trading Book (FRTB) and MIFID II in addition to supporting product and trading strategy development.
---
TeleMessage Inc – The TeleMessage Mobile Archiver effectively addresses compliance, regulatory, eDiscovery response requirements and reduces risk across a variety of industries. TeleMessage captures mobile content, including SMS, MMS, Calls and Chats from corporate or BYOD mobile phones. Messages are securely and reliably retained within TeleMessage servers or forwarded to an archiving data storage vendor of your choice.
---
UnaVista, London Stock Exchange – UnaVista is London Stock Exchange Group's global platform for reference data, reconciliation and regulatory reporting. UnaVista provides firms with a range of solutions designed to reduce operational and regulatory risk. UnaVista's regulatory solutions help firms comply with multiple regulations through one interface allowing clients to do more than just comply with these reporting regimes.
---
Veridate Financial – The focus of our company is to provide superior and highly automated end-to-end client onboarding solutions, to the wealth management sector, through our proprietary software, COBA™.
---
Verint – Through its acquisitions of Verba and Nxtera in 2017, Verint is the only FinTech/ RegTech vendor in the market providing a holistic financial compliance suite integrating proactive, active and reactive compliance capabilities. The extensive Verint portfolio offers proactive compliance, omnichannel compliance recording and archiving, speech search and transcription, automated verification and assurance solutions that is augmented by an extensive ecosystem of RegTech partners.
---
Volante Technologies – Founded in 2001, Volante Technologies (Volante) is a global leader in the provision of software for the integration, processing, reporting and orchestration of any financial transaction. Volante is dedicated to helping firms increase their agility so they can focus on compliance, embrace new technology and remain competitive in their marketplace. Product features such as configuration rather than coding, automated code and documentation generation and inbuilt test harnesses promise significantly accelerated project completions.
---
Waymark Tech – Speed up regulatory review times, never miss an update with advanced AI, and secure your data while lowering costs with transparent, predictable pricing.
---
Wolters Kluwer – Wolters Kluwer's Finance, Risk & Reporting business is a leader in the provision of integrated regulatory compliance and reporting solutions globally, supporting regulated financial institutions in meeting their obligations to external regulators and their own board of directors. It is part of Netherlands-based Wolters Kluwer, a Euronext listed firm which reported 2017 annual revenues of €4.4 billion, employing 19,000 people worldwide.
---
Xenomorph – Xenomorph provides trusted data management solutions to many of the world's leading financial institutions. The company has more than two decades' experience managing large volumes of complex data and analytics. It has consistently reinvested in its technology, culminating in the latest generation enterprise data management platform TimeScape EDM+. The platform supports all core data management workflows – spanning data integration, mapping, normalisation, consolidation, derivation, validation, cleansing and distribution. It enables Financial Service Providers to create securities, pricing and risk data masters to support front, middle and back office functions.
---
If you want to appear on this page please contact Jo Webb at jo@a-teamgroup.com or call us on +44 (0)20 8090 2055.