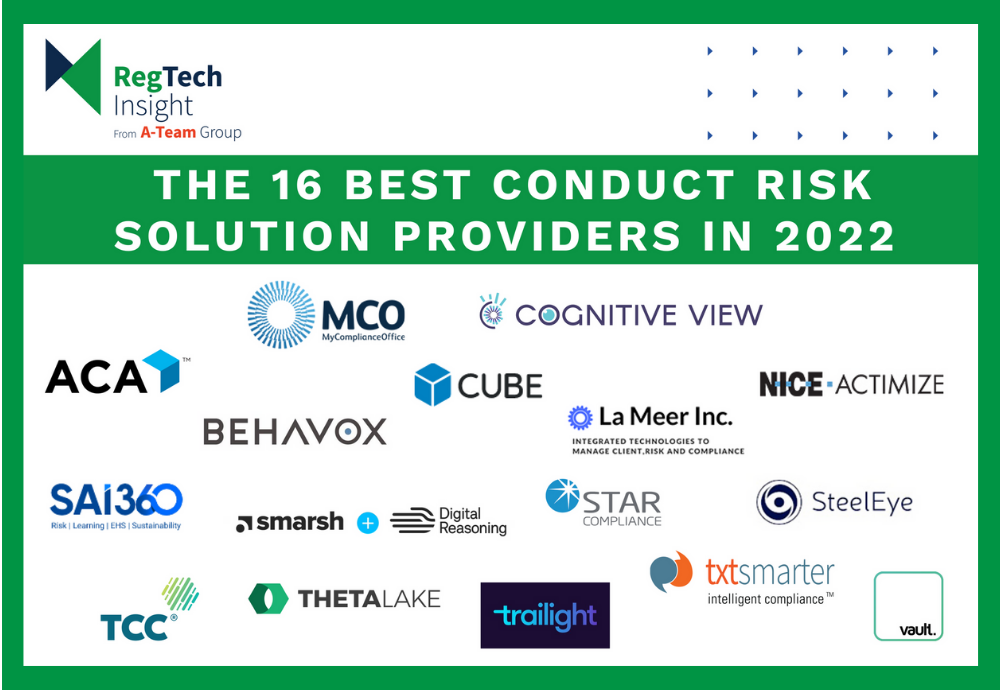 Following many well publicised misconduct issues within financial services, there is now a regulatory spotlight on the issue of conduct risk (in addition to all the fines) in an effort to help rebuild trust and support future growth.
The FCA broadly defines conduct risk as 'any action of a regulated firm or individual that leads to customer detriment or has an adverse effect on market stability or effective competition'.
There are many aspects of an organisation's business that are vulnerable to conduct risk, and that financial institutions need to be able to monitor and improve their conduct across multiple approaches.
Misconduct can come down to issues such as weak monitoring systems, conflicts of interest, disconnected business models, manual and complicated processes as well as poor accountability, problematic culture and misguided product lifecycle.
Regulators are now expecting firms to embed conduct risk management across the organisation. Regulations include the Senior Managers and Certification Regime (SMCR) in the UK; the EU Whistleblower Directive (read about it
here
); the SEC's Rule 204A-1 (Code of Ethics Rule) and Foreign Corrupt Practices Act (FCPA) in the US; the MAS Conduct Guidelines and more.
RegTech Insight has collated a list of the top Conduct Risk solution providers to consider in 2022, based on our own research as well as entries to our RegTech Insight Awards Europe, Regtech Insight Awards USA and RegTech Insight Awards APAC.
MyComplianceOffice – ****Winner of Best Vendor Solution for Managing Conduct Risk in the 2021 RegTech Insight Awards Europe and RegTech Insight Awards USA
Monitor, identify and remedy conflicts of interest and code of conduct issues with MCO's fully integrated Conduct Risk Solution Suite. The solution is fully automated, providing end-to-end management of request processes, exception management and compliance monitoring of conflict of interest policies. A trifecta of risk solutions; Know Your Employee, Know Your Third Party and Know Your Transaction combine to provide a comprehensive solution package to target complex and burdensome processes; providing transparency into firms' conduct related activities.
Cognitive View – Winner of Best Vendor Solution for Managing Conduct Risk in the 2021 RegTech Insight Awards APAC
Conduct Surveillance from Cognitive View assists organisations to identify manipulation, collusion, improper sales practice and unethical practices. Features include components to help identify conflict of interest at various control points, automation of risk and compliance processes and procedures with prebuilt obligation libraries, a deceptive conduct analysis framework, an insights hub and alignment with regulatory directives to safeguard customer interests. Cognitive View boasts benefits including improved organisational culture, reduction of risk and reputational damage, improved customer experience and avoidance of regulatory fines.
ACA Group
ACA Group (ACA) is the leading governance, risk, and compliance (GRC) advisor in financial services. We empower our clients to reimagine GRC and protect and grow their business. Our innovative approach integrates consulting, managed services, and our ComplianceAlpha® technology platform with the specialized expertise of former regulators and practitioners and our deep understanding of the global regulatory landscape.
ComplianceAlpha is ACA's award-winning regulatory technology platform that integrates risk and compliance activities, automated surveillance, ongoing monitoring, flexible workflows, enhanced analytics, and managed services delivery. Designed, developed, and supported by ACA's experienced team that includes over 200 former regulators and compliance officers, the platform is used by over 1,000 leading financial services firms worldwide to build more scalable and resilient compliance programs.
Behavox
Behavox Conduct works as a three step process: Aggregate global communications across 150+ data types and multiple languages; Analyze by identifying troublesome employees who destroy corporate culture and jeopardize brands; and ACT by addressing true positives and removing company-ending blind spots. Behavox Conduct identifies illegal, immoral and malicious employee behavior to 'enable enterprises to organize and refine their data into actionable information that protects and promotes business growth'.
Cube Global
Cube Global offers a comprehensive source of classified, meaningful regulatory intelligence. Cube RegPlatform delivers expert validated insights combined with industry leading technology in a simple, constantly up to date service, simplifying the complexities of multi-jurisdictional regulatory compliance. Cube RegAssure focuses on agility and flexibility, offering access to every regulation. Powered by AI, it is simple to set up and allows firms to solve for any and all regulatory solutions, from beneficial ownership all the way through to HR.
La Meer Inc.
Manage your SMCR obligations with La Meer Inc.'s cloud based GRACE platform. As a 'proof of compliance' tool for the FCA's regulatory examination, GRACE keeps track of breach of conduct cases. This collaborative tool encompasses the compliance department, senior management and staff to establish the process for policies, senior management roles and responsibilities and periodic reporting. Centralized issue management helps to manage assignment, recording notes and issue closure. Additionally, online Attestation Templates and dashboard ensures all roles and responsibilities are clearly set up, keeps track of attestation status and ensures pending items are followed up.
NICE Actimize
NICE Actimize solutions for financial markets compliance provides firms with complete coverage required by today's financial service regulations. Real-time fraud prevention, AML detection, trade surveillance, market surveillance, and eComms and voice surveillance solutions are included in the SURVEIL-X platform.
SAI360
SAI360 builds the content, training, codes of conduct and technology necessary for firms' compliance programs. The solution tackles anti-bribery and anti-corruption; code of conduct, ethics and culture; competition and antitrust; conflicts of interest; employment and workplace issues, and more. Customized for each client, solutions are built by in-house learning designers and external legal subject matter experts. SAI360 Learning Management System (LMS) is multi-lingual and delivers real-time analytics, branding and customization.
Smarsh+Digital Reasoning
Smarsh's 2020 acquisition of Digital Reasoning has created a powerhouse intelligence platform for the retention, oversight and analysis of electronic communications. This fully integrated, AI-powered solution allows enterprises to leverage communications data to quickly identify and minimize conduct risk, highlight business opportunities and improve operational systems. Conduct Surveillance from Digital Reasoning monitors 200,00+ employees and over 8 billion messages per year with integrated text and voice analytics, human-centric monitoring and agile AI model training.
Star Compliance
Monitor and mitigate employee conflicts of interest with the STAR Platform. Including nine automated software products, each addresses a key area of concern for enterprise financial institutions: personal trading, private investments, gifts and entertainment, outside activity, political donations, insider trading, training and competency, individual accountability regime and STAR mobile. Centralized data in the STAR Compliance Control Room organizes and manages data within information data flows to conduct conflict searches with ease. The solution helps firms meet regulatory requirements from the SEC, FINRA, FCA, MAS and more.
SteelEye
SteelEye's Communications Surveillance Pro platform identifies early warning signs of misconduct. Understanding that trading happens across a range of geographies, platforms and systems, and that communications for these transactions cover a wide range of channels, SteelEye's solution uses sophisticated technology to sift through data to identify real threats and weed out false positives. Using seamless data ingestion to collect, normalise, validate and index all structured and unstructured data, combined with intelligent alerting and real-time vision, Communications Surveillance Pro strengthens risk detection, improves oversight and ensures compliance.
The Consulting Consortium (TCC)
Australian-based TCC's focus is on transforming culture and conduct by connecting financial services firms to a healthy culture and stronger compliance. Hemisphere, TCC's conduct solution, uses ground-breaking data analytics and AI to continuously measure firms' culture and strengthen it where needed. Hemisphere is unique in that it is informed by behavioral scientists, ensuring the most compelling and usable insights.  It is also underpinned by regulatory expertise to help meet regulatory obligations, and enhanced by the smartest technology to use culture and conduct intelligence for maximum commercial benefit.
Theta Lake
Theta Lake's Unified Communications system is a comprehensive, turn-key compliance solution. Supervision across video, audio, collaboration chat and any unified communication provides firms with capture and analysis of all electronic communications, voice and visual supervision, automated deep learning and machine learning detection of regulatory and corporate risks, real-time compliance advice and training, and more. Data protection capability detects when private or sensitive information is shared within collaboration chats, while risk analysis provides the ability to detect misconduct, regulatory, corporate compliance and conduct risks at scale across all content.
Trailight
Tralight's People Risk Management (PRM) and Individual Accountability Regime (IAR) solutions improve company culture and manage conduct risk to navigate regulatory requirements and meet the challenges of the individual accountability regimes around the world. PRM provides a centralized solution for managing competence and people risk by managing all elements of staff performance through a competence framework, monitoring, management insight and automation of performance data. IAR automates regulatory reporting to the appropriate Individual Accountability Regime regulator. Workflow tools ensure that compliance and HR teams can collaborate seamlessly with senior business leaders, while critical company-wide progress can be monitored through dashboards and reports, including point-in-time history.
txtsmarter
As an enterprise communications surveillance compliance solution, txtsmarter collects, encrypts and archives messages from text messaging and social media platforms globally to ensure end-to-end compliance in real-time. The solution captures all hidden messages that firms may be missing across messaging platforms, without data gaps; all without requiring change to user behavior. This 360-degree view of all communications data in a full monitoring platform enables effective surveillance and identification of inappropriate sales and customer communications, fraud and front-running.
Vault
Expose and mitigate previously visible incidents of workplace misconduct with Vault Platform, and create a culture built around ethics and compliance. Vault offers a four-part system; Mobile App, Open Reporting, Resolution Hub and Data & Analytics Dashboard. The solution exposes instances of fraud, bribery & corruption, harassment, discrimination, bullying while encouraging internal reporting to maintain trust and personal safety for employees and building a culture of intentional integrity.
If you feel any provider is missing from this list, do let us know and our team can review your suggestions! Email pr@a-teamgroup.com.
Subscribe to our newsletter