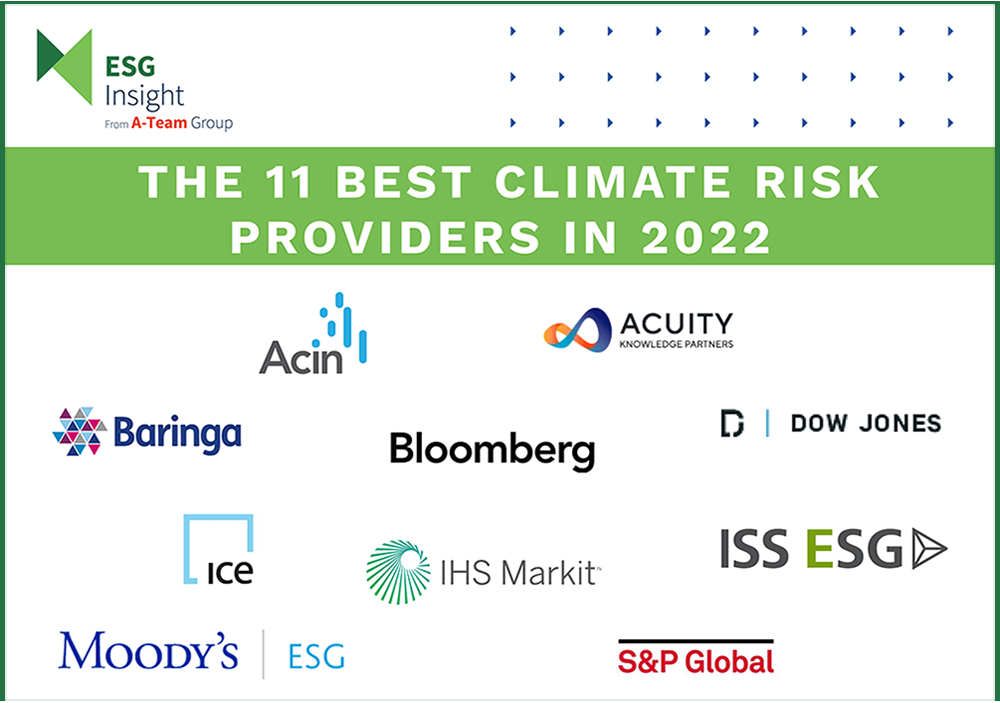 We're seeing a rapid transition in how the financial markets industry is approaching climate risk. This shift has been advanced by customer preferences, public awareness and, as most pressingly, increased regulatory demand. As new energy sources and technologies emerge, investors must innovate and advocate for a comprehensive climate risk framework.
Climate Risk Management models continue to emerge as innovation rapidly accelerates. ESG (environmental, social, governance) investment has become mainstream as increasingly robust climate data is gathered and more reliable data-based analytics support the effort. Below, we have chosen the top 11 Climate Risk Management providers.
We'll be featuring this category in our upcoming ESG Insight Awards 2022 with nominations open from June and the winners announced in October. Find out more about these awards here, and if you want to be reminded when they open for nomination, be sure to enter your details on the form on this page.
Acin
Acin boasts a unified digital climate risk platform. With a single source of truth for all climate risk data, intelligent analytics and insightful dashboards, the Acin climate risk solution delivers data-driven insights as well as innovative peer analysis in the 'world's first climate risk control inventory for financial institutions'.  As members of the Acin Network, customers are provided access to a quick-start climate risk control inventory, allowing benchmarking of their own climate risk data against peers.
Acuity Knowledge Partners
Acuity's analysts work as part of a client's team to support solutions for risk assessment, scoring, integrated analysis and audits. The team executes deep-dive research through a top-down, bottom-up or combined approach and includes building databases at the company and country level, developing frameworks, models, analysis, writing reports and preparing presentations. This support on climate change solutions includes opportunity assessment, risk analysis, climate financing and support on disclosures and reporting.
Baringa
Baringa's Climate Change Scenario Model is a global solution for climate risk. In the financial services sector, this solution accelerates transition, mitigates climate change and reduces systemic risk while it supports net zero commitments, TCFD reporting, regulatory reporting, investment and capital allocation strategies.
Bloomberg
Bloomberg's ESG solutions give investors access to transparent, consistent and comparable data on more than 2,000 ESG fields and scores for over 11,800 global companies. With 15+ years of historical ESG data across over 100 countries, Bloomberg is poised to help investors acquire and manage ESG data, use those solutions to meet ESG regulatory portfolio requirements, and measure climate risk and return against independent ESG benchmarks. Bloomberg helps clients assess the level of preparedness for a low carbon world through carbon transition scores, climate disclosure trackers, GHG emission data and more.
Dow Jones
Dow Jones has launched its Sustainability Data Platform to streamline its ESG Investing processes.  Through this data platform, Dow Jones will be able to provide daily risk analysis and climate scoring on more than 6,000 publicly traded companies. Clients can gain insight into the ESG factors that affect their performance and strategy.  Transparent ESG scoring, a unique & timely news-driven model including news driven sentiment from both inside and outside of Dow Jones, and machine learning paired with human validation allow clients to make informed climate risk decisions. The model also uses the five dimensions and 26 categories of the Sustainability Accounting Standards Board (SASB)'s standards.
ICE Data Services
ICE Climate Risk ****is ICE Data Services' climate risk management solution, powered by risQ's actionable climate data. Paired with municipal security-level reference data from ICE, the solution enables analysis and comparison from specific securities to entire portfolios. Clients are able to quantify climate risk exposure and make decisions across municipal portfolios by applying geospatial climate, economic and demographic data to specific municipalities and securities. Hazards measured by the platform include heat stress, wildfire, flood and hurricanes, and easily generated custom reports can be downloaded with visuals through a desktop user interface or integration into risk systems.
IHS Markit
IHS Markit's climate risk solution unites comprehensive data, expertise and digital tools to help customers make informed decisions about climate change. Through an ecosystem of data-driven ESG and climate-focused products and services including analytics, models, benchmarks, research and consulting, their holistic approach leads to understanding solutions to achieving net zero.
ISS ESG
ISS ESG's Climate Impact Reporting Solution was rolled out in January 2021 to provide decisive data and actionable intelligence on climate change risk and its impact on investments. The solution provides physical risk assessment to give the investor a holistic overview of its exposure to physical climate risks using granular corporate data to understand geographical activity and hazard exposure of the client. The solution also includes the ISS ESG temperature score at a company and portfolio level. Value at Risk is assessed using proprietary financial data, and the data can be used to assist with reporting to the TCFD and other reporting frameworks.
Moody's
Moody's offers a comprehensive range of climate solutions. The suite begins with risk identification, including forward-looking physical risk data for 10,000 companies with millions of corporate facilities and real estate assets globally, and transition risk data for 10,000 companies, as well as on-demand scoring. After identification comes risk quantification, made up of macroeconomic scenarios with an 80-year horizon, climate-adjusted probability of default using Moody's Expected Default Frequency (EDF) model, and climate pathway scenarios that translate climate pathways into financial risk variables to inform asset allocation and liability models.
S&P Global
S&P Global, who recently acquired The Climate Service Inc., a North Carolina-based climate risk modeling firm, offers a comprehensive solution, Climate Analytics, to provide datasets and analytics insight to "turn climate risk into climate opportunity". Factoring a complex array of transition and physical risk and opportunities into decision making, clients use Climate Analytics to assess carbon footprinting, physical climate risks, carbon pricing risk, carbon tax impact scenarios, Paris alignment assessment, energy transition, SDG impact, coal exposure, fossil fuel reserves, water dependency, pollution and waste disposal. Standardized data across 15,000 companies, 600,000 fixed income and green bonds issuances, and 170 countries sovereign bonds, and more, allows investors to manage climate-related risk with scenario analysis and create climate optimized portfolios.
If you feel any provider is missing from this list, do let us know and our team can review your suggestions! Email pr@a-teamgroup.com.
Subscribe to our newsletter