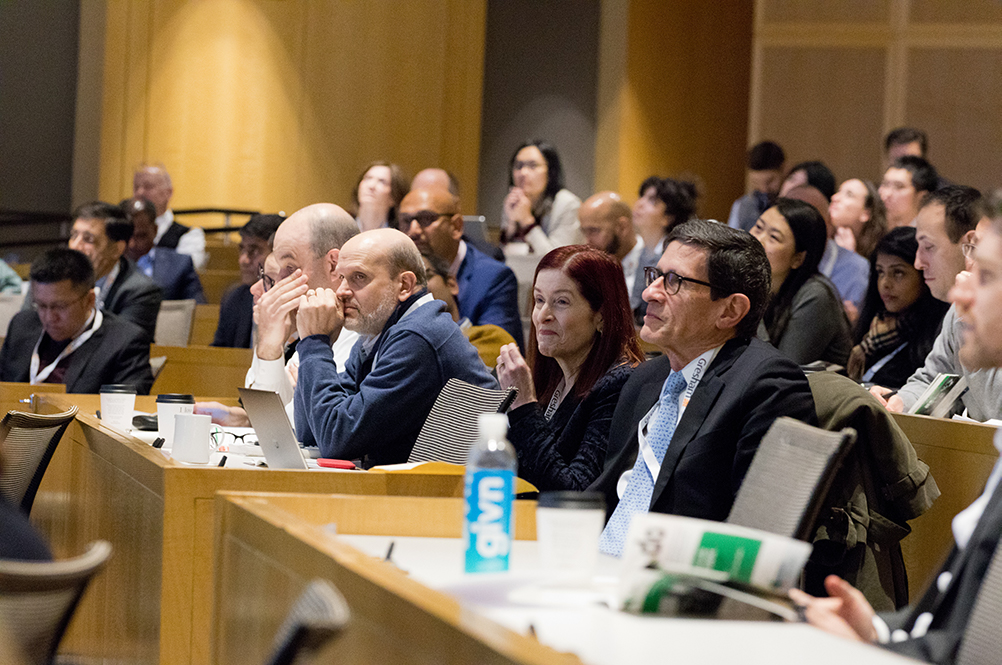 A-Team Group's second annual RegTech Summit arrived in a snowy New York City on November 15, 2018 to cram a crowded day with expert speakers, controversial topics, deep-diving discussions and problem-solving solutions. An impressive attendee line-up of over 200 delegates comprising industry leaders, financial institutions and senior decision-makers added to the atmosphere, while our pioneering sponsors showcased the very latest in RegTech solutions.
Sophia Bantanidis, Head of Regulatory & Market Strategy EMEA and Citi Accelerator Mentor at Citi, kicked off proceedings with a keynote address outlining the global state of RegTech, exploring the relationship between RegTech and the regulatory landscape, and delving into the newest trends, most innovative investments, biggest hurdles and notable opportunities for the sector. Bantanidis noted the development of regulatory sandboxes, which allow firms to test new solutions, and hinted that the next step could be a global sandbox. Despite regtech firms' attempts to develop regulatory solutions in events like Techsprint, the solution applied to one institution may not apply to all financial institutions' needs. However, the largest barrier to regtech adoption remains the lack of data standardisation.
Steve McDonald, Head of Market Developments, Risk and Compliance Solutions at Refinitiv, later took the podium to discuss the evolution from government risk compliance. McDonald pointed out that under this system there is currently a loss of 30% functionality in order to share data; and called for better access to more data sources, potentially crossing traditional data ecosystems.
Peter Moss, CEO of the SmartStream Reference Data Utility (RDU), presented the Summit's final keynote, with a controversial address exploring the limitations of RegTech and the evolution of regulatory reporting, and stressing the crucial importance of accurate data as the only foundation on which it is possible to effectively meet compliance obligations.
Lively panel discussions covered a wide range of topics: from enabling regtech and overcoming barriers, to best practices for regulatory reporting efficiency, to the potential and promise of AI and machine learning, to the best ways of fighting financial crime, to managing risk through a regulatory change management framework. A specialist panel focusing on the consolidated audit trail (CAT) heralded an announcement from CAT NMS the very same day on the initiation of reporting by exchanges and FINRA or order and transaction data.
Interspersed between panels were showcases of innovative new RegTech services from ground-reaking new startups such as Fortia Financial Solutions, ExactPro, AutreTech and ETF Logic, and the day finished with a networking drinks reception hosted by A-Team Group.
Andrew Delaney, the Summit chair and chief content officer at A-Team Group, said: "Our second RegTech Summit in New York was an exciting combination of innovation and enthusiasm, reflecting the rapidly evolving marketplace for global regulation and the enormous opportunities (and equally significant challenges) involved in keeping up to date with requirements. The impressive turnout and dynamic dialogue were a testament to the energy and verve that is driving this industry forward, and the day showcased a genuine inflexion point of turning blue sky thinking into real solutions to real business issues."