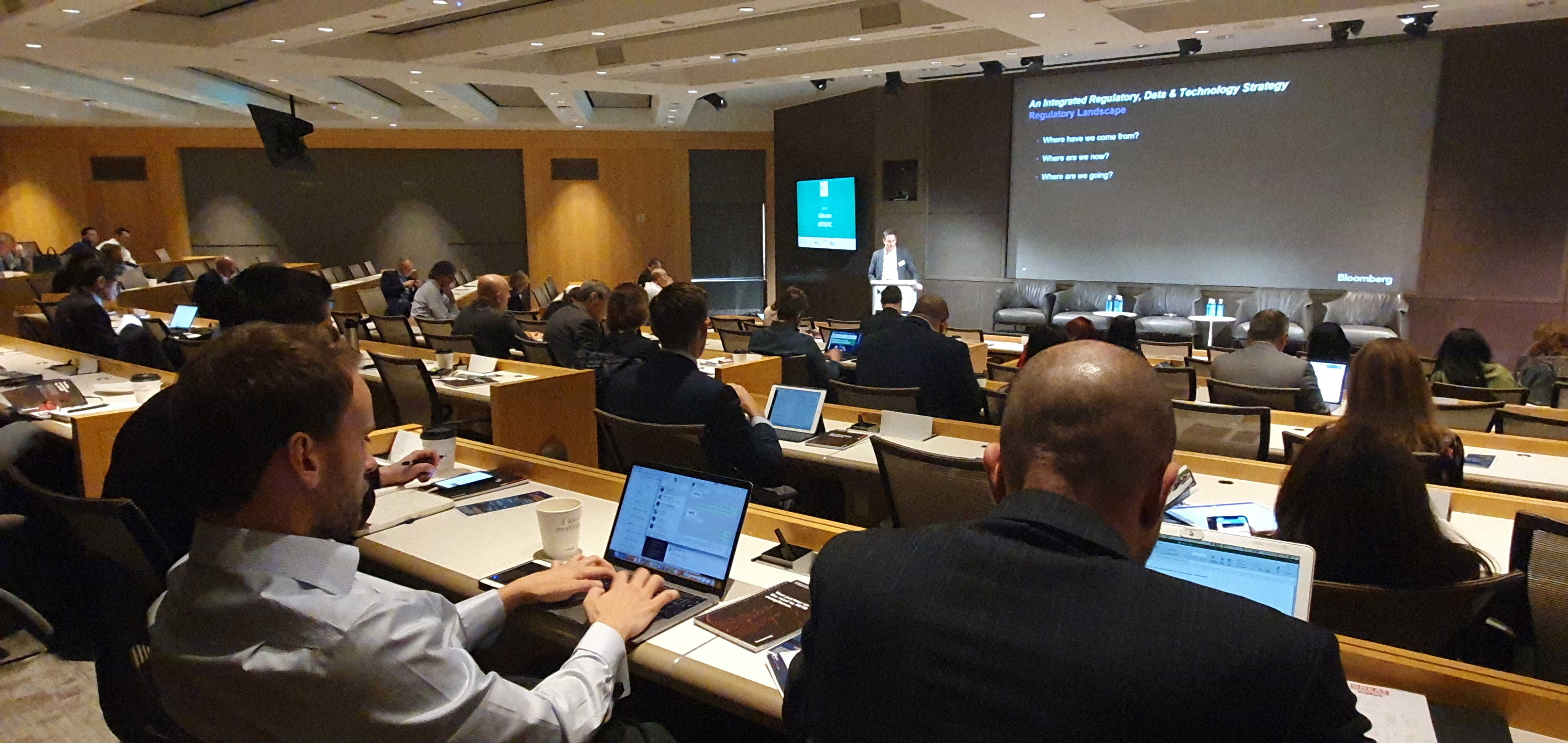 A-Team Group's RegTech Summit made a triumphant return to a full house in New York last Thursday, with an excellent turnout of over 230 practitioners, regulators, start-ups and solution providers all keen to explore how the financial services industry can best leverage technology to drive innovation, cut costs and support regulatory change.
Colin Ware, Global Head of RegTech at BNY Mellon, kickstarted the day with a fascinating fireside chat with A-Team Group's Chief Content Officer Andrew Delaney, offering a practitioner perspective on RegTech development and the urgency of change.
Thought leaders including Raymond Hanson, Managing Director and Head of Global Markets Program Delivery & Regulatory Technology at Credit Suisse, and Robin Doyle, Managing Director in the Office of Regulatory Affairs at JP Morgan Chase, convened for a comprehensive review of the regulatory horizon, exploring the current barriers to adoption and potential synergies across multi-jurisdictional regulatory approaches.
Bradley Foster, Global Head of Content (Enterprise) at Bloomberg, provided a unique perspective on why an integrated regulatory, data and technology strategy is so important, while Dr. Giles Nelson, CTO of Financial Services at MarkLogic, delivered a stark warning on the challenge facing financial services in meeting the increasing volume and rigour of regulation, offering insights into the benefits that could be accrued through digital regulation and the automation of governance and oversight.
A panel on Managing Regulatory Change and Driving Efficiencies – always a hot topic – welcomed senior industry figures including Tammy Eisenberg of BNY Mellon, Viktor Grinberg from Deutsche Bank, Will Newcomer from Wolters Kluwer, and Harry Chopra of Axiom SL to discuss how firms can and should be coping with increasing volumes and managing the consistency of rules across regulators, and a detailed review of the preparation needed for the advent of the Consolidated Audit Trail (CAT) was exceptionally well-attended, with experts coming together to explore the key requirements and challenges of this complex new framework.
The New York event also presented a number of exciting new sessions – including an exploration of the new RegTech Innovation Initiative from the NYU Stern Volatility Institute (presented by Richard Berner, former Director of the Office of Financial Research, US Treasury), and RegTech Innovation Showcases from cutting edge newcomers CUBE, Theta Lake, ComplyAdvantage, and Inpher.
Andrew Delaney, the Summit chair and chief content officer at A-Team Group, said: "This year's RegTech Summit in New York was the best-attended yet, marking the strong growth and positive progress within the RegTech industry as innovation and investment combine to reach a tipping point where we are starting to see real change occur."
Watch this space for further coverage of the complex and insightful debates held at the event: coming soon.