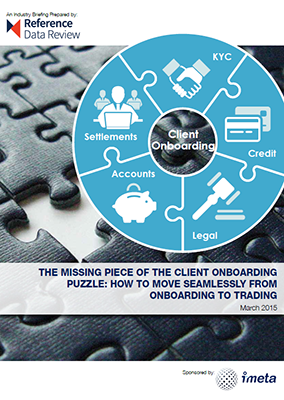 What's Missing from your Client Onboarding Process?
There's now a spotlight shining on the process of client onboarding due to regulations that are driving change in what is typically a fragmented and decentralised approach.
While many firms recognise that getting their onboarding house in order is essential to achieving regulatory compliance and avoiding hefty penalties, addressing those functions in isolation is not enough.
What's missing that would help you achieve a true end-to-end approach?
Download this briefing paper now to learn:
What the missing piece in your client onboarding process is
How to ensure your onboarding process complies with Dodd-Frank, European Markets Infrastructure Regulation (EMIR), FATCA, MiFID II and general KYC requirements to avoid regulatory penalties
How to reduce the risk of reputational damage from an inefficient client onboarding process
How to lower the cost of client onboarding
How to move seamlessly from onboarding to trading, with faster speed to revenue and improved profitability
Key things to consider when purchasing a client onboarding solution
To download, register now using the form on this page for instant access.