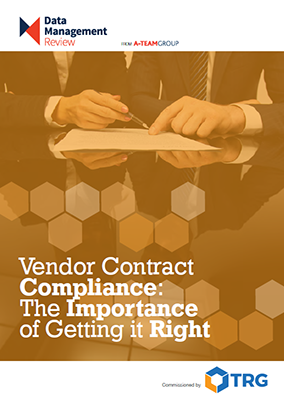 Vendor Contract Compliance: The Importance of Getting it Right
Understanding in-house consumption of vendor data and ensuring compliance with multiple contracts for market data and other information can be challenging, particularly for financial institutions managing large volumes of contract clauses across hundreds of suppliers.
The contract compliance problem often revolves around institutions' lack of transparency into actual data usage of information services they pay for, although the problem is beginning to be resolved by technologies offering better controls and data usage tracking that allow institutions to gain control of usage and limit liability to vendor fines for misuse.
This white paper, sponsored by TRG and including the results of a survey of market data practitioners conducted by A-Team Group, explains why vendor contract compliance is important, the challenges it presents, and some best practice approaches.
Download the white paper to find out about:
Understanding data usage
Challenges of contract compliance
Best practice approaches
Benefits of better control
The survey results