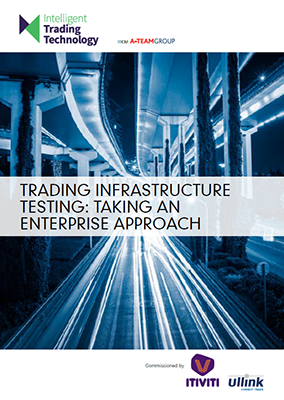 Trading Infrastructure Testing: Taking an Enterprise Approach
Over time, trading operations have become complex networks of different applications using diverse technologies tied together into an overall trading infrastructure. Testing has evolved in a similar ad hoc way and, as a result, firms often lack a coherent testing strategy. This could leave them open to trading errors on the scale that pushed Knight Capital close to the brink of collapse.
By taking a cohesive, enterprise approach to trading infrastructure testing, firms can avoid these types of errors and instead gain operational benefits including availability of consistent IT performance data, ability to identify problems before they arise, and opportunities to improve service levels and customer relationships.
This white paper, sponsored by Itiviti-Ullink, discusses the operational and regulatory requirement for robust testing, considers the challenges this presents, and suggests how to get testing right and deliver operational benefits.