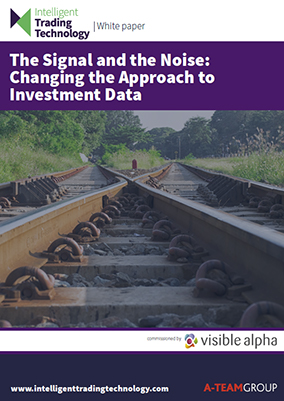 The Signal and the Noise: Changing the Approach to Investment Data
Today there is significant pressure on active management funds to generate returns that are better than the passive funds that they compete against. As a result, investment managers are constantly seeking new ways to generate investment edge. This has happened in an environment where the volume and velocity of investment data available continues to accelerate.
It's no surprise that many investment managers are struggling to manage the firehose of information that is aimed at them every day. In this sea of data, it can be hard to identify the real opportunities. As well, being inundated with data can have a real impact on individual cognitive processing ability as well as decision-making capability. So, investment managers are asking, how do you separate the signal from the noise?
One answer to this challenge is curating content. Investment managers who curate the content they receive are less likely to feel overwhelmed by the data that is coming into them through their computers every day. Curating content can return a sense of direction to an asset manager.
Read this whitepaper to better understand the information challenges that investment mangers are facing today, as well as the solution – curating content. Learn how changing the information environment can potentially lead to better investment decision-making and enhanced alpha.
Download the whitepaper to find out more about:
Why is the investment management industry struggling with data deluge?
How some investment managers are changing their approach to better manage data volumes?
What does it mean to "curate" investment management intelligence?