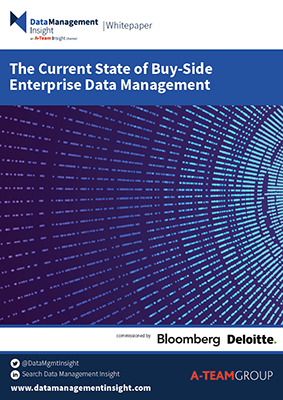 The Current State of Buy-Side Enterprise Data Management
The advent of enterprise data management (EDM) held up the promise of more streamlined operations, improved cost efficiencies and a tighter rein on data access. But after a decade spent trying to implement EDM, few investment managers feel they are getting the control, quality or insights they were expecting.
According to an A-Team survey of North American investment management firms, only 4% of investment managers are very satisfied with their current data management approach. And while three-quarters of respondents indicated an overall positive impact from their EDM initiatives, few have realized expectations of direct data cost savings and broader operational cost controls they had set out to achieve.
This white paper reports on the key findings of the A-Team survey, providing a comprehensive view of how EDM is perceived today by the investment management community. The paper assessed current approaches to EDM by buy-side firms, and explores what's currently missing, where opportunities for improvement lie, and the growing appetite for managed services provision in the EDM space.