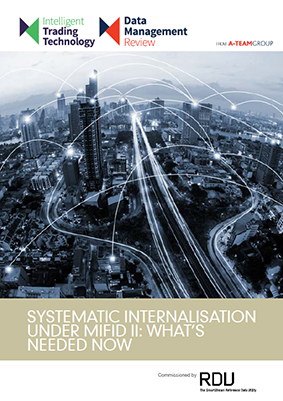 Systematic Internalisation Under MiFID II: What's Needed Now
From September 1, 2018, firms within the scope of MiFID II that breach volume thresholds set by ESMA on August 1, 2018 for internal matching of client orders will be required to register as systematic internalisers (SIs) and operate within the SI regime detailed in the regulation.
Sounds pretty straightforward, but that is far from the case, with financial services firms needing to determine whether they must become SIs due to existing or expected trade volumes, or whether they will choose to become SIs to remain competitive.
Trading firms must determine which firms in the marketplace are SIs, whether they are already doing business with them, and how they will fulfil MiFID II best execution obligations as the number of registered SIs rises, causing increased complexity around liquidity in the market.
If you are an SI or are thinking about registering to be one, or if you are a trading firm doing business with one or more SIs, this white paper is a 'must read'. It covers everything you need to know from why a firm not required by ESMA to become an SI may choose to take on the role to the obligations of SIs under MiFID II, and the investment needed to become an SI.
It also details the challenges of being an SI, particularly the need to source and manage reference data required to meet MiFID II's transparency requirements, and describes SI solutions provided by the SmartStream Reference Data Utility (RDU).
Download the white paper to find out more about:
The MiFID II SI regime
Why firms decide to become SIs
The regulatory reporting challenges they face
How trading firms fit into the regime
SI solutions from the Smart Stream RDU