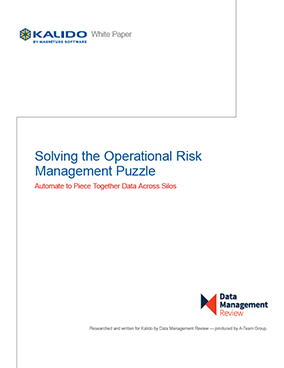 Solving the Operational Risk Management Puzzle
Operational risk management has emerged as a major challenge as a slew of regulations affecting financial institutions across the board – from universal banks to insurance companies and their asset servicers – aims to boost transparency in order to mitigate systemic risk.
The emerging regulations are emphasizing data governance and requiring firms to 'show their workings' when calculating risk exposures posed by market holdings and counterparties. This stress on transparency is forcing institutions to raise their game as far as risk data gathering, validation and integration is concerned.
This paper, the third in the series sponsored by Kalido by Magnitude Software, looks at:
How regulations like BCBS 239 are impacting approaches to data management, particularly for complex financial institutions
Practical approaches to meeting the emerging risk aggregation requirements
How an automated, flexible approach to data management can help