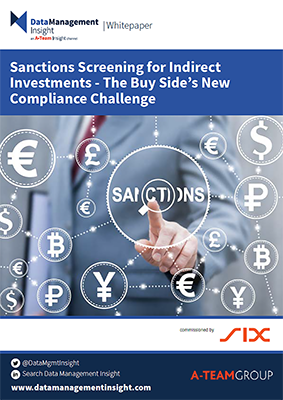 Sanctions Screening for Indirect Investments – The Buy Side's New Compliance Challenge
The global political climate over the past few years has sparked a jump in the use of sanctions to attempt to influence the behaviour of players in the geopolitical landscape.
While sell-side firms are familiar with sanctions and have long been required to monitor the securities they trade, own or recommend to clients to ensure they have not been issued by entities that are owned by, managed by or otherwise connected to sanctioned individuals, buy-side firms have typically relied on their sell-side service providers to screen their holdings or recommendations to ensure they avoid a potential breach of the rules.
This is no longer enough, with recent moves by the US extending sanctions to cover indirect investments, such as funds that may have exposure to sanctioned securities. In essence, this move, embodied in US Executive Order 13959, imposes responsibility for sanctions screening on fund managers, which, as well as ensuring they themselves aren't breaching the rules, are now required to provide a 'look-through' into their funds' constituent securities for sell-side firms wanting to verify the funds they are marketing aren't in breach.
Download the white paper to find out more about:
EO 13959 and its requirements for buy-side firms
Approaches to this new and complex compliance challenge
How to source required data – a critical data sets checklist
How to avoid fast numbers of false positives when screening data
The benefits of getting screening right, the penalties of getting it wrong
A SIX solution – Sanctioned Securities Monitoring Service (SSMS)