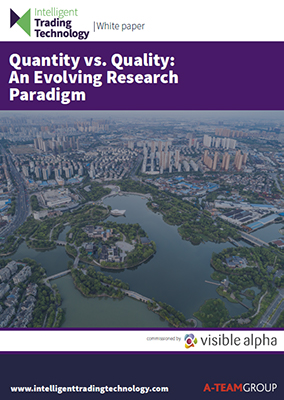 Quantity vs. Quality: An Evolving Research Paradigm
A revolution is under way in how buy-side firms conceptualize value in the research they consume. However, sell-side houses may be behind the curve in recognizing this.
Driving this change in perception among buy-side firms is the EU's Markets in Financial Instruments Directive II (MiFID II). Under MiFID II, buy-side firms have to pay for the research they consume, and either charge back the cost directly to clients or absorb it within their own cost base. As a result, what investment managers want to see from the research they consume is changing.
Today asset managers want research that adds real qualitative value to their approach to investing. Meanwhile, most sell-side firms are still measuring research engagement by the kinds of quantitative measures that social media platforms have been condemned for using – because those social media platforms have allegedly created "addictive" user experiences to improve performance according to those metrics.
Investment managers want to spend less time consuming content – not more. They want the research they are reading to pack a punch – not to have to spend ages gathering the information they need.
This whitepaper explores new research that points to this evolving trend, as well as the kinds of change that buy-side firms are making to improve the quality of the research they consume. One approach is to more accurately collect assessment about research quality from the firm's investment managers, for example.
Download the whitepaper to discover:
How is MiFID II changing the way the buy-side understands what 'value' looks like when it comes to research?
Is the sell-side ready to meet these new buy-side expectations, or not?
Why are the metrics that the sell-side and buy-side use to measure value different?
How should buy-side firms measure the value that research brings across the organization?