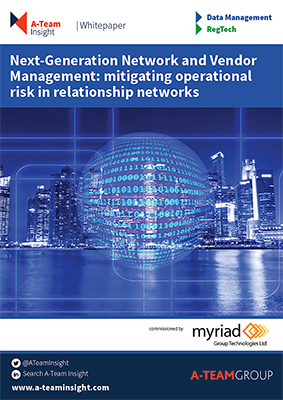 Next-Generation Network and Vendor Management: mitigating operational risk in relationship networks
The complex network of relationships that financial institutions have built with multiple partners has created a huge operational burden, resulting in significant operational risk as well as financial and compliance risk.
Dating back decades, many of these relationships are now managed as a separate business function, costing organisations millions of dollars. Add in regulatory obligations, and a firm's compliance measures are often fragmented and rapidly deployed, resulting in their inability to maintain a plethora of systems and solutions that do not communicate with each other. Piecemeal technological solutions coupled with compliance responsibility dedicated to only one entity of the business has led to a constrained ability to respond to developing market circumstances.
The good news is, a top-down, holistic approach can turn regulatory compliance into a routine undertaking, allowing banks to focus on their primary goals. Full digitalisation can be used to build a next-generation network management system that minimises the compliance burden and maximises competitive efficiency.
Download this whitepaper to learn more about:
The challenges and risks associated with the complex networks of relationships financial institutions have built with other financial institutions and service providers
How a tactical approach to regulatory obligations inflamed the operational burden
The barriers to progress
The key measures financial institutions need to implement in addressing these issues
Best practice approaches and opportunities to be seized from holistic vendor management