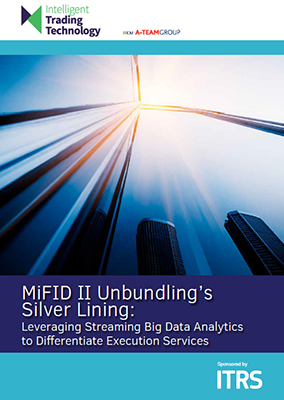 MiFID II Unbundling's Silver Lining: Leveraging Streaming Big Data Analytics to Differentiate Execution Services
European MiFID II regulation's unbundling of broker research from execution services raises the question of how execution service providers can differentiate what they offer once research is no longer part of their relationship with buy-side clients. Best-execution provisions and the performance of brokers' platforms could become the primary differentiator. This raises a follow-up question – what do brokers need to do to keep their technology up to those performance demands?
This White Paper, sponsored by ITRS, presents two use cases, of a high-performance execution platform and a client intelligence service, that exemplify how new technology can be adopted to achieve the best possible business outcome. These examples hinge on analysing trading data as it is received and building predictive capability concerning business and technological challenges.
Read the White Paper to find out about:
The trading infrastructure landscape and trading technology stack
Multiple components of trading infrastructure
Flow monitoring systems implementation
Obtaining insight about client trading characteristics
Harnessing access to large amounts of valuable order and transaction information
Relevant machine learning techniques