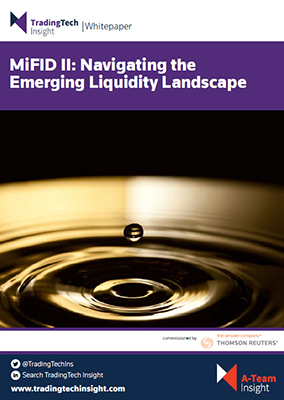 MiFID II: Navigating the Emerging Liquidity Landscape
The September 1 deadline for full implementation of the Systematic Internalisation (SI) regime marked the beginning of a whole new liquidity landscape, with firms on both sides of the equation grappling to understand the long-term implications of the new system on Europe's financial markets.
Navigating these waters in the coming months will be challenging for all concerned. SIs are fighting for attention, market share and liquidity with recognised trading venues – regulated markets, multilateral trading facilities (MTFs) and organised trading facilities (OTFs) – as well as with specialist execution facilities like periodic auctions and other lesser-known trading approaches.
This white paper draws on an A-Team Group survey with both sides of the market – executives at registered SIs and those with firms who expect to trade with them. It looks at the current state of play as the new SI rules take effect, offering insight into how this new trading landscape is evolving, and explores some of the challenges firms are facing.
Download the white paper to:
Understand how the users of SIs are viewing the range of execution choices on offer, including RMs, MTFs, OTFs, SIs, periodic auctions, and others.
Explore how both SI operators and users are investing to operate in this new ecosystem.
Learn how both SI operators and users are thinking strategically about SI engagement, both now and in the medium-term.
Evaluate market concerns about the function and longevity of SIs, and how they are addressing those concerns.
Discover how SIs themselves are developing their offerings and envision the
future.