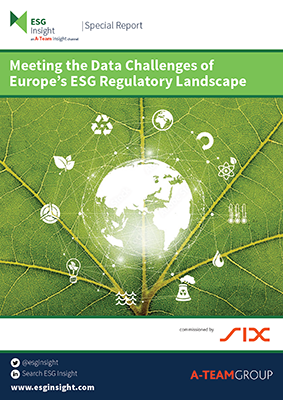 Meeting the Data Challenges of Europe's ESG Regulatory Landscape
The European Union's ESG reporting regulations continue to evolve and represent the biggest recognition yet by any international authority of the role that financial institutions will play in the climate transition.
The Sustainable Finance Disclosure Regulation (SFDR), the EU Taxonomy, the Non-Financial Reporting Directive (NFRD) and the Corporate Sustainability Reporting Directive (CSDR) are intended to highlight sustainability opportunities for investors and help them identify risks that our changing world poses to their investments and activities.
Key to compliance will be the use and integration of non-financial ESG data into firms' workflows. The complex nature of that data, however, means that many market participants will experience challenges in gathering, processing and reporting the information that regulators want.
Those firms that have yet to put their ESG disclosure strategies in place will want to begin as soon as possible the process of finding the most suitable data sources and analytics for their needs.
And for the companies that have already begun their ESG journey, it will be vital to stay on top of the changes in disclosure rules and the data services that they will need to comply with.
In this special report we detail what the regulations will mean for firms in terms of their data and technology needs, and discuss:
The requirements and aims of the EU's ESG regulatory framework, with emphasis on what financial institutions will be expected to disclose to regulators;
The challenges firms face in identifying the data they'll need to comply, how to gather it and make it useable within workflows built on traditional data sources;
Strategies that will help financial institutions meet those challenges and put in place processes that will enable them to adapt to the changing landscape.