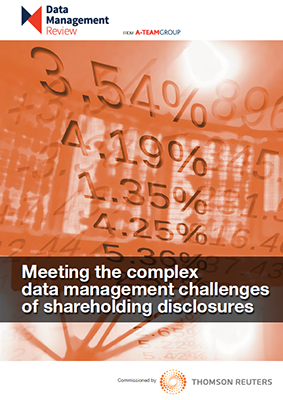 Meeting the Complex Data Management Challenges of Shareholding Disclosures
Getting shareholder disclosure right has become a priority for financial institutions that are already required to monitor breaches of ownership thresholds that are used to protect sensitive industries, but must also comply with the EU Transparency Directive Amending Directive (TDAD). The directive came into effect in November 2015 and requires firms to analyse holdings of instruments that have a 'similar economic effect' to equities.
Firms within the scope of the directive are using a mix of in-house and third-party solutions to ensure compliance and avoid regulatory fines for issues including data errors, process errors and late delivery of shareholder disclosure reports. They are also considering further investment in areas including reference data management and software workflow tools to improve shareholder disclosure.
This White Paper, commissioned by Thomson Reuters and based on a survey conducted by A-Team Group on behalf of the company, discusses:
Shareholder disclosure requirements
Regulatory reporting issues
Data management challenges
The potential of automation
Areas of investment