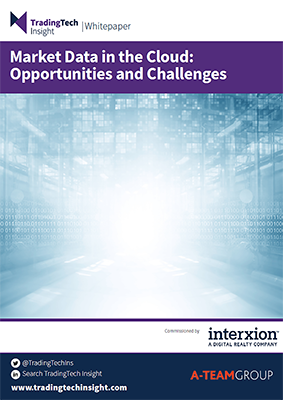 Market Data in the Cloud: Opportunities and Challenges
Financial institutions are buying into the promise that the scalability and elasticity of cloud solutions will prove to be more cost-effective than on-premise implementations. As firms migrate what they can of their technology infrastructures to the cloud, they are starting to include market data delivery and ingestion systems – long considered too critical to be shifted off-premise – in that process.
Partly as a result of the ongoing pandemic and partly due to the broader flight to cloud, those responsible for procuring, operating and maintaining market data services are facing a rapidly changing data delivery landscape. The landscape that's emerging combines traditional on-premises market data integration for traders and portfolio managers, collocation / proximity hosting for low-latency trading applications, and now cloud-based hosting and distribution for a range of uses.
Having dabbled with cloud for testing and development of trading and market data systems for some time, firms are now progressing to using cloud technologies in production environments, including support for staff working from home.
But embracing cloud delivery for market data remains a challenge both for financial institutions and the new and established market data vendors that serve them. This white paper looks at the potential for cloud delivery of financial market data for institutional users. It assesses how cloud fits into the current market data infrastructure, and discusses the challenges faced by firms as they migrate from purely on-premise technology stacks.