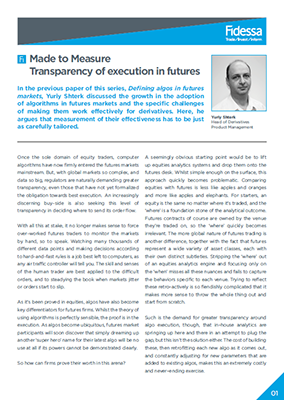 Made to Measure: Transparency of Execution in Futures
Brokers are facing more pressure than ever before to 'get it right' with respect to trade execution in an increasingly complex market landscape.
The EU's MiFID II and other regulations around the globe are placing electronic execution in the spotlight. To meet the more onerous rules, brokers will need to bolster their execution infrastructures significantly. Getting it right on this count will involve a strategic review of firms' existing highly fragmented execution infrastructures.
Meanwhile, as liquidity flows from cash equities into listed derivatives like futures, firms are assessing whether they are able to migrate their equities algorithmic trading disciplines to the global futures markets. More often than not they are finding the process is not that simple.
In these papers, Fidessa looks at the electronic execution landscape and where it's headed, and what's needed to apply algorithmic trading to the more complex futures markets.