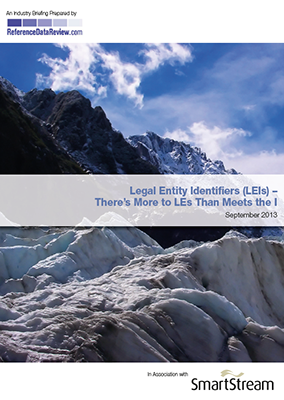 Legal Entity Identifiers (LEIs) – There's More to LEs Than Meets the I
Firms everywhere remain under sustained regulatory pressure to reduce systemic risk, in part through the improvement of their view of counterparty risk. At the same time, the ongoing economic climate is forcing them to reduce costs, leading them to consider alternative operating models wherever possible.
The emergence of the global legal entity identifier (LEI) standard represents a key opportunity for firms to improve their understanding of their counterparties and issuers of the securities they hold. Moreover, the entity data space presents a unique opportunity for the industry to eliminate duplication of effort and reap operational benefits by adopting a collaborative utility approach.
This paper examines the challenges presented by entity data management in the light of regulatory change and the emerging LEI. It explores potential benefits from a more proactive approach to entity data management. And it argues that a utility approach may offer a new and better way of realizing the promise of robust entity data.