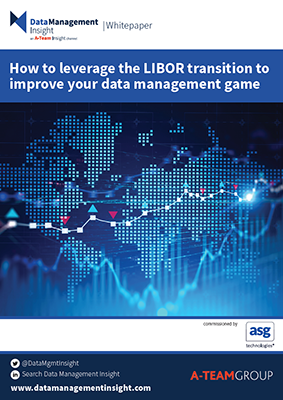 How to leverage the LIBOR transition to improve your data management game
The final goodbye to Libor has been described as the Y2K moment for data managers in financial services – and with the phase-out slated for the end of 2021, firms need to act now to ensure a smooth transition.
The replacement of Libor with alternative benchmarks presents an immense challenge for financial institutions, especially given the ambiguity that remains around execution of the final stages of the transition. However, getting it right could be a catalyst to much-needed operational improvement, opening up the path to addressing key issues around data quality, governance and management. The most proactive of players will use this opportunity to better understand their data and reorganise their approach to gain competitive advantage in a crowded field. Will you be one of them?
Download this white paper to:
Explore what the discontinuation of the interbank rate really means for the industry;
Examine some of the available alternatives and how they differ in terms of structure;
Understand what you should be doing to address risk both during and after the transition;
Review the steps you can and should be taking to coordinate data management approaches and future proof your processes;
Learn how applied technology such as automation, analytics and other innovations can assist you during the transition.