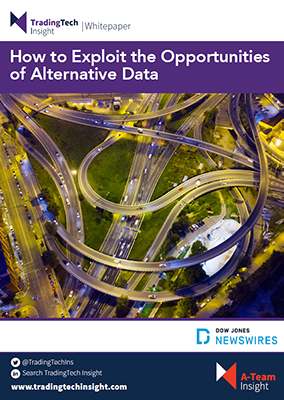 How to Exploit the Opportunities of Alternative Data
Alternative data is moving into the mainstream, driven by trading desks looking for alpha and more recently by private equity firms and corporate intelligence teams looking to gain market insight.
That said, while adoption is increasing and some benefits are being realised, the data does come with caveats including incomplete datasets, poor quality, limited volume, unverified data, a lack of historical data for back-testing, and sometimes, legal issues.
Considering both the positives and negatives, how best can your organisation approach the use of alternative data and exploit its opportunities?
This white paper reviews a recent A-Team Group webinar dedicated to alternative data and covering all the necessary steps required to select and deploy the data successfully. It discusses adoption levels, popular types of alternative data, use cases, what to look for when selecting data sets and best practice approaches to deployment. It also details the challenges and benefits of using alternative data, and concludes with a practitioner view on the criticality of alternative data going forward.
Download the white paper to find out more about:
Sourcing and selecting alternative data sets
Short-term and long-term use cases
Challenges and best practice approaches
Potential opportunities to exploit the data
How vendors plan to improve alternative data
On Demand Webinar
If you would like to view the on-demand webinar this white paper is based on
click here.