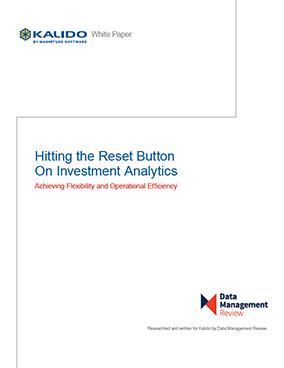 Hitting the Reset Button On Investment Analytics
Investment managers are rethinking their approach to managing portfolio data and analytics in order to stay competitive. The operational and technological limitations of their legacy systems and platforms are making it difficult for many to differentiate their offerings and deploy new operational models.
Moreover, the continued stress on cost reduction means they are under persistent pressure to streamline their investment management operations.
By adopting modern data management technologies, investment managers are better able to develop the kind of analytical capabilities that differentiate them from their competitors while at the same time supporting new operational models.
This paper looks at the technological and operational challenges facing investment managers, and offers some guidance on how to deploy a modern, business-model-driven approach to automating investment management operations.