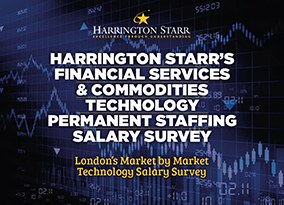 Harrington Starr's 2013 Financial Services Technology Sector Salary Survey
In its second year this comprehensive London salary survey covers 2,966 separate salary bands ranging from entry level to senior appointments in the financial services and commodities technology sector. The survey has been produced taking data from over 16,500 technology professionals and over 2,200 companies in the industry and gives a comprehensive benchmark of salaries in the following areas:
Investment Banks
Hedge Funds, Asset Managers
Buy and Sell Side Vendors
Consultancies
Trading Houses
Exchanges, MTFs and Trading Venues
Brokerages and Market Makers
Market Data Suppliers
Technology Solutions Providers
Insurance and Re-insurance businesses
Harrington Starr have sought to give as accurate a range as possible in each area with some fascinating areas of growth in the industry. The data and analysis provides a clear picture of the market in 2013 and the opportunities that it presents. The survey is able to benchmark against data from the previous year and the overall growth of 6.7% presents an extremely positive picture of what has been a robust and sustained period of prosperity for the industry.