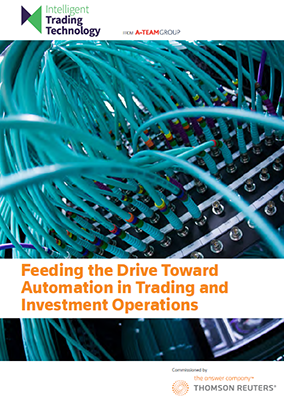 Feeding the Drive Toward Automation in Trading and Investment Operations
As financial institutions continue to move toward automation, the need to feed systems with accurate and timely data is critical. Consistency of data throughout the transaction workflow is also essential, meaning financial institutions need to choose their data sources carefully.
Based on an A-Team Group survey, and sponsored by Thomson Reuters, this paper considers drivers behind automation, identifies datasets required for automation of the trading and investment workflow, considers points of failure, and suggests approaches to meeting automation goals.
Download the white paper to find out about:
Data sets for trading automation
Requirements for high-quality data
Common points of failure
Sourcing data for automation
The role of cloud computing