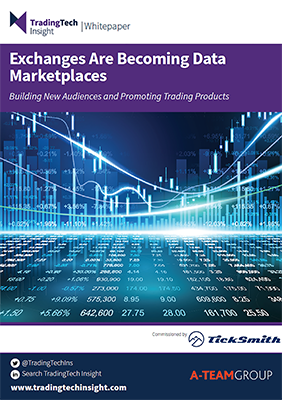 Exchanges Are Becoming Data Marketplaces
Exchanges and other trading venues have long derived revenue from sales of their data; in some cases they operate substantial businesses based around sales of their real-time quotes and other market data services. But few are well set up to deal with growing demand for other datasets they may generate from their core activities, such as historical tick data, reference data and analysis of trends and performance.
Market participants are hungry for new sources of information that could add insight to their analysis of market opportunities, or help operate more effectively and efficiently. Quantitative research groups at hedge funds and brokerages are driving demand for new data types to power increasingly sophisticated analytics. And new regulatory initiatives are creating demand for information that could aid regulated entities in ensuring compliance, with for example best execution rules.
Together, these factors have opened exchange and trading platform operators' eyes to the opportunity to sell information sets that go beyond their traditional real-time market data offerings. Exchanges generate vast quantities of data, which may include historical intraday orders and execution feeds, reference data and analysis/trend information, all of which is now in demand along with complementary alternative, ESG-related and other datasets.
In many cases, however, exchanges are finding that the dedicated specialist teams who sell their real-time data aren't the best fit for sales of historical tick, intraday and other datasets, which lend themselves to the use of new approaches to data sales. These techniques can largely automate the sales process, leaving business development groups to focus on higher-touch requirements to package and commercialize existing/new data products using distribution modern channels.
So does that mean all venues can compete with the goliaths of the exchange world? Innovative exchanges are finding that taking the marketplace approach to packaging, selling and distributing their data can help them establish significant and sustainable data sales businesses.
This white paper looks at:
The drivers behind the growing trend toward monetization of data services among exchanges and other trading venue operators.
The potential obstacles to creating a viable data sales business for exchanges' expanded datasets.
How a marketplace approach can streamline and optimize data product definition, sales and distribution, providing the foundation for a sustainable data sales business.