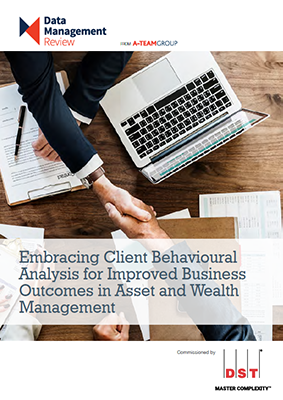 Embracing Client Behavioural Analysis for Improved Business Outcomes in Fund and Wealth Management
Emerging innovative technologies are presenting financial institutions with a unique opportunity to better understand the needs of their clients and cross-/up-sell accordingly. Tapping into new data sets and advanced data management techniques, financial institutions are starting to perform the kind of client behavioural analysis common in other industries.
Retail financial institutions like fund managers are able to measure client product enquiries and other inputs to discover which customer segments have greatest interest in different product sets. This analysis – based on the data management disciplines employed throughout the enterprise as well as big data methodologies – can help firms to understand and engage more meaningfully with clients, and ultimately boost sales and profitability.
This white paper, sponsored by DST Systems and including the results of a survey of buy-side data and analytics professionals by A-Team Group, explains the state of play among financial firms on the use of qualitative and quantitative client behavioural analysis, and provides guidance on how to capture, consolidate and analyse the data to deliver a better customer experience.